eBay has introduced a streamlined listing tool with advanced features. Below you will find a detailed guide on how to use it for listing your items.
Click the Create listing button
You can find the Create listing button on the Listings tab of the Seller Hub, in My eBay, or at the top right of any export.ebay.com page. After clicking the button, you will be redirected to the Sell Your Item form. Open it in a new window and split your screen so that you can follow the guide as you read it.

Tell eBay what you are selling
In the search field, type the name of your item or its product identifier and click the Search button. eBay will suggest the relevant products for you to choose from. If any of them matches your item, click Select, and the system will automatically pre-fill the item details for you.
It is highly recommended to use digital identifiers if you have any. They save your time and help you find the exact match in the eBay catalog. Read more about product identifiers in this article.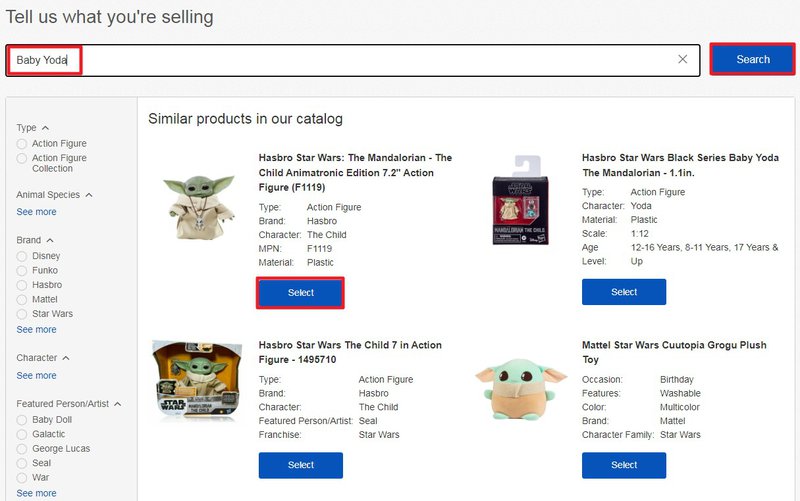 If none of the suggested products suits you, select Continue without selecting a product at the bottom of the page.

Alternatively, you can start by selecting the category of your item. Click Browse categories below the text field and select the relevant category and subcategory.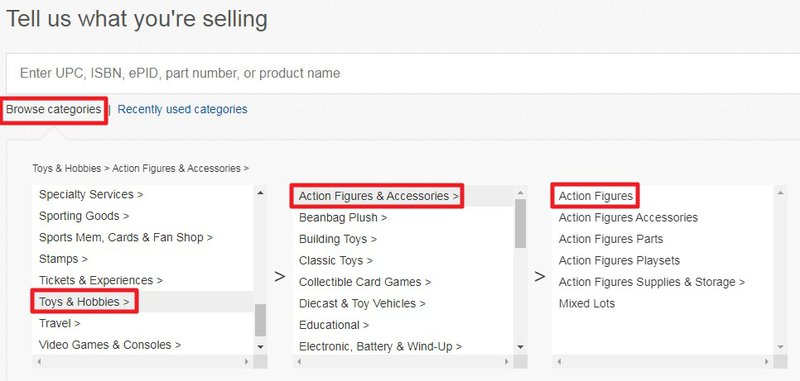 Enter the listing details
You are redirected to the listing form. If you want to switch to the classic view, find the correspondent button in the top right corner of the page.
1. Upload high-quality images and a video that showcases your item, highlights its unique features, or demonstrates how to use or install it. You can drag and drop the files to the browser, import them from your mobile device or online storage. Choose the files that meet the following requirements:
The supported image formats are jpeg, png, gif, tiff, heic and bmp.
Each picture must be at least 500px on the longest side.
Video upload is limited to 150MB or about 1 minute long.
Want to take great pictures of your item? Read the best photo tips for eBay sellers.

If needed, you can edit your pictures in a built-in photo editor that features a useful background removal tool.

2. Provide an informative title of up to 80 characters. If you would like to add extra information, enter a subtitle as well, but in this case an extra fee may apply.

3. Specify the category and the store category of your item. If necessary, you can list your product in two categories, but you may be charged an extra fee for this option.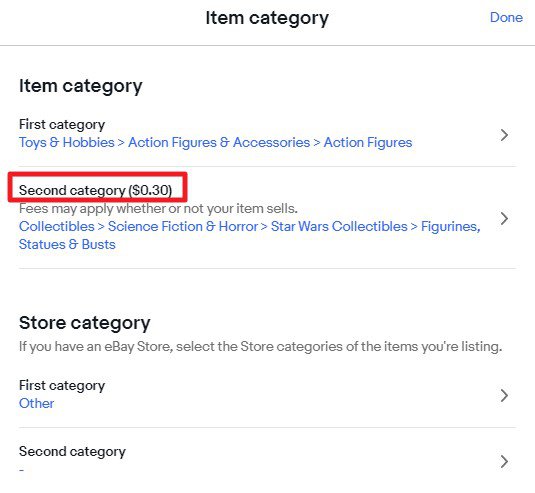 4. Provide the required and recommended item specifics: brand name, type, color, style, or other details that may be useful to customers. The quickest way is to select the relevant options in the drop-down lists, but it is also possible to enter the information manually. The contents of this section depend on the item category. The more details you provide, the higher the chances that a customer will find your item on eBay or external resources such as Google Shopping.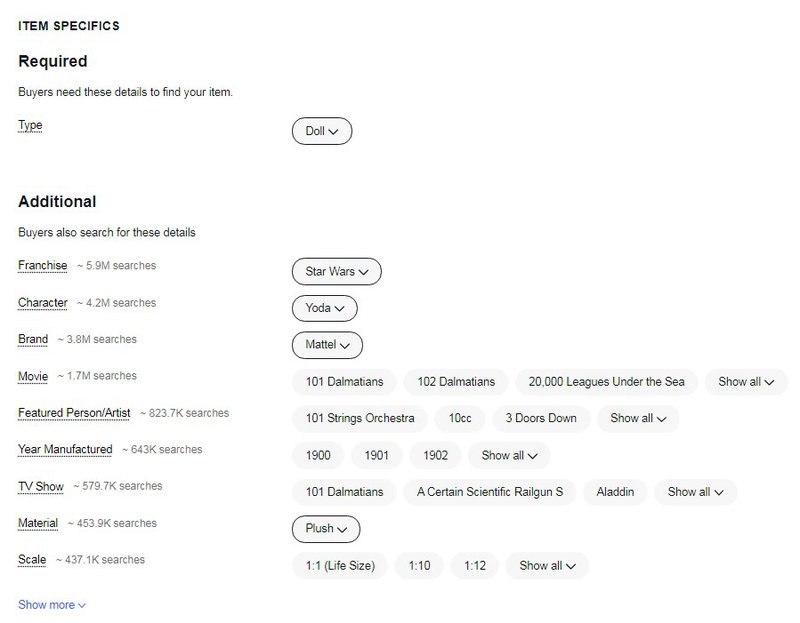 5. If you have similar items with different variations, you can group them under a single, fixed-price listing. This option is only available in select categories. Read more about Listings with variations.

6. Specify the item condition (new, used, refurbished, etc.). If it is not new, provide a comprehensive description of its features and flaws.

Add an informative description
Enter the item description into the correspondent text field. Make sure that it is clear and concise, but be detailed enough so that there won't be any confusion. Specify what exactly you're including in the sale.
eBay protects its users from malicious sites and spam, that's why it does not allow links to other websites (with a few exceptions). Read more about eBay Links policy.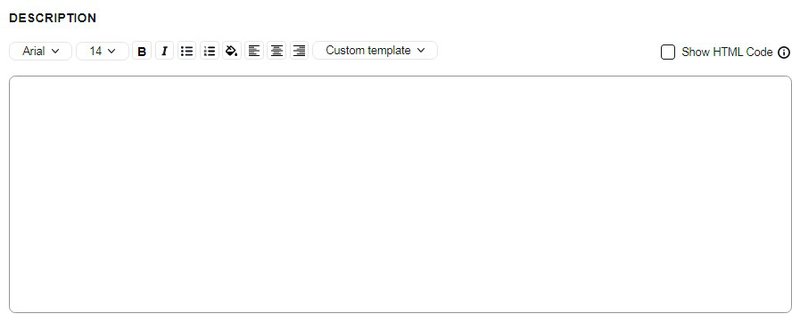 Specify format, price, and other selling details
Next, proceed to the Pricing section. Here you can choose the listing format, set the item price and the available quantity, allow offers from buyers and schedule your listing for a certain date and time. By default, it is a fixed price format. You can click Edit all options to change the format or make other adjustments.

For your information, there is data on similar listings sold in the last 90 days: the average price and the percentage of items with free shipping. You can take this data into account when setting your item price and shipping options.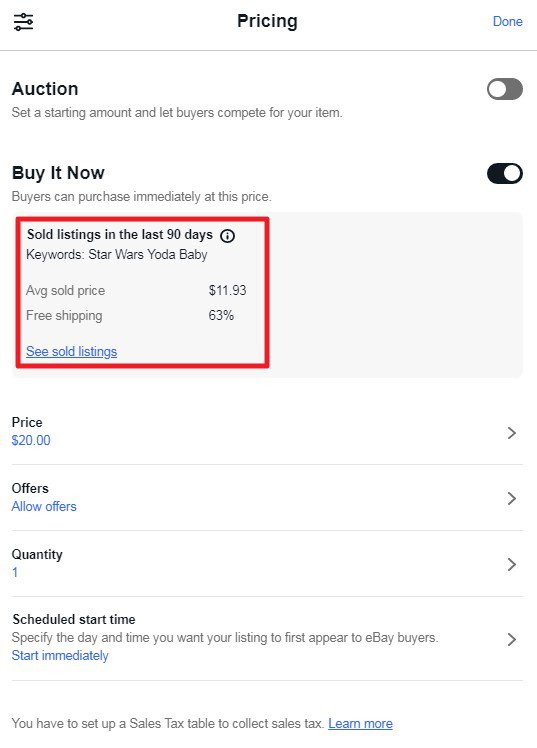 Set up delivery details
In the Delivery section, you need to specify your shipping terms and the regions you ship your item to. A detailed guide with useful tips is available in the article How to set up your shipping options.
If you list your item on ebay.com, please remember that Domestic shipping refers to the territory of the United States. To add shipment to other countries, click Add shipping service and select Additional international service in the drop-down list.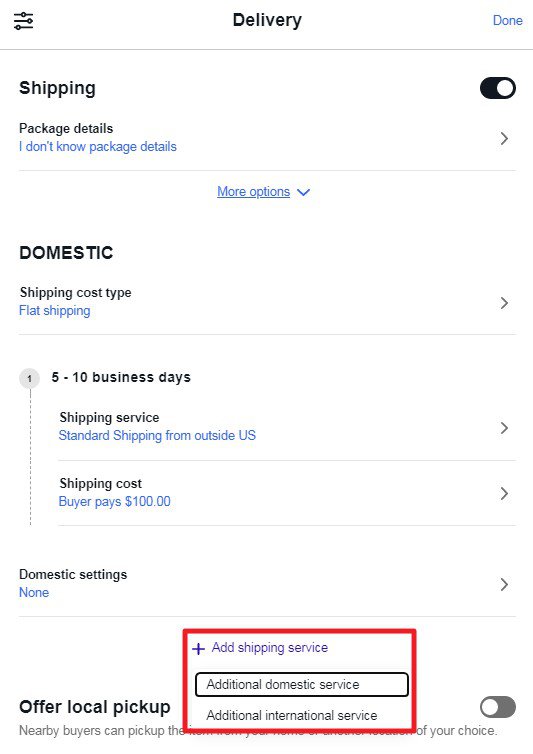 Reach more buyers
Make your listings stand out among lots of similar items. Give them more visibility with the help of Promoted Listings Standard. You can also consider using Promoted Listings Advanced and Promoted Listings Express.
Besides Promoted Listing campaigns, there are other useful options that help you reach more buyers (additional fees may apply). The Bold title feature helps your listings stand out in the search results. Volume Pricing is a discount that your buyers get for buying more than one item at a time. The Gallery Plus option allows you to display a large photo in search results and attract more attention to your item.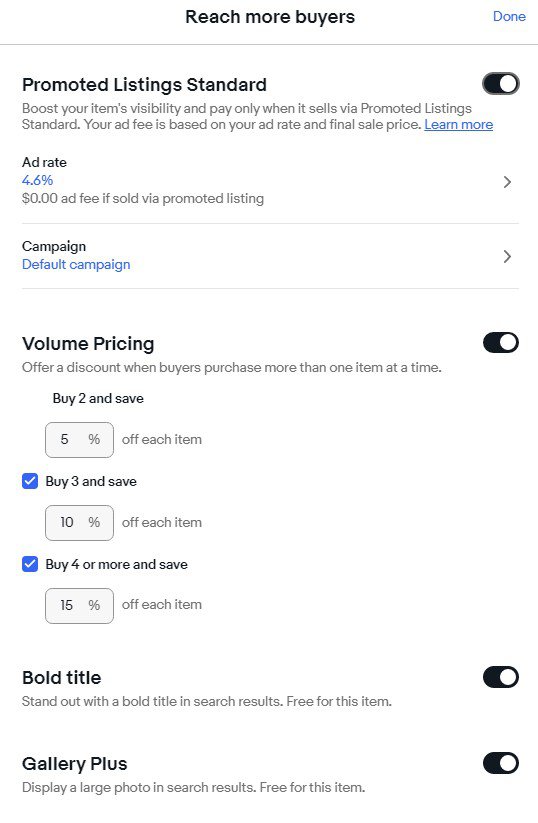 Set up your preferences regarding payments and returns
In this section, you can specify the payment method, the return policy, and the item location. Click on any item to change it, or select Edit all options to adjust all settings. Read more about returns in the article How returns work.

Charity
If you want to support a good cause, eBay allows you to set up automatic donations of a certain percentage of your item's final sale price. Just switch the toggle in this section, select a charity and specify the donation percentage.

List your item
Your listing is almost ready. At the bottom of the page, you will see the total amount of fees that will apply. If you see the words List it for free, it means that there are no fees for listing this item, but a Final value fee will apply when you sell it.
Click the Preview button to check what your listing will look like when published. If everything is OK, select List it. If you are not quite sure, edit it again or click Save for later. It will be saved as a draft, which you can revise and list later.

Congratulations! Your first listing is posted on eBay