eBay Store gives you the advantage of having your own homepage and the option to customize it to comply with your brand. Opening your eBay Store helps you get more out of the marketplace and the millions of buyers worldwide who shop on eBay.
Once you've purchased your eBay Store subscription, the basics are done. Now it's time to figure out how to personalize the design of your page and make it home for your business to attract more customers.
Here are the features you can adjust to stand out from competitors. Now you can find them also on the Store tab in the Seller Hub.

1. Store name
Уou can use your eBay username for your store name, therefore it's better to choose something that looks more professional and represent your brand. You can choose it at the very stage of getting your subscribrition. Be aware that your store's URL will be determined by the name you chose.
While you can change the name of your eBay Store in Seller Hub, eBay doesn't advise this, because since then, any bookmarks, tags or links created by your buyers won't work and your store will be considered as a new site by some search engines.
If you still want to change the name of your eBay Store, the new name can't be:
The username of another member on eBay, or be misleadingly similar to the username of another eBay member.
Identical or misleadingly similar to another company's name that's protected by trademark law.
A name that contains the word "eBay," or a name which is misleadingly similar to "eBay".
Before you rename your store, read eBay's article on intellectual property rights and using eBay's intellectual property.
How to add a Store name:
Go to Store tab in Seller Hub.
Choose Edit store in the left menu.
Click the "pencil" button near the Store name, type the name of your Store (up to 35 characters) and save the changes.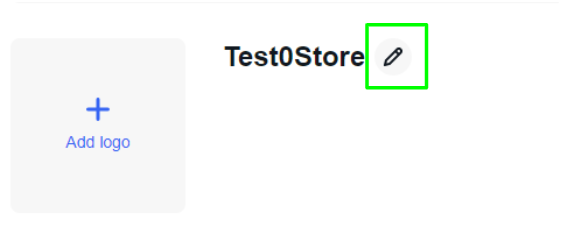 2. Main image
The main image or the billboard of your store looks like a top banner of your site or a cover on your Facebook page and is aimed at attracting a buyer's attention and making them learn more about your brand, items and even seasonal updates.
It is placed as a banner at the top of your store page. The recommended image size is 1200x270 pixels. If you don't know where to start from, such resources as Canva or PicMonkey are at your disposal with their free templates. You can add your slogan or other features reflecting the values of your brand.
Use the main image as an effective tool for communicating with potential buyers. Reinforce your branding in all customer contacts. For example, use your Store colors and imagery in your advertising, emails, and especially your eBay listings.
How to add your Main image:
Go to Store tab in Seller Hub.
Choose Edit store in the left menu.
In the corresponding field, click the + button to add a billboard image.

3. Store logo
Your logo should represent your business in a direct and professional way, re-emphasize your values and be consistent with the overall identity of your brand. The recommended size for the logo image is 300x300 pixels.
How to add your Store logo:
Go to Store tab in Seller Hub.
Choose Edit store in the left menu.
In the corresponding field, click the + button to add a logo image.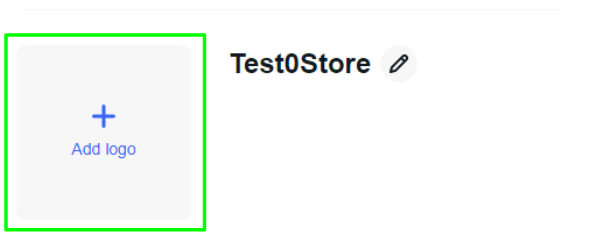 4. Store description
Your eBay shop description represents what you have to offer to buyers. This section is aimed at detailing the items you sell and your advantages as a seller. In order to make your store description an effective marketing tool, put your main keywords in the description to ensure your store is well displayed in search results.
How to add your Store description:
Go to Store tab in Seller Hub.
Choose Edit store in the left menu.
Go to About tab and in the corresponding field type the description (up to 1000 characters).

5. Featured categories
A shopping experience is always greater when items are well sorted. Having an eBay store gives you the option to divide your items into categories or departments. You can create your own unique eBay Store categories and put items into two Store categories at a time at no extra charge.
Note that your store categories don't need to match eBay's standard categories. To make it more user-friendly, your categories and subcategories can be clickable, providing links to appropriate custom pages.
To add your Store Featured categories:
Go to Store tab in Seller Hub.
Choose Edit store in the left menu.
On Shop tab click Add categories.

To move listings to other categories:
Go to My eBay > Active Listings.
Select the listings that you want to move.
Click the Edit button.
Select Store categories under Listing details and click the Update listing button.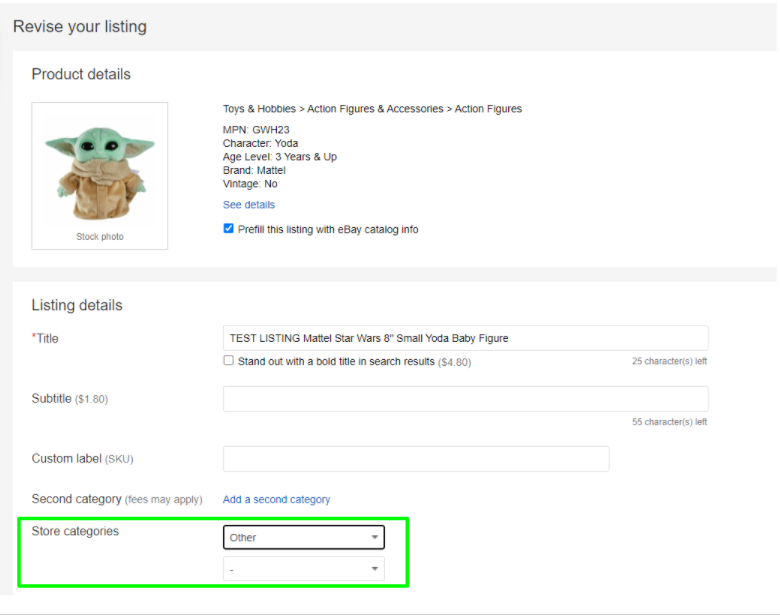 In addition, you have the ability to edit multiple listings at once. To do this, select the ones you would like to change the category for, then click the Edit button > Edit all listings and make the necessary changes.
To recommend categories:
Go to Store tab in Seller Hub.
Choose Edit store in the left menu.
On Shop tab choose recommended categories and add images that characterize them.

Try to think like a buyer. Create a set of categories that help buyers quickly find what you have to offer, like brand, type of item, price levels, and so on. For example, if your Store primarily sells laptop computers, you could include categories such as: Laptops > Laptop Cases > Samsonite.
Avoid creating categories with only a few listings, otherwise you risk overwhelming buyers with too many categories and providing a poor customer experience.
Consider creating special categories that attract buyers' attention, such as "50% Off" or "Featured Items".
6. Featured items
Featured items are placed below your store's description but above your main product inventory. You can choose which items are placed in your featured bar. Use this section to highlight particular items from your inventory. Choose your bestselling and most popular products, as well as the items that summarize your inventory in the most attractive way. You can also show newly listed or ending soonest items in automated inventory strips. In addition, if you're running a sale on selected products, we recommend featuring these items to enhance promotion.
How to feature your listings:
Go to the Store tab in Seller Hub.
Choose the Edit store in the left menu.
On the Shop tab you'll see an option to choose either automated or manual when adding an inventory strip.
Once you select Manual, then click Select listing button and choose the listing you want to recommend, and the row in which the selected listings will be shown.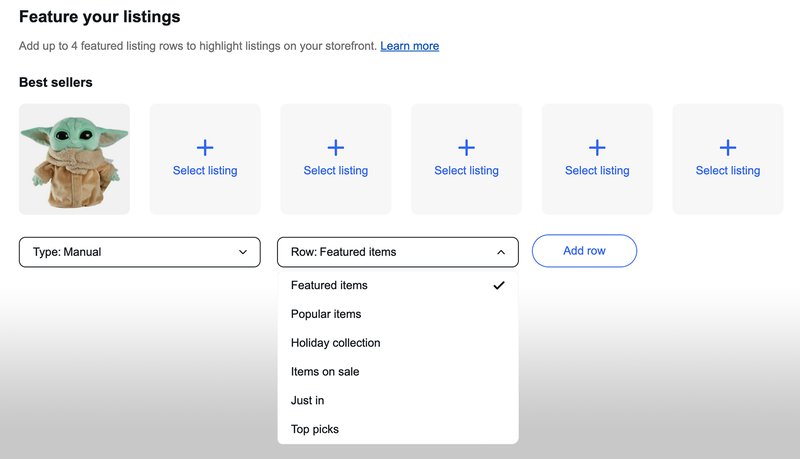 Once you select Automated, then a second dropdown will populate with the automated options. Upon choosing an option and adding the row, you will see an explanation of what to expect on the storefront.


Automated inventory strips allow sellers to show their newly listed or ending soonest items in featured item strips without having to manually curate them. Since the inventory strips will always be fully populated, buyers will have a better experience when visiting storefronts.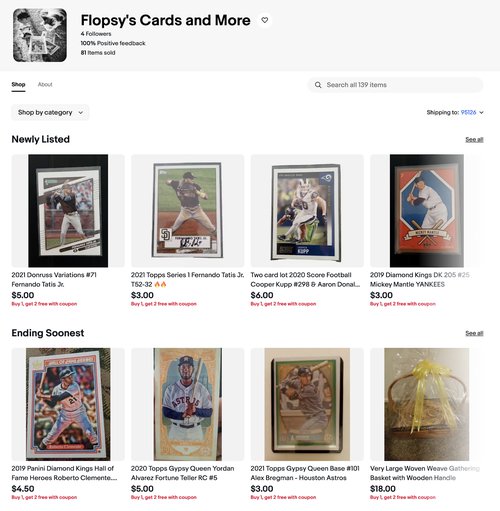 7. Marketing banner
Create a clickable marketing banner to grab the attention of shoppers and redirect them to the item, category, or promotion page of your choice.
To create a banner:
Go to Store tab in Seller Hub.
Choose Edit store in the left menu.
On Shop tab click Use a marketing banner button.
Select the the banner destination, enter its title and description in the appropriate fields, save the banner.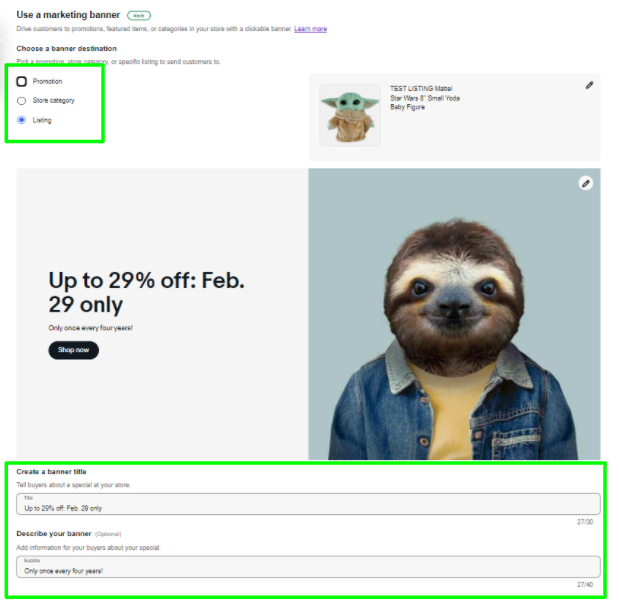 8. Store video
Sometimes it's the story behind a business that makes the sale. By letting your buyers know the history, values, and passion that goes into your business, you can help them understand what makes your business unique and inspire them to buy from you.
You can now easily upload videos to your Store's About tab directly from your Store edit page and they'll appear after the first image in your gallery.
Use the Storefront video to introduce yourself and your business. Consider covering what kind of products you sell, how long you've been in business, what your mission is, etc.
Here's how to add a video to your store:
Go to Store tab in Seller Hub.
Choose Edit store in the left menu.
Go to the About section and select Add video.
In the pop up, choose your video and Publish it.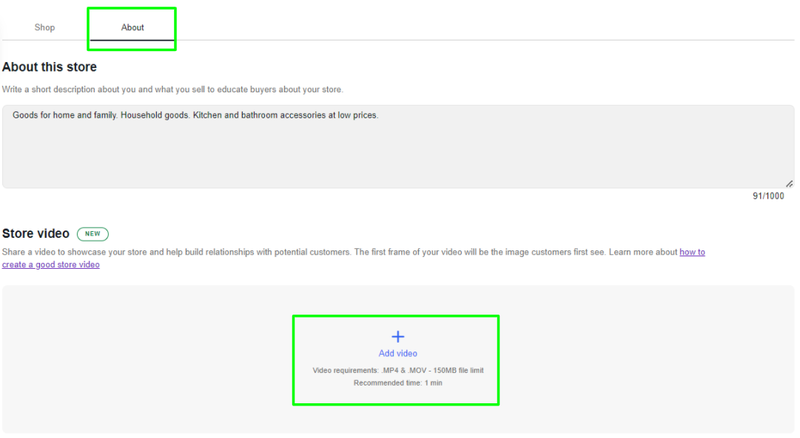 Once your video is uploaded you'll see a message saying that the file is being reviewed. This review typically takes 48 hours.
The first frame of your video will be the image customers first see. If the publication is denied, you will see a message explaining why.
Your video should be:
The image in the video must not be blurry or distorted, contain illegal or offensive content, or encourage buyers to go to third-party sites.
There are many easy-to-use tools for video creation and editing such as Canva, iMovie, Magisto, Vimeo, VistaCreate (Crello) and WeVideo that can help your store stand out.
The buyer has the opportunity to complain about a video. If the uploaded video is found to violate eBay policies, we will submit a video removal request and notify you by email. You will have the opportunity to reply to this email for clarification.
9. Store policies
In this section, you can set up basic policies that apply to all listings. Describe the basic rules for shipping, guarantees, returns: they will be displayed in your Store, and buyers will be able to get acquainted with them.
How to create Store policies:
Go to Store tab in Seller Hub.
Choose Edit store in the left menu.
Go to the About section and select Store Policies. From the drop-down menu, select the policy for which area you want to create.
Click the Add policy button and type the text in the field.