eBay Store gives you the advantage of having your own homepage and the option to customize it to comply with your brand. Opening your eBay Store helps you get more out of the marketplace and the millions of buyers worldwide who shop on eBay.
Once you've purchased your eBay Store subscription, the basics are done. Now it's time to figure out how to personalize the design of your page and make it home for your business to attract more customers. Here are the features you can adjust to stand out from competitors: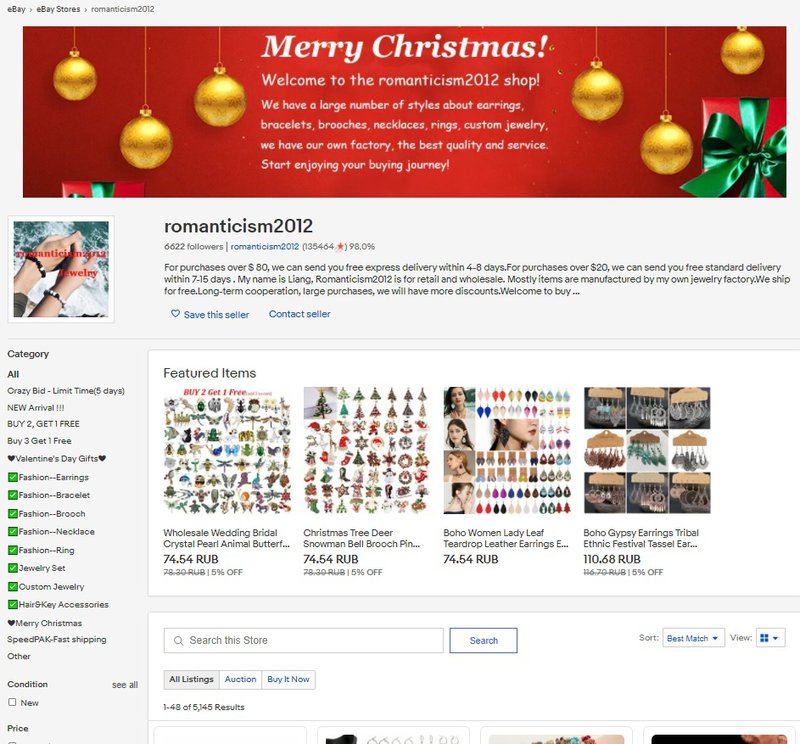 1. Store name
Уou can use your eBay username for your store name, therefore it's better to choose something that looks more professional and represent your brand. You can choose it at the very stage of getting your subscribrition. Be aware that your store's URL will be determined by the name you chose.
While you can change the name of your eBay Store in Seller Hub, eBay doesn't advise this, because since then, any bookmarks, tags or links created by your buyers won't work and your store will be considered as a new site by some search engines.
If you still want to change the name of your eBay Store, the new name can't be:
The username of another member on eBay, or be misleadingly similar to the username of another eBay member.
Identical or misleadingly similar to another company's name that's protected by trademark law.
A name that contains the word "eBay," or a name which is misleadingly similar to "eBay".
Before you rename your store, read eBay's article on intellectual property rights and using eBay's intellectual property.
2. Main image
The main image or the billboard of your store looks like a top banner of your site or a cover on your Facebook page and is aimed at attracting a buyer's attention and making them learn more about your brand and products.
It is placed as a banner at the top of your store page. The recommended image size is 1200x270 pixels. If you don't know where to start from, such resources as Canva or PicMonkey are at your disposal with their free templates. You can add your slogan or other features reflecting the values of your brand.
Use the main image as an effective tool for communicating with potential buyers. Reinforce your branding in all customer contacts. For example, use your Store colors and imagery in your advertising, emails, and especially your eBay listings.
3. Store logo
Your logo should represent your business in a direct and professional way, re-emphasize your values and be consistent with the overall identity of your brand. The recommended size for the logo image is 300x300 pixels.
To add or change your store logo follow these steps:
Go to My eBay > Manage my store > Edit Store.
Click the edit "pencil" button to add in a store logo.
4. Store description
Your eBay shop description represents what you have to offer to buyers. This section is aimed at detailing the items you sell and your advantages as a seller. In order to make your store description an effective marketing tool, put your main keywords in the description to ensure your store is well displayed in search results.
5. Featured items
Featured items are placed below your store's description but above your main product inventory. You can choose which items are placed in your featured bar. Use this section to highlight particular items from your inventory. Choose your bestselling and most popular products, as well as items that summarize your inventory in the most attractive way. In addition, if you're running a sale on selected products, we recommend featuring these items to enhance promotion.
6. Store categories
A shopping experience is always greater when items are well sorted. Having an eBay store gives you the option to divide your items into categories or departments. You can create your own unique eBay Store categories and put items into two Store categories at a time at no extra charge.
Note that your store categories don't need to match eBay's standard categories. To make it more user-friendly, your categories and subcategories can be clickable, providing links to appropriate custom pages.
To add Store categories:
Go to My eBay > Manage My Store > Store Categories.
Click the Add Category button at the level where you'd like to add a category.
To move listings to other categories:
Go to My eBay > Active Listings.
Select the listings that you want to move.
Click the Edit button.
Select Store Categories under Item Details and click the Continue button.
Select the new Store categories that you would like to add the listings to and click the Continue button.
Try to think like a buyer. Create a set of categories that help buyers quickly find what you have to offer, like brand, type of item, price levels, and so on. For example, if your Store primarily sells laptop computers, you could include categories such as: Laptops > Laptop Cases > Samsonite.
Avoid creating categories with only a few listings, otherwise you risk overwhelming buyers with too many categories and providing a poor customer experience.
Consider creating special categories that attract buyers' attention, such as "50% Off" or "Featured Items".
7. Store Search box
Buyers may find the search box useful when they buy something from your store and look for more. They can then easily check if you have more of that type of item. The search box is placed between Featured items and your listings.
8. Listing Frame
With the Listing Frame you can market your store within your listing descriptions by pulling elements of your Store such as your Store category list or Store Search box into all of them. There are three key elements:
Store Name.
Listing Header.
Category Navigation Bar.
To turn on and customize the parts of the Listing Frame you want to display:
Go to Manage My Store.
Click Listing Frame.
Make changes on the opened page.
On the Listing Header section, the following elements can be customized:
Store Logo Display
Search Box
Categories
Other Store Page Links
Newsletter Sign-up
Add to Favorite Stores
Be aware that if you choose to add the category navigation bar that appears on the left side, your item description will be compressed slightly into the remaining screen width when displayed. Take this into account when designing your item description template. The exact size of the category navigation bar of the Listing Frame is 170 pixels.