With more than half of all transactions on eBay viewed on a mobile device prior to purchase, it's important to make sure your listings look great on mobile. On mobile devices, we show item description a little differently. Mobile buyers see a shorter version, called a mobile description summary. Our guidelines help you to adapt your listings so that they appear correctly regardless of the buyer's device.
Font
eBay recommends using a base font size of 16 pixels and sticking to one or two font sizes.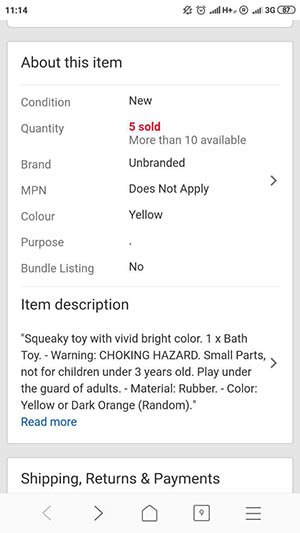 We recommend that you don't use a font size of less than 12 px, otherwise, your buyer will have to pinch to zoom in to read your listing content.
Formatting
We recommend that you use a white background and black font. Colorful inscriptions overload the listing and distract from its content. Use bullet points in item descriptions so that information is easy to scan. Remember that long lines on the screen of your mobile device may not display correctly. Do not misuse HTML-editing.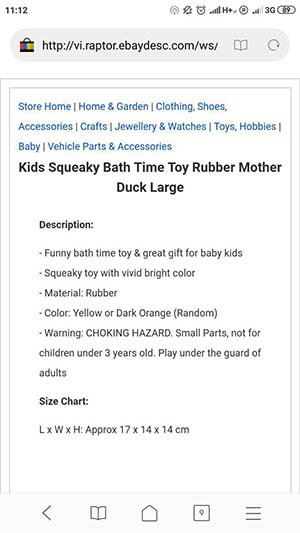 We recommend that you keep the listing design neat, do not overload it with excessive visual information.
Item Images
Often, when creating a listing, sellers insert photos into the Item Description section. But in this case, the buyer may not see them at all, as they may not scroll to the photos. In addition, this method of image placement may distort the formatting of the page, for example, leading to a horizontally scrolling appearance.
We recommend using the eBay photo uploader, instead of images in the description.
The eBay photo uploader lets you upload up to 12 photos free of charge to the gallery. In this case, they appear in the familiar section of the listing and the buyer knows where to look for them.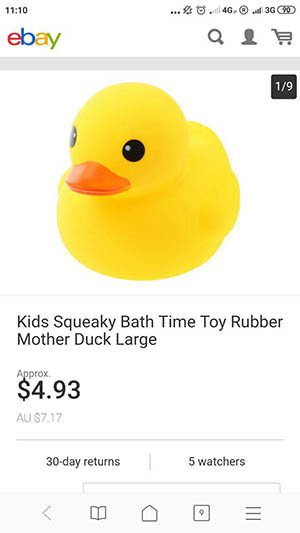 The larger the image, the better, and from 500 px to 1600 px is a good minimum to go for. 
Follow our guidelines on how to take  perfect photos for your listings.
Horizontal scrolling
In order for the listing to be displayed correctly on different mobile devices, it must be correctly scaled. To do this, eBay uses a special service element of the page markup, the so-called viewport meta tag.
We recommend: Always check how your listings look on your own mobile to see if there's anything you could improve. If you think you need to shorten or otherwise format the Item Description, do so. The clearer your listing is, the better the chances of a successful sale.
Previously, eBay sellers used the Mobile Friendly Checker tool to check their listings to add the viewport meta tag in order to make their listings mobile-friendly. But from June 2019, sellers do not need to update previous active listings which are missing the viewport meta tag, because the tag is added real-time when the buyer loads the View Item page.
We recommend: If the description has embedded images, the tool will warn sellers if the embedded images have defined fixed widths that are not mobile-friendly. If your description does not have embedded images, you won't need to use the Mobile Friendly Checker. 
Structured data in the Item Description 
When buyers search using filters, your listings will only be displayed in those results if you have selected the relevant Item Category and have completed the matching Item Specifics. If you haven't added the matching Item Specifics, your listing may be excluded from filtered search results. Select a category using the eBay catalog, rather than entering it manually in the Item Specifics when using Sell Your Item form.
We Recommend: Add Product Identifiers (ISBNs, GTINs, UPCs, etc.) to the listing if you have them. Learn more about Product Identifiers.
Active content
Active content is a broad term that covers any type of non-standard text that can be included in item descriptions to provide additional functionality. Examples of active content include JavaScript, Flash, plug-ins and form actions which can be used to create features such as cross-promotion modules or video players.
We recommend: Don't use active content, including JavaScript, Flash, form actions, 3D models, music, tabs or counters.
Since June 2017, the use of active content in listings on eBay is prohibited. We remove or block listings with active content.
We recommend: If you are an eBay Store subscriber, you can use the eBay Store benefits in creating your listings. For example, you can suggest your buyers sign up to your Store newsletter or use Promotions Manager to cross-sell related items.
Information on payments, shipping, and returns
Sometimes, when creating a listing, sellers ignore the special fields of the Sell Your Item form and try to write all the information in the Item Description field. Most often it happens with payment, shipping, and return policies.
We recommend: Use our listing fields to include your shipping, payment and returns information. This is far more effective than trying to clump all of that info into your description.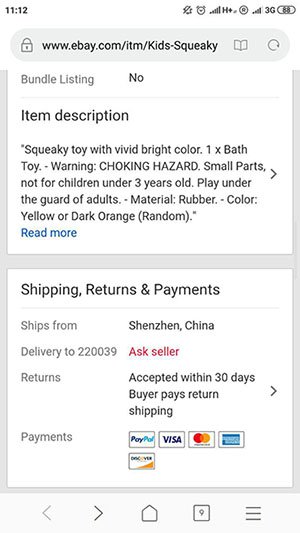 As the Item Description is displayed in a shortened form on the mobile device, it leads the buyer to receive distorted or incomplete information. When creating a listing, please provide information about payments, shipping, and returns using the special fields of the Sell Your Item form. Do not include this information in the Item Description.