What is Offer to Buyers?
The Offer to Buyers feature, which can be enabled in Seller Hub can help you target buyers already interested in your items and to close the sale faster. This feature is available for Fixed Price Listings only.
If a buyer is watching your item or has placed it in their shopping cart at any point in  the previous five days, you can send them a message and offer a lower price than the one on your listing. Send offers directly to interested buyers and increase your sales.
Benefits
Improve conversion. By lowering your price with a buyer who has already shown interest in your product, you may be able to close the sale faster.
Target interested buyers. Send targeted offers directly to shoppers who have shown interest in your listings.
Bear in mind that the offer price needs to be at least 5 percent lower than the price on the listing. Before making an offer, make sure that you have sufficient margins. 
We make sure buyers aren't overwhelmed with multiple offers from different sellers so please note that you can only send one offer per listing. 
However, if several buyers are interested in your item at once, the offer will be sent to them all.
Eligible Listings include:
Items a buyer opts to watch
Items added to cart in the previous 5 days, but not yet purchased
How do I send Offer to Buyers?
To send an Offer to Buyers from Seller Hub:
1. Under quick filters click Send offers—eligible.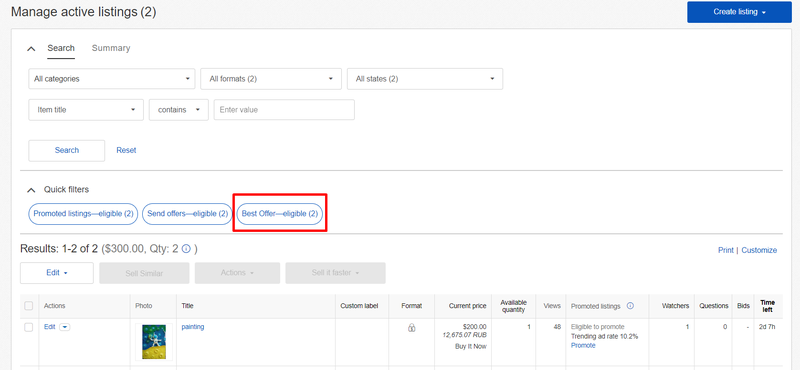 2. Select one or several listings you'd like to make an offer on.


3. Enter your offer price, then click Send offers. You can include a message to the interested buyers at this stage.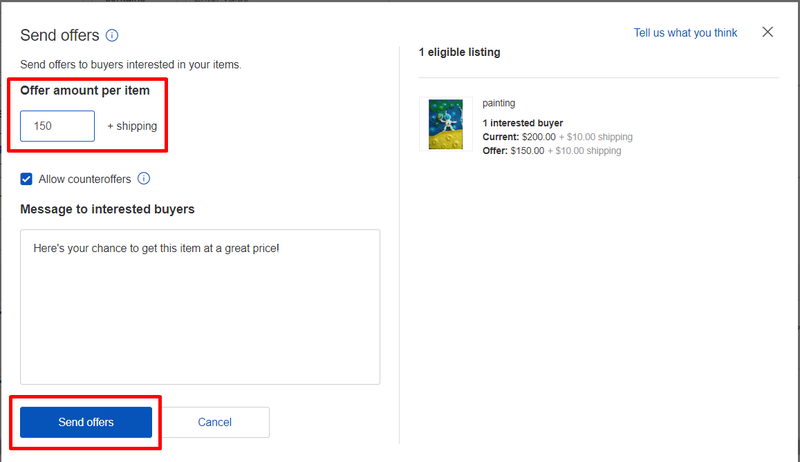 4. Your buyer will receive your offer message.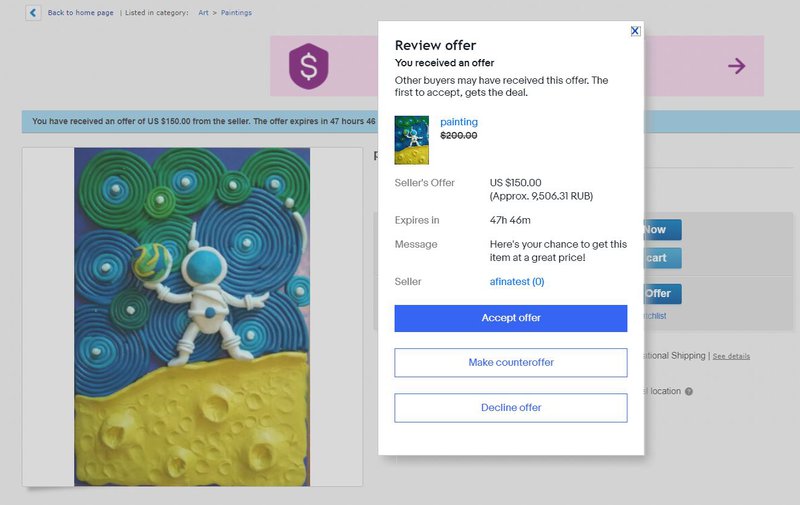 Your interested buyer now has 48 hours to respond. They can accept or decline your offer or make a counter offer. In turn, you can also accept or decline the buyer's counter offer, or make another one. Both the buyer and the seller can make a maximum of 5 counter offers each.
If you do not want to receive counter offers from buyers, untick the appropriate box when sending your offer.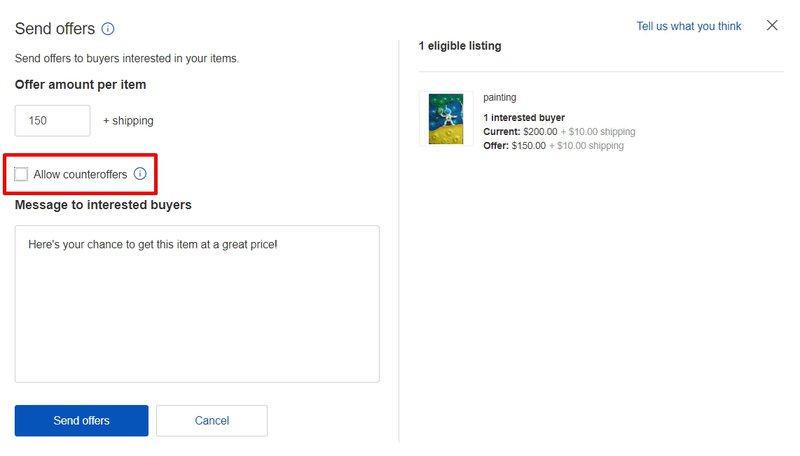 If the buyer declines your offer, you will receive a message: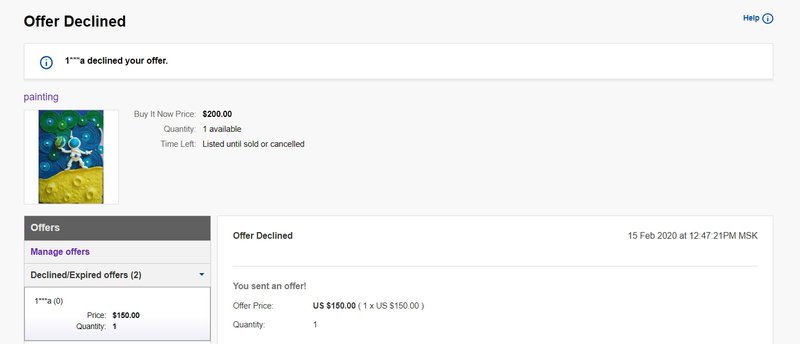 If the buyer accepts your offer or begins to negotiate a price with you, do the same as with any other transaction. Remember that if the buyer accepts your offer, you must sell him or her the item.
How do I cancel an offer?
You can only do so if a buyer has not already accepted your offer.
Visit My All Selling and select More Actions > Review All Offers for the relevant listing to cancel an offer.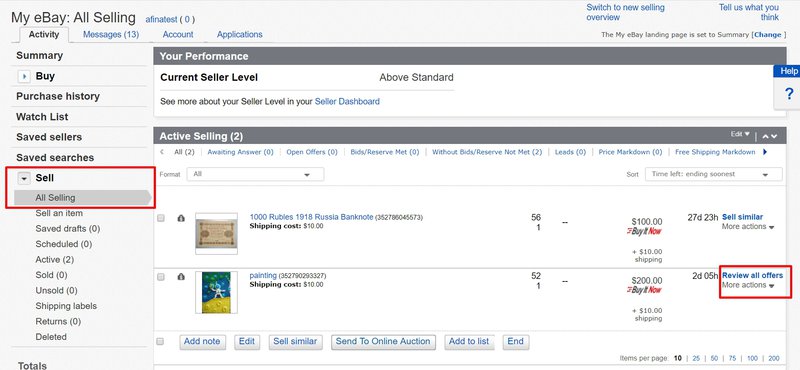 FAQs
Do any additional fees apply? What will my Final Value Fee be based on?
Apart from the standard fees for Fixed Price Listings, there is no additional cost to you for using these features. Please note that the Final Value Fee on transaction will be slightly lower because it is based on a percentage of the item price.
What is the difference between Offer to Buyers and Best Offer?
Best Offer is an option that you select at the time of listing. It lets your buyers initiate price negotiations with you.
The Offer to Buyers feature is available to you when your listing is already published. 
Best Offer allows the buyer to initiate price negotiations with the seller, while the Offer to Buyers feature allows seller to initiate price negotiations with the buyer.
If you're accepting Best Offers on a listing, you can still send an offer to eligible buyers if they are watching a listing. This does not apply to the buyer who previously sent you a Best Offer.
Which price will be displayed in the search history?
Once the listing has ended, and regardless of whether the buyer has purchased the item from you at a discounted price or not, we will only show the original Buy It Now price.
Is the item locked while an offer is open? What if someone else wants to buy?
Having an open offer does not prevent others from buying the item. In addition, any offers that haven't been accepted will be canceled when the item is sold to another buyer or multi-SKU items (listings which contain more than one unit) are sold out.
Can I make an offer on shipping only?
No, sending an offer applies only to the item price and does not include shipping. You can adjust the offer price to offset the postage cost.
I work on a Third-Party Platform, am I eligible?
Yes. See your Third-Party Platform representative for more details.