Selling vintage items has always been a big thing on eBay. The marketplace started as an online auction site where unique goods with history could be found, and today a lot of people visit eBay to buy or sell antiques, vintage items and rare things.
What can be considered vintage?
Generally, the term 'vintage' denotes something from the past of high quality (but not older than 100 years — that's called 'antique'). Popular vintage items include jewelry, clothes, accessories, household items, pop culture memorabilia, postcards, photos, vinyl records, cassette and VHS tapes, books, lamps, gadgets of 80s and 90s, toys. Interestingly, there is no direct correlation between item age and its price.
Whether you are a seasoned collector or just want to sell marvelous stuff from your grandma's attic, eBay is the right place for vintage items. It has an extremely wide range of categories (niche ones are included, too) and detailed item specifics in each of them. As a result, it's very easy to find exactly what one needs. In this article, you will find practical recommendations that will help you create compelling vintage listings, set a fair price, and find your buyer.
Why people buy vintage items
Collectors, fashionistas, vintage decor lovers, and eco-supporters — everyone has their own reasons for purchasing goods that are decades old.
Vintage items are harder to find, so there is more excitement during the treasure hunt
They have history and are much more meaningful
The quality of materials and craftsmanship is often impeccable
Vintage pieces help create a unique, creative one-of-a-kind look
They embody the idyllic past we often feel nostalgic about
By buying vintage items, one contributes to a sustainable economy: pre-owned pieces are kept out of landfills, and no extra resources are wasted on producing new items
Pre-used clothes of high quality are a proven way of creating a decent wardrobe for a reasonable price
Selling vintage is part of a powerful long-term trend — recommerce, which is gaining momentum worldwide according to eBay's data*. It's a triple win for everyone: sellers get extra income, buyers obtain unique pieces for an affordable price, and the environment benefits because fewer things go to landfills, and less energy and resources are spent on creating new items.
It's remarkable that this trend is led by younger generations who actively engage in recommerce. According to eBay's study*, 80% of Gen Z representatives (born between 1997 and 2012) bought pre-owned items during the previous year, and 1 in 3 began selling them last year. Millennials (born between 1996 and 1981) follow them quite closely: 78% of them buy pre-used items.
* eBay Recommerce Report 2021
Useful tips on selling vintage items
Tip 1. Describe your vintage item in detail and add high resolution photos
Your potential buyers can't see your item with their own eyes before purchasing, so if there is even the slightest doubt about its condition, they might change their mind. Add an informative video, take good quality photos from all angles, zoom in on any special features or damage, and write an honest description that points them out. If the item is not exactly as described, the buyer can open a return case, and your seller performance may be affected.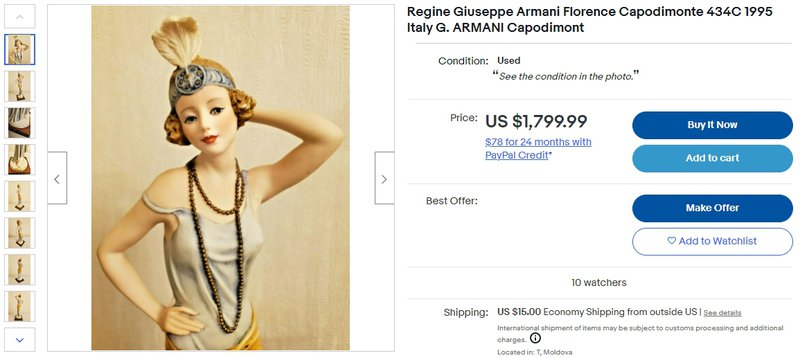 Tip 2. Tell a story in your listing
Is there an exciting story behind the item? Research your item's provenance and provide any details that will touch your buyer's heartstrings: where the item was manufactured and bought, who used it, and what it meant for its owners. You may also add some old photographs to help buyers feel the atmosphere of the olden days.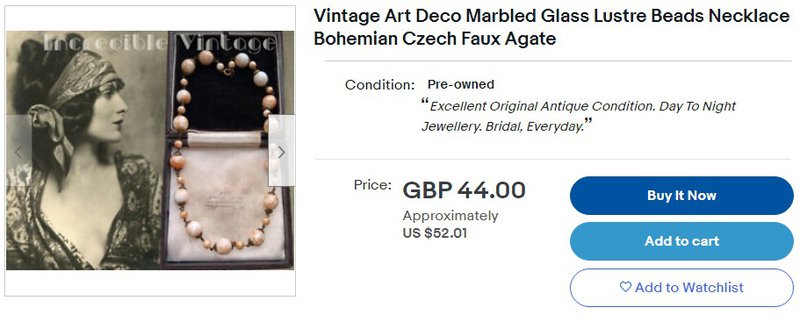 Tip 3. Set a fair price
The market for vintage items is an ever changing one: what's in demand today might be forgotten tomorrow. That is why you need to do some research before listing — for example, use Terapeak product research (available for free in Seller Hub > Research) and pay attention to the Sold section. What similar vintage items are on sale now? What was the price and condition of recently sold items? Assess the condition of your own item and set a competitive but profitable price. But don't expect vintage items to sell quickly: finding your buyer often takes at least a couple of months.
If you don't want to deal in rare vintage collectibles, you can still benefit from selling whatever you can find in your garage or basement: old clothes in good condition, a collection of vinyl records, your great-grandmother's wooden chest, etc. In this case, Terapeak and the Sold section will help you set decent prices that guarantee quick sales. You'll get some extra money and clear out more space at home.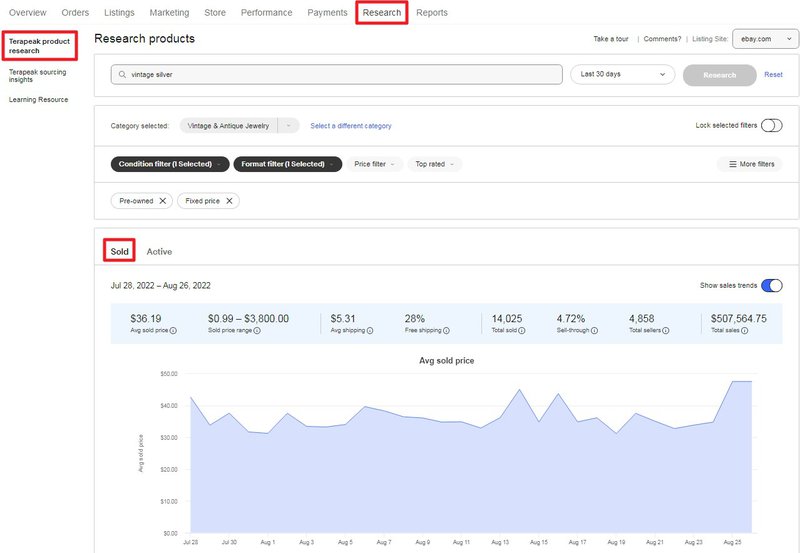 Tip 4. Look out for similar items
If your vintage item (say, a necklace) does not sell for a long time, you can pair it with a similar style bracelet and list them together as a vintage jewelry set. Or if you have a dozen of retro Christmas baubles, they are more likely to sell together than a single one. Another good example is tableware: separate vintage tea cups and saucers are in much less demand than a full tea service. When vintage items make a set, the listing looks more compelling and may attract more buyers.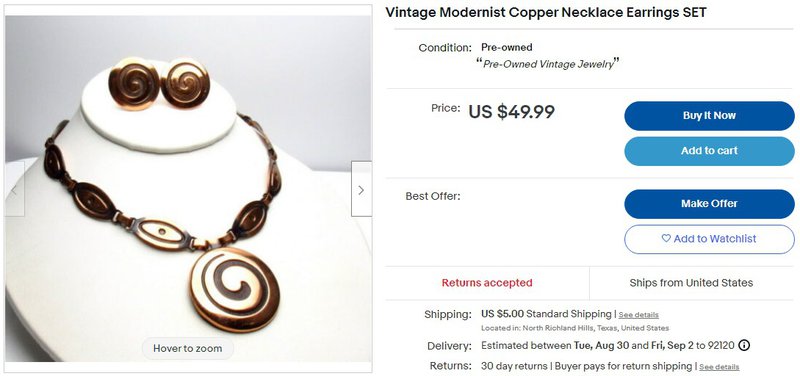 Tip 5. Promote before holidays
Experienced vintage sellers recommend launching short-term promo campaigns about one week before any federal holiday. It will help you reach those who are looking for gifts: vintage collectibles or jewelry can make a decent present for those who understand their value. When choosing your keywords, think about what search phrases your potential buyers may use.
Before holidays, you can also send offers to interested buyers — those who have your item in their cart or watchlist. A personal offer of a lower price may help you close the sale faster.

Tip 6. Use signature confirmation for expensive items
If you are selling high-value vintage items, signature confirmation will protect you from abusive buyers and Item not received disputes. At ebay.com, it is required to have signature confirmation for items over $750, if you want to receive Seller protection.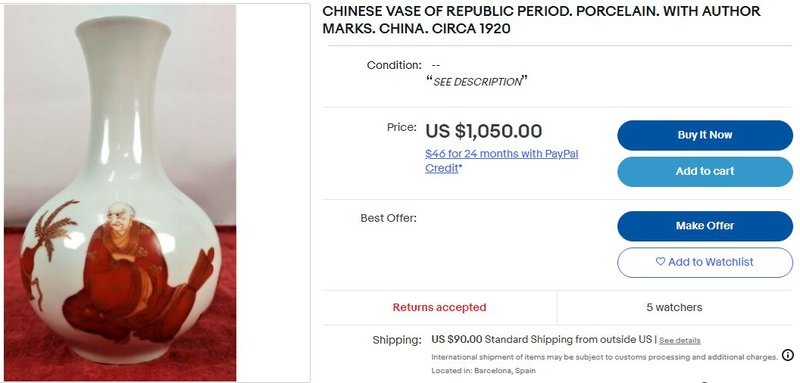 Tip 7. Build good feedback
If you are a novice seller of vintage items, keep your prices reasonably low to attract more buyers and do your best to build good feedback during your first year. A high score will show your potential buyers that you can be trusted, and they will make purchases with more confidence. Learn more about feedback metrics and how to handle negative feedback.

Tip 8. Use auctions for rare and hard-to-find items
If some of your items are so rare that you are not sure about their market price, choose the auction format and let buyers determine what your item is worth. Don't forget to run a promotion campaign to attract more bidders.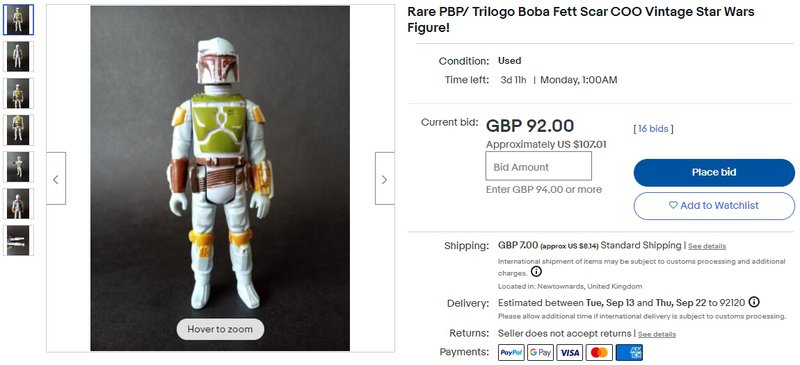 Tip 9. Accept free returns if possible
Most buyers are more willing to make a purchase if there is an opportunity to return their order. It is especially true for unique vintage items, because there is always a chance that they aren't exactly what one expected. Set a reasonable return policy, which won't repel your potential customers. Accepting 30-day returns is usually optimal. You can also choose to offer free returns so as to increase the conversion rate, but don't forget to factor in the return shipping cost when setting your item price.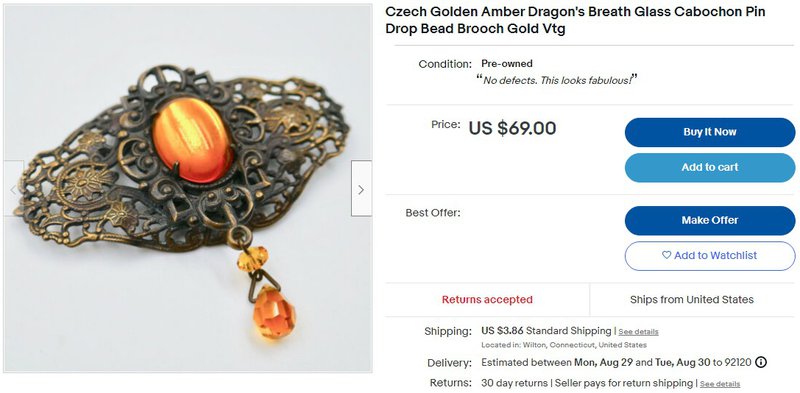 Tip 10. Pack orders securely
Packing your item properly is part of providing excellent service. Besides, if a vintage piece arrives damaged, it will be hard to replace it with an identical one. Learn more about transportation risk factors and how to pack fragile items.
Selling vintage is already a contribution to a greener planet, but environmentally responsible sellers also ship their orders in eco-friendly packaging (renewable and recycled). If possible, choose cardboard and paper over single-use plastic. Re-using boxes is also a viable option if you want to minimize your carbon footprint.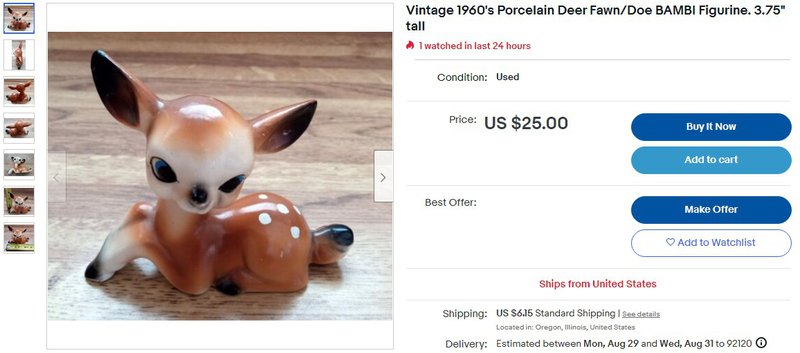 You might be also interested in:
How to price your items
Listing your items at the right price will help them sell. It's important to set a price that's both fair for you and attractive to your buyer. Explore some ways that can help you determine the optimal price.
Selling through auctions
Listing in auction-style format works well if you want to let buyers decide what your item is worth. Read this article to learn how to set up an auction and what fees will apply.
Tips for shipping internationally
Recommendations based on the study of buyer behavior and the best practices of successful sellers.
Setting up your shipping options: step-by-step guide
Useful tips on finding cost and terms of shipping and a complete setup guide.
Tips on listing optimization
An effective listing on eBay should not only provide the buyer with the correct and detailed item description but also sell it. Optimize your listings to appear higher in the search results.