How to set up an auction
When you list an item for sale in an eBay auction, you choose a starting price, and interested buyers place bids. When the auction ends, you sell to the highest bidder.
When choosing an item on eBay, a buyer can adjust the search to see only auction-style listings. The preview of the listing will show the starting price, the number of bids, the shipping cost, and the time left to the end of the auction.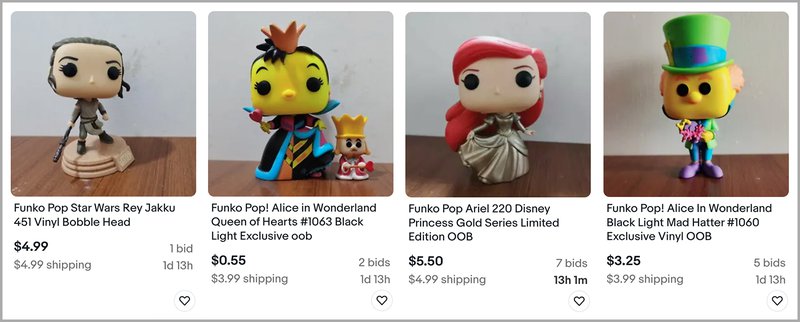 You can choose an auction format and adjust details:
In the Choose a format and price section of the quick listing form
In the Selling details section if you use the business tool
In the Pricing section if you use the new listing tool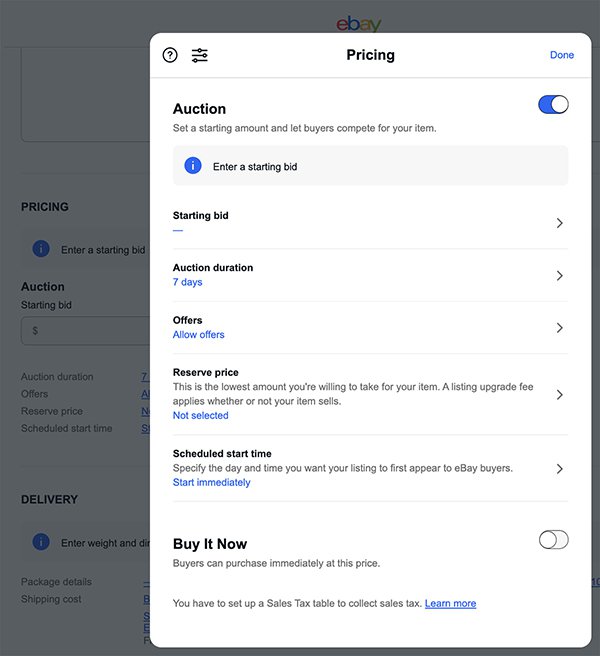 Starting bid (or Starting price). To attract buyers and increase competition for your item, consider a low starting bid.
Auction duration. You can choose how long you'd like the listing to show on the site — 1, 3, 5, 7, or 10 days. Auctions can be automatically relisted if the item is unsold.
Offers. Buyers interested in your item can send you offers, which you can accept, counter or decline. Letting buyers make offers can increase your chance of selling. See all offers, or if you want, set up rules for when you'll review or accept offers.
Reserve price. This is the lowest amount you're willing to take for your item. Setting a reserve price ensures your item doesn't sell for less than the amount you're willing to accept. Adding a reserve price to your listing costs extra.
Tip. Alternatively, consider choosing a starting price that's the minimum you'll accept for the item. In some cases, the system may give you some guidance on how to price your item competitively based on how similar items have sold. Learn more about a reserve price.
Scheduled start time. Start immediately or specify the day and time you want your listing to first appear to eBay buyers.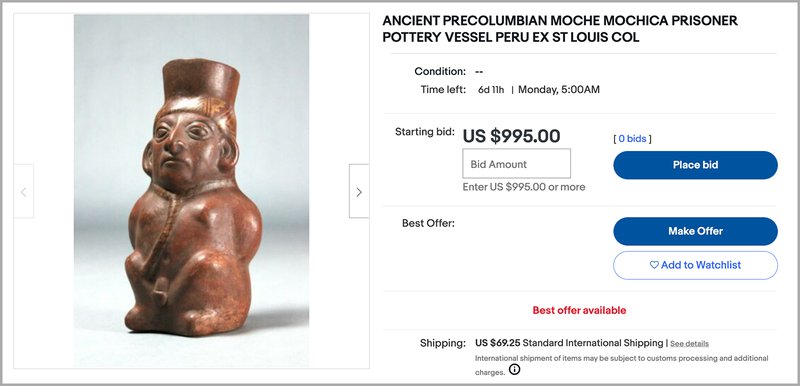 Buy It Now. You can add a Buy It Now price to an auction listing, and buyers can purchase immediately at this price. It will be shown until the first bid is placed.
In most categories, the Buy It Now price must be at least 30% higher than the auction price. In some categories, the Buy It Now option may continue to be available after the first bid for a limited time. See the article on the Buy It Now option for more information.

Auction duration and timings
For auction listings, you can choose a duration from 1 to 10 days, depending on your capabilities and your item features:
1-day listings can help you quickly find a buyer for time-sensitive items, like concert tickets or holiday packages.
For most items, short auctions are suitable, up to 3 days. This time is usually enough to attract participants, but not too long for those who make impulse purchases.
It is better to put up rare and expensive lots for 10-day auctions in order to maximize audience reach.
1-day listings are only available as auction-style, including those with the Buy It Now feature.
To create a 1-day auction, you need to have a feedback score of at least 10. If you don't meet this requirement, you won't see the 1-day option.
Some items and categories may not be eligible for 1-day listings. See this article for more information.
To set the listing duration for an auction-style listing:
At the bottom of the listing form, select Change beside your current listing preferences.
Check the Enable more options box and hit Save.
In the Pricing section, select Change.
Ensure the Auction starting bid box is checked, and then select More options.
From the Auction Duration dropdown, choose your preferred listing duration.
Fill in the rest of your listing, then select List item.
Tip. When you create or edit a listing, your updates may not immediately appear on the site; don't worry if you can't see the listing or your changes right away.
Another important aspect of bidding is the day and time of the start and end of the auction. By choosing the right moment, you will maximize the chances of a successful sale:
Ending of the auctions work best when potential buyers have more free time. In most cases, it's Sunday evening.
Consider the difference in time zones if you are targeting buyers from a particular region.
Pay attention to the seasonal specificity. For example, in the spring and summer, people can withdraw their bets before leaving for the weekend.
Consider what time would be most appropriate when targeting younger or older audiences, or specific customer groups.
You can schedule listings to start on a day and time you choose, up to 3 weeks in advance, allowing you to create your listings at your convenience and control the time they start and end.
To schedule your listing:
Go to the Pricing section of the listing tool.
Select Schedule your listing's start time. (If you don't see this option, select More options first.)
Set a start date and time.
Listing times on eBay.com are shown in Pacific time. Listings end in whole-day increments from the listing's start time, so if you submit your listing at 1:14 p.m. on Sunday and select a 3-day listing, it will end at exactly 1:14 p.m. on Wednesday. Learn more on listing times on eBay.
When does the auction-style format work well?
Listing in auction-style format lets buyers decide what your item is worth. Choose this format if:
Your item is unique or hard-to-find and may be in high demand. Biddings can offer you a much better price than a Fixed Price listing format.
Your item is so rare that you're unsure of its value. Set an appropriately high starting price and watch the buyers' reaction.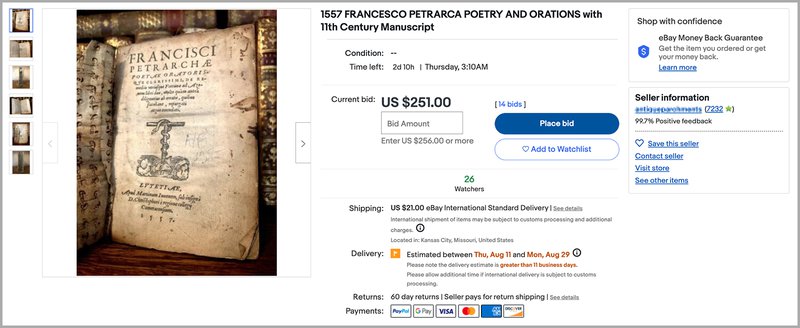 You need to sell out your inventory. Set the disposal price as a starting price and get the chance to earn more than you expected.
You want to attract new buyers to your Store and items. For an auction, choose an interesting lot at a good price to interest buyers in similar items from your inventory.
You've exceeded the limit of free Fixed Price listings, but you still have free auctions. Set the desired amount as a starting price and you will be able to end the auction as soon as the first bid is placed.
eBay started as an internet auctions marketplace and can still be associated foremost with this for many users. Even though now most deals are made in a fixed price format, some buyers keep looking for auction-style listings only — out of habit or out of passion.
Use it to promote your business!
You might also be interested in
Adding Best Offer to listings
When you add the Best Offer option to your eBay listings, you are inviting buyers to negotiate the price with you. Learn how to use the Best Offer option and set up automatic responses.
How to price your items
Listing your items at the right price will help them sell. It's important to set a price that's both fair for you and attractive to your buyer. Explore some ways that can help you determine the optimal price.
How to revise a listing
You can usually make changes to your eBay listings, but there are some restrictions depending on what you want to change and when.
Selling fees for eBay sellers
eBay charges two main types of selling fees: when you create a listing, and when your item sells. Read this article to learn about these and some optional fees.