Get practical insights into how to use social media to bring in buyers to your listings at the most critical moments of their shopping journey.
Social media and e-commerce
Research tells us that 98% of digital consumers are also social media users, 74% of people trust social media to guide their purchasing decisions, and 55% of all buyers actively do research on social networks. For eBay sellers in particular, social media marketing is an effective way to get in front of customers early in their shopping process and inspire them to make their purchase from you.
Part of social media's allure for users is the breadth of social networks and each platform's constantly evolving features, but those factors can also make it daunting for a small business to get started. To help you build your brand and connect with more buyers, we'll walk through how you can approach social media to meet your business' goals.
eBay shoppers are digital consumers. With nearly 13M followers, our social channels give us extraordinary access to online shoppers interested in our brand at a very low cost.
We use our eBay for Business Facebook and YouTube to connect, update, and educate our sellers, as well as share your stories. Our consumer-facing accounts on Facebook, Instagram, and Twitter are important ways we drive traffic to the marketplace, display the value and breadth of our inventory, inspire shoppers with seller stories, and foster community by showing off unique, only-on-eBay finds. To drive the results we're looking for, we use a mix of organic and paid social.
Organic and paid social
"Organic" describes social media posts that are free and have not been paid for to be amplified. Organic posts show up naturally in followers' feeds or timelines. They reach the broad, untargeted audience of our followers, so eBay uses it to share more general promotional or marketing messages. Organic is useful for driving awareness and engagement at no cost, but it's harder to cut through the wealth of activity that's going on across social media.
"Paid" social posts are those that the user puts money behind to guarantee more of the right people will see them. They may appear as "Sponsored" posts and are more akin to traditional advertisements. eBay uses paid social to target specific consumers who have shown interest in specific items or categories, regardless of whether they follow us. Paid has greater targeting options, so we're able to get very specific about which customers see which message. Paid is great for acquisition and growth and for motivating or enticing a buyer to make a purchase.
Social media marketing tips
Brands like eBay aren't the only ones making greater use of social media. Businesses of all types and sizes use social media from reaching new consumers to connecting with existing customers.  Best of all, businesses don't need a big budget or tons of resources to start social media marketing. It's free and accessible to anyone.
Whether you've dipped your toes into social media marketing or are starting from square one, we've put together some tips all businesses should keep in mind.
Set your goals upfront.
Are you looking to boost awareness and market your products to more buyers, increase traffic to your store or listings, or increase loyalty?

Choose your platforms.
Each has its own strengths and particular audiences which you should consider in relation to your goals. For more platform-specific advice, check out our Seller Center Social Media page.

Set up your accounts, and pick your handles.
It makes sense to keep your social media name (aka "handle") the same as your eBay seller name. If it isn't available, you can add an introductory word (like "The") or underscores.

Learn posting best practices and tools.
There are so many resources available just a Google or YouTube search away. For instance, eBay social media managers stay up to date with trends through the very thorough SocialBakers blog.

Build your followers.
Follow your friends, your competitors, and your competitors' followers. Avoid buying fans—it's not worth it! You want to build followers who are going to be genuinely engaged with your account.

Shape your content for engagement.
Pay attention to what's working and do more of it. On the other hand, do less of what isn't working. Focus on taking great photos, and take advantage of the analytic tools on the platforms to learn what's getting the kind of engagement you're looking for. Remember that hashtags are your friend!

Link back to your eBay store and listings.
Drive traffic to specific listings straight from your posts, and include a link to your eBay store in your bio. eBay links tend to be long, so use a link-shortening service like Bitly.

Use ads to increase your reach.
We recommend sellers start with exclusively organic posts as you build an understanding of how the platform works and what type of content is working best. When you're feeling comfortable and seeing a little success, begin testing paid marketing. Each platform has its own tools for creating ads or boosting posts, which you can do at a very low cost to get initial learnings. You can start from as little as $10 investment to boost your organic posts.

Have fun with it!
Carve out time in the day to dedicate to social media marketing, and treat it as an investment in your business. Free publishing tools like Hootsuite allow you to plan and schedule your content in advance.
Marketing with videos
Video is a powerful way to engage with buyers, show them more about yourself, and reinforce your brand. There are a variety of video types you might consider, depending on your goals.
Check-ins: A "talking-head" type video where a representative gives followers some insight into what's happening with your business now
How-to videos: Perfect for sellers with inventory that takes some explaining to demonstrate its purpose, value, or function. How-to videos also present you as a knowledgeable resource.
Behind-the-scenes videos: Walk customers through your business or introduce them to your staff. This humanizes you and helps customers feel like they really know you and are personally investing in your business.
Product-launch videos: Give customers the inside scoop on new or upcoming products to build awareness and excitement.
Unique-inventory videos: Showcase the products that make your eBay store unique! Tell customers the special attributes or backstories for specific inventory.
Best practices for videos depend largely on what platform you're sharing it on.
YouTube
YouTube is ideal for long-form content, between 3-5 minutes. Product demonstrations and how-tos work well on YouTube. Include important keywords in your title and descriptions to ensure you show up in search, and always link back to your eBay store.
Facebook and Instagram
Facebook and Instagram Story segments can be a maximum of 15 seconds each, so either plan to keep your videos under 15 seconds, or let Instagram automatically chop up your story into 15-second segments.
No matter what kind of video you choose, be your own art director. Look at each shot, make sure your background isn't too cluttered, and that your shirt doesn't clash with your surroundings. Make sure the camera angle is complimentary and leaves you looking your best.
Yes, this may all seem like a lot—maybe too much—but there's no need to go from zero to 100 in your first month on social media. Take it slow, and dedicate a little time throughout each week to meet your initial goals. When you start to see what works, build from there.
Snapchat
In May 2022, eBay announced a collaboration with Snapchat to create a quick, easy way to turn your listings into eye-catching snaps right from the eBay app.
Snapchat is an app that encourages discovery, storytelling, and connection through fun, fast-paced visual content. With over 347 million daily active users* engaging with content, Snapchat is a window into a new audience and new potential for your business.
*Data as of 2022 Q2.
With just one tap, you can create a Snapchat-ready design with listing details, an image, and a tappable link back to your eBay listing. Developed in collaboration with Snapchat, this new template generates a ready-to-share snap — or, you can get creative with stickers, text, and effects to make your listing stand out. Potential buyers can also use the feature to share snaps of items they're excited about with their Snapchat friends.
Explore this feature right from your Active Listings, or any listing, on the eBay app:
Make sure you're on the latest version of the eBay app and logged into Snapchat.
Open the eBay app and select any listing
Tap the Share icon at the top of a listing page or the Active Listings page.
Select the Snapchat icon to automatically jump to the Snapchat Camera with the automated eBay sticker.
From there, create an original Snap with the eBay sticker, and layer on using any of Snapchat creative tools.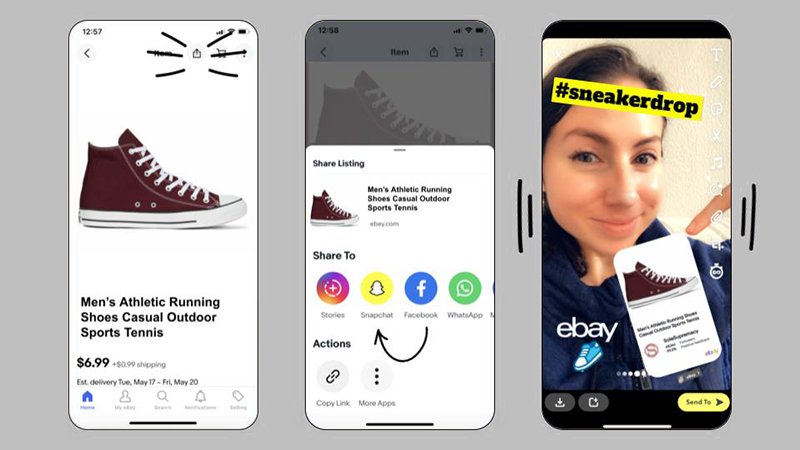 When a Snapchatter sends a Snap that includes an eBay sticker to their story or directly to their friends, the recipient or viewer will be able to tap the eBay sticker to jump back to the listing in the eBay app.
Stay tuned — eBay will be expanding this feature to more pages within the eBay app.
Let's get social!