How to combine shipping fees if the buyer hasn't paid yet
If a buyer is purchasing multiple items from you, and they haven't already benefited from a shipping discount, they can select Request total from the seller in their shopping cart.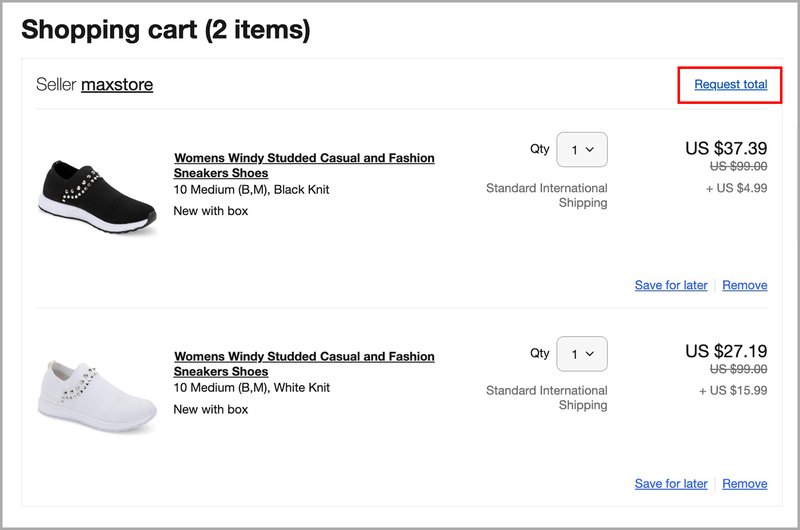 You can then send them an invoice with the new combined costs if you have combined invoices enabled on your account. Here's how to check:
1. Go to My eBay, click the Account tab, and find Shipping preferences in the Selling section.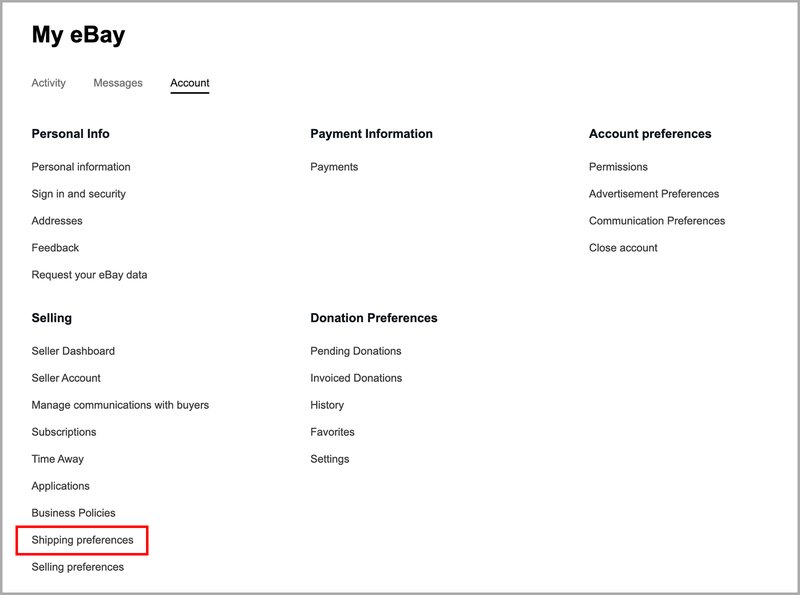 2. On the Shipping Preferences page, select Edit beside Allow combined payments and shipping.
3. Check the box beside Allow buyers to send one combined payment for all items purchased.
4. Choose the time period during which you're willing to combine payments for purchased items and select Save.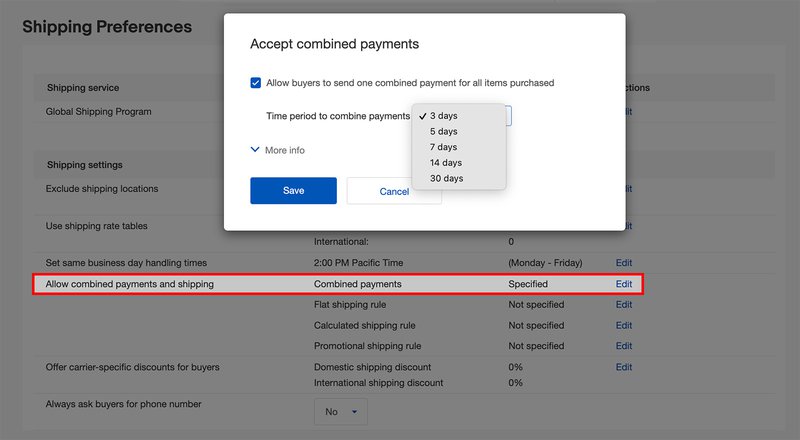 You can then issue a combined invoice to your buyer. To do this:
1. Find the sold items you're wanting to combine payments for:
2. Select Send invoice next to one of the items you'd like to include in the invoice.
3. On the next page, all items purchased by that buyer are displayed. Remove the check from any items you don't want to include in the invoice.
4. Add shipping charges.
5. Enter a message to the buyer (optional) and select the payment methods you accept.
6. To preview the invoice, select Preview invoice before sending.
7. To send the invoice, select Send invoice.

Once the buyer has completed payment, you can create a shipping label from one of the orders and upload that tracking number for all of the items in the new combined order.
If you combined shipping charges but didn't combine the items, you won't be able to upload tracking info to all your items. You will only be allowed to use 1 tracking number per item. See this article to learn more about issuing invoices and combining payments.
Shipping discounts
You can automatically apply a discount to the shipping cost when a buyer purchases multiple items, offer carrier-specific discounts, or even offer savings on shipping as a promotional tool in your listings.
You first need to opt in to offering combined shipping. You can then set up rules that automatically apply to the shipping cost when someone buys multiple items. Depending on whether you offer a flat shipping rate, or use calculated shipping, these discounts work slightly differently.
Tip. You can also set up shipping discounts using Promotions Manager. It is a simple tool which helps sellers configure different sales and promotions. Learn more about it in the article.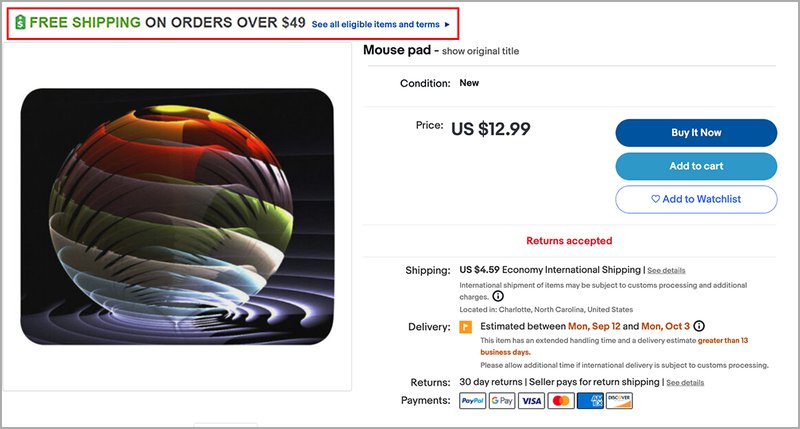 Tip. If an item price reaches or exceeds the minimum threshold amount you've set for free shipping, we recommend to list such an item with the free shipping option from the very beginning. In this case, your listing will be placed higher in buyers' search results.
How to combine orders using the eBaymag tool
eBaymag is a free tool developed by eBay for sellers, one platform to post listings on eBay international sites, manage orders and optimize shipping. eBaymag helps sellers effectively coordinate orders routine — here you can combine items into one package in a way that is convenient for both you and the buyer.
⠀
How tо merge multiple orders from one buyer into a single parcel
1. Choose one of the new orders from one buyer, click the button on the right and select Consolidate orders.


2. Tick the orders you would like to merge with the previously selected one.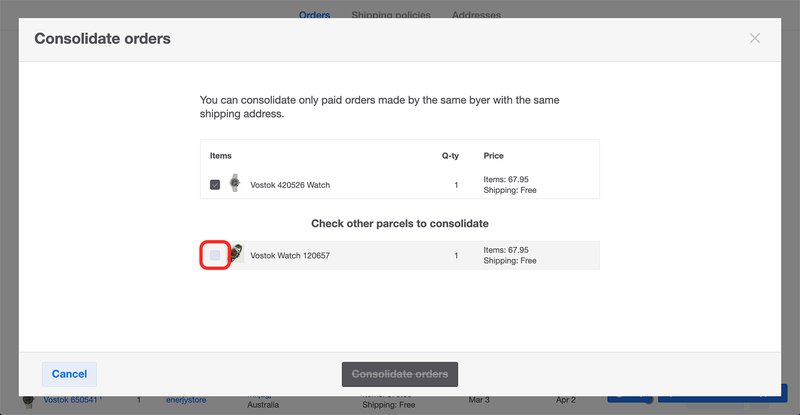 3. When the parcel is formed, click Consolidate orders.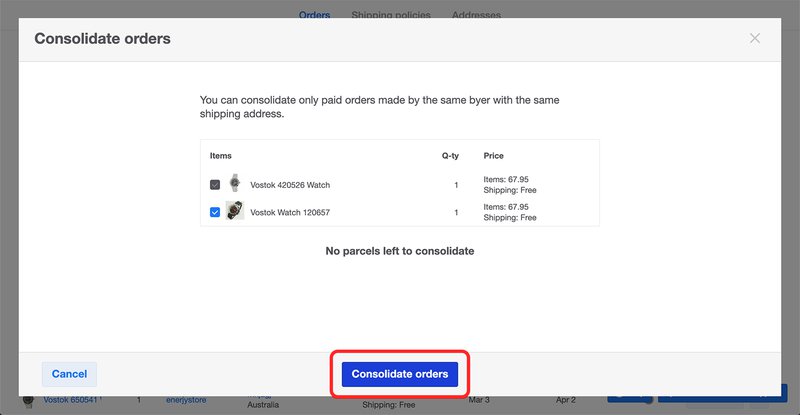 4. Your orders are now combined and can be shipped as one parcel with one tracking number.

Please note: if you plan not only to merge orders into one package, but also to give the buyer a shipping discount, then use the options on the eBay website described above.
Learn more about eBaymag and watch a video on how to get started with this tool.
Frequently asked questions
Can I offer a combined shipping discount if a buyer has already paid for shipping?
I uncombined an order to cancel an item for a buyer, but now I can't recombine the rest of the items. What can I do?
Sometimes the eBay system doesn't allow the items to be recombined. In this situation, eBay advises that you send invoices for each item, and split the discount among them. When you go to ship, you can check the box next to all items, and use our bulk shipping tool to make one label for all.
I did not set up combined shipping, why did eBay still combine these orders?
With calculated shipping, the majority of sellers and buyers prefer to ship items in one box to lower costs and make tracking an order simpler with one tracking number. However, if a seller wishes to not combine calculated shipping items there is a way to turn this off for any desired items.
How can I exclude an item from automatically combined shipping?
Note: If you have not enabled combined payments, there is no need to complete these steps.
By default, flat rate shipping does not combine because that is one item in one box at a flat rate. However, if you are using calculated shipping and have an item you do not want to combine with other calculated shipping, you need to create a combined shipping rule that states not to combine item weights. Once created, that rule needs to be enabled on any listing that should not be combined.
To create a calculated shipping rule to not combine item weights:
On the Shipping Preferences page, select Edit beside Calculated shipping rule.
From the dropdown menu select No discount and then hit Next.
On the next screen select a handling cost rule, enter the details and click Save.
Then add a new rule to any current listing.
How can I apply shipping rules to my listings?
If you're using the business tool, you can apply a shipping rule by selecting Apply my promotional shipping rule (or Apply my calculated shipping rule) when you're creating a listing.
To add a new rule to any current listing:
Go to the active listings page.
Select Revise/Edit, then Apply my promotional shipping rule (or Apply my calculated shipping rule).
Save changes to the listing.
If you don't see the option Apply my promotional (or calculated) shipping rule:
Click on Add or Remove Options.
Select Shipping on the left.
Enable Show combined shipping discount options.
Click Save.
You might also be interested in
How to revise a listing
You can usually make changes to your eBay listings, but there are some restrictions depending on what you want to change and when.
Promotions Manager
A quick and easy marketing tool that does not require special skills, but enables you to sell like a real pro.