3 steps to eBay Store
1
Register as an eBay seller, create Payoneer account and sync your eBay and Payoneer accounts.
2
Think what features and how many of them are necessary to your eBay Store.
Learn about the subscription options and choose the right one to your business.
3
Get the most out of your subscription. Start with the Store page customization, use powerful promotion tools. Change the plan after your business grows.
How to open an eBay Store
First of all, select the subscription level that fits your needs. Choose from Starter, Basic, Premium, Anchor or Enterprize. See the difference between the Store packages and their benefits on Subscriptions and fees page.
After you've chosen the subscription:
Go to My eBay > Account. Select Subscriptions in Selling.
Choose the plan, click on Select and review button.
One more time check the information about the subscription you choose. Select the Store Subscription durations — monthly or yearly*.
Click the Submit order button.
* Yearly Store subscription is not available on ebay.de.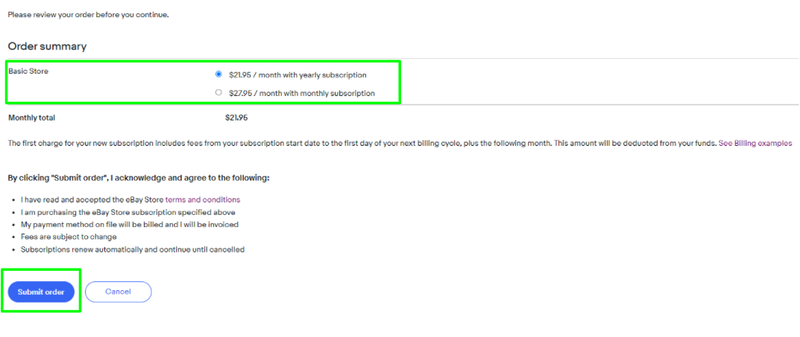 How to choose the eBay Store name
When you choose a name for your eBay Store, we'll create a website address (URL) for you. We'll remove special characters (such as apostrophes, spaces, &, !, $, etc.), add hyphens between words, and make all letters lowercase.
For example, if you name your eBay Store "Fine Jewelry!," your store URL will be: https://www.ebay.com/str/fine-jewelry.
Here are some things to keep in mind when deciding upon your eBay Store name:
It can be your eBay username as long as it meets the requirements above
It must start and end with a letter or number
It can't start with four or more consecutive A letters
It can't start with an e or E followed by more than a single number
It can't contain the following characters: <, >, or @
It can't be the username of another eBay member
It can't contain "www" anywhere in the name
It can't contain two or more consecutive spaces or non-alphanumeric characters
It can't end with a top-level domain abbreviation used on the internet such as .com, .co.uk, .net, etc.
It can't be a name that is identical or confusingly similar to another company's name which is protected by trademark law. Also, you can't use a name that contains the word "eBay" or one that is confusingly similar to that name. See our Intellectual property and the VeRO program policy for more information
Tip
Choose a name that immediately tells buyers what you sell. For example, a straightforward name such as "Ben's Computers" will be more helpful to buyers than a creative name such as "Zebra Park". This will also help search engines find your store when buyers are looking for the kinds of products you sell.
After you open an eBay Store, customize it: add a billboard, a logo and a Storefront video to attract buyers' attention and spark their interest. It's not mandatory, but highly recommended, because sometimes it's the story behind a business that makes the sale. By letting your buyers know the history, values, and passion that goes into your business, you can help them understand what makes your business unique and inspire them to buy from you.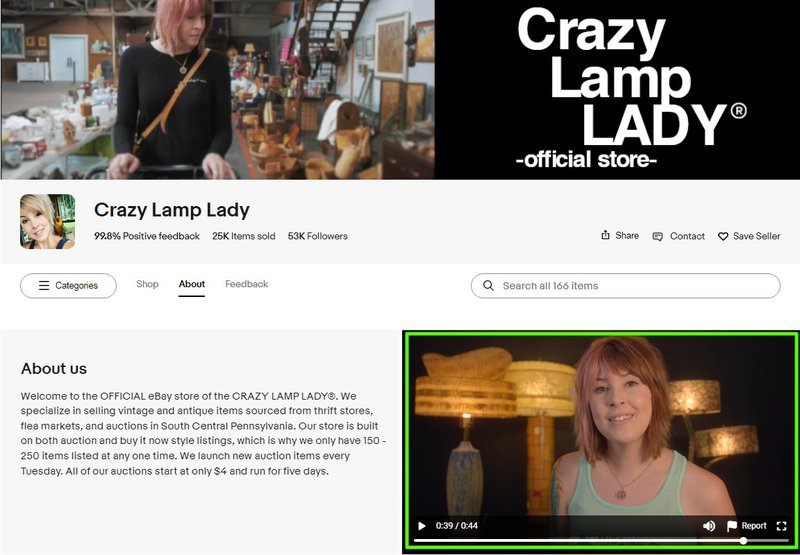 You can also organize your inventory to help buyers navigate your Store with more convenience. eBay allows you to set up custom Store categories and promote featured listings.
You'll find the detailed guide on customizing your Store in this article.