Why and when should I use Coded сoupons?
With our suite of promotional tools, you may want to think tactically about when to use each option. Coded сoupons offer you control over your budget and flexibility in how you run your campaigns. Coded coupons may be the right choice if you want to:
Offer a discount to specific customers instead of adjusting the price of your items.
Limit the budget on your campaign — when your budget is reached, your promotion will no longer be seen by your customers.
Send a printed coupon code note in your order to encourage repeat purchases from your buyers.
Control your campaign by:
Setting a beginning and end date to your coupon promotion.
Deciding on a maximum budget.
Setting conditions such as minimum spend or a limited number of times a customer can use the coupon.
Choosing:

to offer your discounts to all buyers visiting your listing or at checkout ("Public coupon");
to offer a "Private coupon" that isn't shown on eBay but can be shared with your customers in other marketing channels.
How do Coded сoupons work?
This new tool allows you to create a coupon code that your customers can apply at the checkout. You can share coded coupons both on and off eBay.
Share on eBay
Show as a banner:
On your search results page
On your listing page
At checkout
Share off eBay
Print and send a coupon to buyers to incentivize another purchase
Share your coupon code on social media
Send your coupon code to specific buyers or friends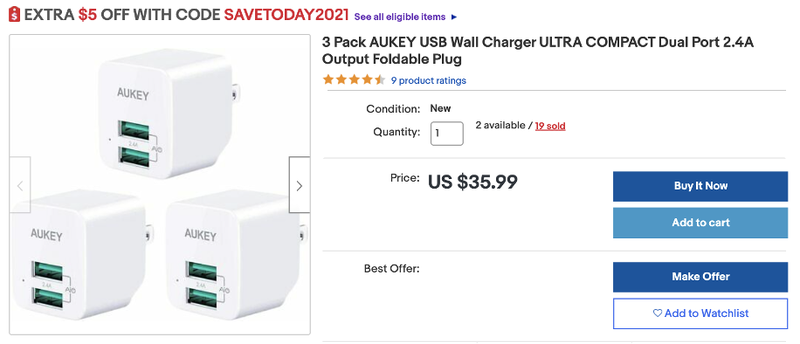 How do I create a special offer?
Coded сoupons are available to eBay Store subscribers through the Seller Hub.
1. In the Seller Hub, click the Marketing tab > Promotions. From the drop-down menu under the Create a promotion button, select Coupon.
2. Generate the code you want to use and give your campaign a name.
3. Choose the type of discount:
Offer a set price reduction
Example: YOURBRANDDISCOUNT10
$10 off over $50. Ends 31 May 2022.
Terms and Conditions apply.
Offer a percentage discount
Example: 20% OFF
Min spend $20. Max discount $40. Ends 30 Sep 2022.
Terms and Conditions apply.
Make a multi-item offer
Example: BUY 1 GET 1 HALF-PRICE
Ends 30 Sep 2022.
Terms and Conditions apply.
4. Determine any requirements, such as a minimum order spend or a maximum number of uses for the coupon.
5. Determine whether you want to keep the coupon private or publicly available.
6. Determine your maximum budget for the promotional campaign and other monetary conditions. eBay coupons are free to use for sellers — there is no charge per buyer using the coupon at checkout.
7. Determine which items in your inventory are eligible for the promotion.
8. Add an image to the campaign that will tell your buyers more about it.
9. Set start and end dates for the discount.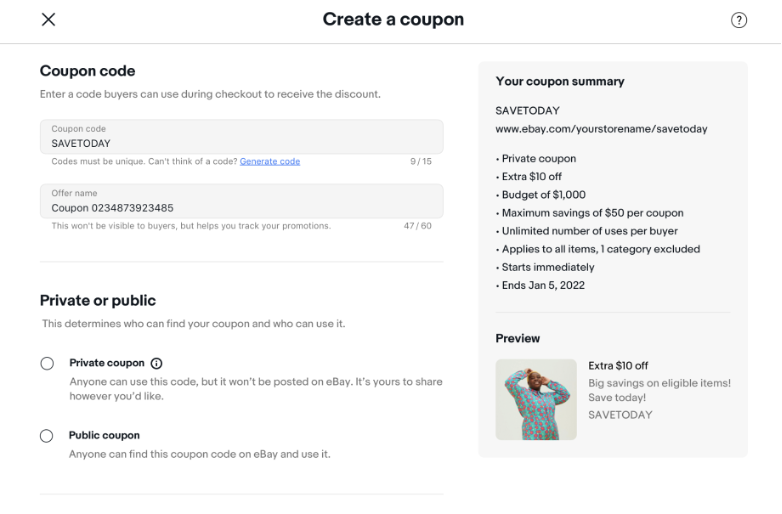 TIP
If you share your coupon on eBay, your terms (max. discount, min. spend, expiry date etc.) will automatically be displayed on your listings and the seller offer page. If you share them outside of eBay, make sure your terms are clearly visible and you provide a link to the Buyer Terms and Conditions.