How to start setting up shipping options
Before setting up shipping on eBay, define its options and cost.
Shipping options or Shipping policy define handling times, shipping costs and other options that you offer to buyers.
Check what international shipping services are available in your city and what shipping methods they offer. Then calculate how much the shipping of your items will cost depending on their weight and the intended region or country of destination. Finally, evaluate the shipping times offered by international shipping services.
Offer buyers Economy shipping by default — 11-23 business days. It's recommended to make it a free option, even if it means carrying the price on to the item itself. More than 80% of customers look for products with free shipping*, so It could help you to attract more buyers to listings.
* According to internal eBay data.
In addition, offer at least one option for Expedited Shipping, at extra cost. Expedited Shipping usually takes up to 10 business days, depending on the destination.
Once you've defined what shipping options and cost are acceptable for you, go to the Sell Your Item template to set up shipping options.
The step-by-step guide
Step 1
Open the Sell Your Item form
In the Listings tab of Seller Hub, open the Sell Your Item template. It is available when you create a new listing, revise an existing one, relist an unsold item or resume a draft.
On the Sell Your Item page, scroll down to the Shipping section (1). At the beginning of this section, click See shipping options (2) to open the dropdown menu.

In the dropdown menu, you can switch relevant toggles to add certain fields to the Shipping section. Make sure that the International shipping toggle (1) is on. If you want to set shipping exclusions, activate the Excluded locations toggle (2) as well.
You can also use other toggles to autofill shipping details (if you already have listed similar items), mark your package as irregular, etc.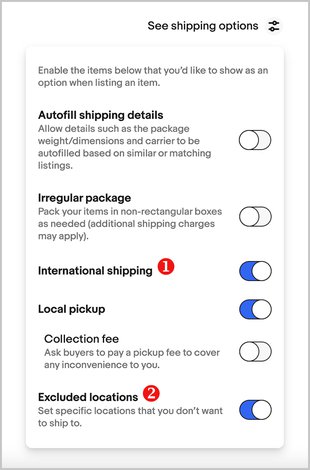 After that, choose the Standard shipping option (other options are relevant only for sellers located in the US):
Do not select these options if you are outside the US:
Freight: Oversized items
Local pickup only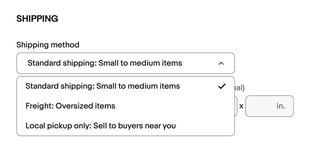 Step 2
Set up domestic shipping
Please note: ebay.com is a US e-commerce site, so the Domestic shipping section defines the shipping options within the United States and to the United States from other countries. By default, this section is mandatory for all sellers who create listings on ebay.com.
To set up shipping to all other countries, go to Step 3. International shipping.
In the Domestic shipping section, open the Cost type drop-down menu (1). Select Flat rate: Same cost regardless of buyer location. It means that you charge all buyers from the US the same amount for shipping. It's the recommended option for sellers from outside the United States.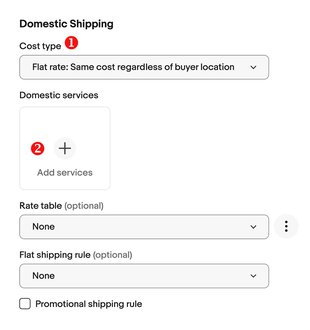 Once you've selected the Flat rate, click Add services (2). You will see a pop-up window with domestic postal services and the corresponding shipping time.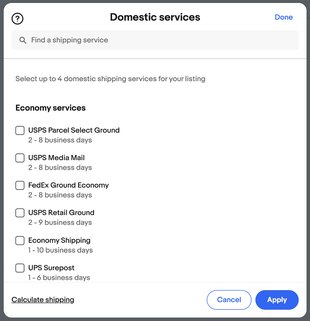 You can choose Economy Shipping from outside the US (11-35 business days) and switch the Offer free shipping toggle (1) to mark it as the free shipping option. For those buyers who want to get their item sooner, add faster shipping services for an extra fee.
Please note: the free shipping option boosts the listing's visibility.

The Rate table and the Flat shipping rule fields are optional. You can read more about shipping rules in this article. Detailed information about rate tables is available in Step 4. Create shipping rate tables
Step 3
Set up international shipping
The International Shipping section helps you set up options on ebay.com for shipping outside the US. Switch the toggle (1) to manage your options in this section.

In the Cost type dropdown menu (1), select Flat rate: same cost regardless of buyer location. This option means that you charge all buyers the same amount for shipping, no matter where they live. Then click Add services (2) and select up to 5 international shipping services for your listing.
The Calculated: Cost varies based on buyer location option is useful only for US-based sellers or for those who use a storage facility in the US.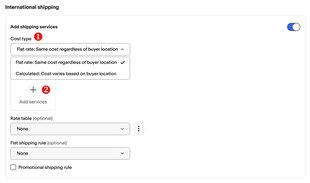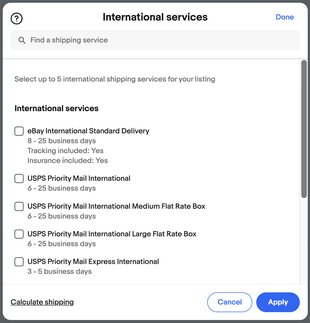 Once you've added the shipping services, specify the cost for each of them (1). It's recommended to offer an economy service as a free shipping option to attract buyers' attention.
You also need to select the shipping destinations by clicking Ships worldwide (2) and selecting countries for each shipping service.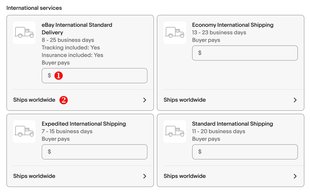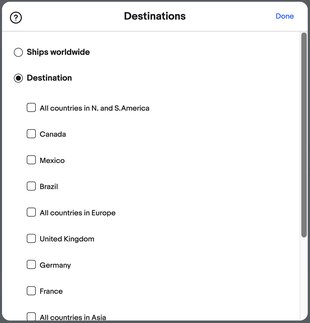 Step 4
Create shipping rate tables
This is an optional step, if you're a beginner, we recommend you to skip it and move to Step 5. Set up preferences.
Shipping rate tables allow you to more accurately tailor your shipping charges to your buyer. You can indicate multiple shipping options for the same region or state. In addition, you can specify shipping costs in your shipping rate tables by item or by weight. Once you've set up your shipping tables, you can use them any time you list an item.
To create a shipping rate table, click the "kebab menu icon" (1) and select Create new to open a pop-up window. It's also possible to access rate tables in My eBay (Account > Selling > Shipping preferences > Use shipping rate tables > Edit).

In the pop-up window, select one of the options in the Set shipping rates by field (1):
Item — with this option, the shipping cost to a buyer depends on where you're shipping the item and the shipping methods you offer. If you select this option, the package weight does not affect the shipping cost.
Weight — with this option, you can set fixed base costs for different destination regions and shipping methods, and then add an additional fixed amount per pound. Buyers will see the total shipping cost, not these calculations.
It's recommended to choose the Item option here.
When you create a new table, be sure to enter its name in the Table Name field (2), otherwise, the data won't be saved.

After that, select Add regions / states (1) to specify where you will provide Expedited, Standard, and Economy shipping. Then click on the Select shipping service (2) and Cost (3) fields to add the details.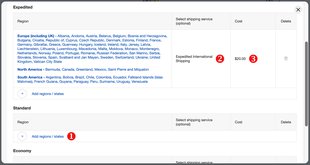 Step 5
Set up preferences
This section includes the information about your handling time, item location, domestic and international returns. Click on the pencil icon (1) in the top right corner to change the settings.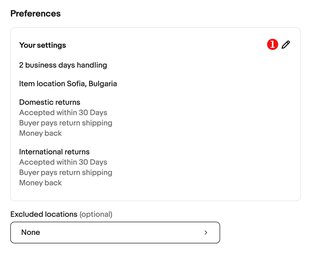 Handling time (1) is the time it takes you to ship the item from the buyer's purchase (in business days). It's recommended to set the handling time up to 1 business day. The shorter your handling time, the higher the position of your listing is in the search results. However, you should stay within the capabilities of your business. Don't set a handling time you can't meet!
Item location (2) means the city and the country where your item is located. Please remember that according to eBay policy, you are not allowed to provide false, incorrect, non-specific or misleading item location information.
Domestic returns (3) mean returns within the US only. Switch the toggle to accept them and specify the details.
International returns (4) are returns from countries other than the US. Switch the toggle to accept them and specify the details. If you are a beginner, learn how returns work and how to set up return options.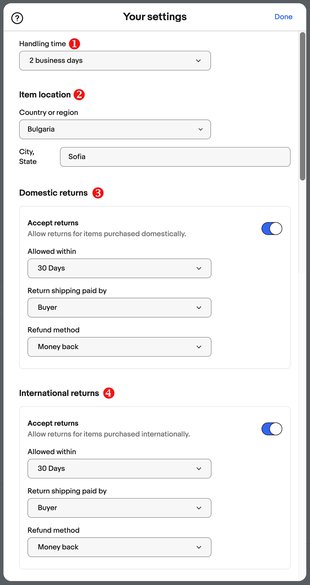 Step 6
Exclude shipping locations
This section is optional. Here you can select those countries or regions you do not want to ship to. To exclude certain shipping locations, click on the field to open a pop-up window. By default, this field is set to None.

In the pop-up window, you can set exclusions for domestic and international shipping. Just tick the boxes for the regions or countries you do not want to send items to. It's also possible to exclude post office boxes (PO boxes).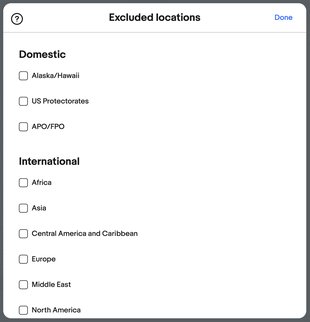 Frequently asked questions
Can I set up shipping once for all my listings?
Can late delivery affect my seller performance?
If buyers don't get their orders within the estimated delivery time, they can open an Item not received case. As a result, you could receive a defect that may affect your seller performance and your Item Not Received rate.
However, late deliveries won't impact your seller performance if you ship the item within your specified handling time period and can prove it with a scan of acceptance, and if you provide valid tracking information. If you have any concerns, you can check your seller level and service metrics in the Performance tab of Seller Hub.
Who pays for return shipping?
Who's responsible for return shipping costs depends on why the item is being returned. If the buyer is returning the item because it's damaged, faulty, or didn't match your listing description, then you're responsible for the return shipping costs, even if your returns policy says you don't offer free returns.
If the buyer is sending the item back for another reason, for instance, if they ordered the wrong item or changed their mind, then they'll need to pay for return shipping, unless your returns policy states you offer free returns. Read more about this topic in the article Return shipping for sellers.