According to eBay rules, buyers must pay for the item within 4 days of purchasing or winning an auction. However, sometimes when selling on eBay, payment might not be received immediately. In these situations, you can remind them yourself by sending an invoice or you can cancel the order.
Sellers no longer need to open a dispute to remind the buyer to pay for the order. Cancellation of unpaid orders is now faster.
If you have open "Buyer hasn't paid" disputes, you can complete them within 36 days from the date of opening. If you do not close the dispute within 36 days, eBay will close it for you. In this case, you will not be able to receive a refund of the Final Value Fee, and the unpaid transaction will not appear in the buyer's account.
How to send an invoice to a buyer
If the user has not paid for the auction they won, eBay will remind them of the purchase after 4 days. You can also send an invoice to the buyer within 30 days of purchase.
Find the item under Sold items in My eBay.
Click on More actions.
Select Send invoice.
To find the invoice, your buyer should either:
open My eBay > Purchase history > Unpaid items.
or:
at the item page, click View order details to see the revised invoice amounts.
Learn more on how to send or revise invoices to buyers.
How to cancel an unpaid order
If, after receiving the invoice, the buyer has still not paid, you can cancel the order after 4 calendar days and up to 30 days after the order is placed. You can also make an offer to the next highest bidder in the Auction.
Use the Cancel order button and select the Buyer hasn't paid option from the drop-down menu. Your listing will be posted automatically, and the buyer's review will be removed.
Do not cancel an order that has already been paid for. Otherwise, your account may be blocked.
How to set up automatic cancellation of unpaid orders
You can enable the setting in which orders not paid for 4 days in advance will be canceled automatically. Any reviews left by buyers of the unpaid item will also be removed.
In My eBay, select the Seller Account menu. Go to Selling Preferences and select Edit next to Preferences for items awaiting payment.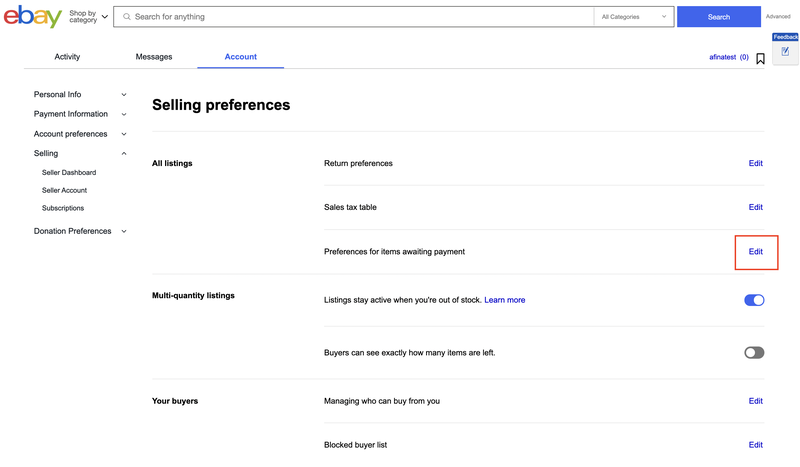 Turn on automatic cancellation of transactions with unpaid items. You can also set up listing republishing, if desired.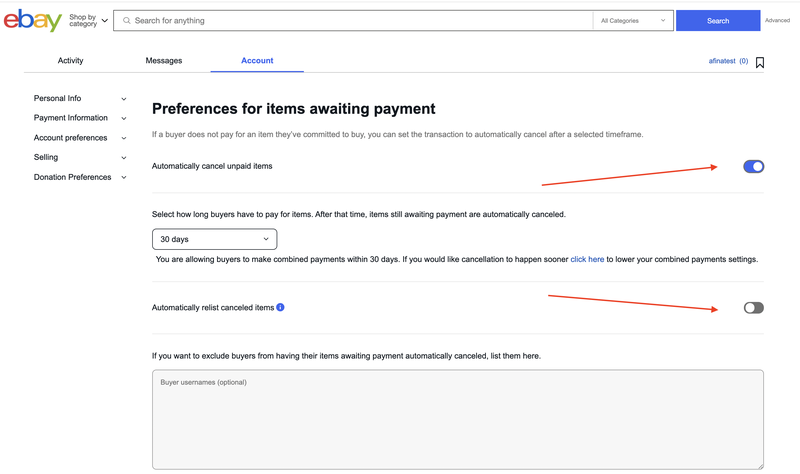 Here, if you wish, you can assign exceptions — enter the names of users whose orders will not be canceled automatically. These might be buyers you trust and are willing to provide deferred payments.

After completing the settings, click on the Save button.
You can also hide your listings from users who have already canceled unpaid purchases.
Reducing unpaid items
The long-standing challenges unpaid items have caused many of you and eBay team has been continuously working to make improvements for a better selling experience.
So steps have already been taken to reduce unpaid items for Buy It Now sales. When purchasing a Buy It Now item, buyers will be taken directly to check out, where they're required to provide a payment method in order to secure the item.
eBay is also testing a new feature that requires buyers to add a payment method on file before making offers on Best Offer listings. After you accept the offer, eBay will collect payment from the buyer's payment method automatically and buyers won't have to return to eBay to complete the purchase.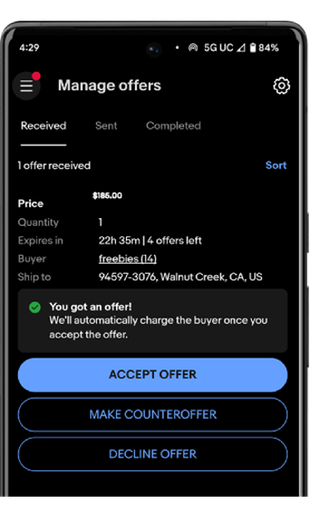 You may expect fewer unpaid items from offers as eBay scales this program. However, they may continue to happen from time to time in some specific scenarios, such as offers with very high offer prices. eBay is also working on adapting this feature for seller-initiated offers and counteroffers.
These changes will be applied automatically, so you don't need to update or make changes to your Best Offer listings. Auctions won't be affected.
You can control whether eligible buyers are asked for payment information for Best Offer listings. This can be done in Buyer Payment Requirements. eBay encourages you to remain opted in so that your items are paid for and orders are created quickly.
Some of our buyers like to request combined shipping when they make offers on multiple items from the same seller. eBay team is working on developing the right solution that addresses combined shipping without resulting in unpaid items.
You might also be interested in
How to send invoices to buyers
Most often, buyers go directly through eBay checkout to complete the transaction. However, in some cases you may need to send them an invoice.
How sellers can cancel an order
In some cases, a seller may have to cancel an order — for example, if a buyer has sent a cancellation request or hasn't paid for an item in time. Learn how to cancel an order and how it can affect your performance on eBay.
Adding Best Offer to listings
When you add the Best Offer option to your eBay listings, you are inviting buyers to negotiate the price with you. Learn how to use the Best Offer option and set up automatic responses.
Offer to buyers
The Offer to buyers feature let you target buyers already interested in your items and close the sale faster. Learn more how to send offers directly to interested buyers and increase your sales.