Best Offer
If you want to increase your chances of selling an item, you can add the Best Offer option to your listing. This option allows you to negotiate the price with potential customers. A buyer can send you a price offer, and you can choose to accept, decline or make a counter-offer. If you want to encourage those interested in your item to make a purchase, you can also send offers to buyers.
Adding Best Offer to your listing increases your chances of a successful sale: potential customers can suggest a lower price if the current one is too high for them, and you can use the counter-offer feature to negotiate the price. To save time, you can also set your preferences to automatically accept or decline offers based on your price limits.
The Best Offer amount only applies to the item price. Shipping costs and other terms remain as specified in the listing.
How to add Best Offer to your listings
There are two ways to add Best Offer to your listings: the business tool and the new listing tool.
⠀⠀⠀⠀
Add Best Offer to your listing via the business tool:
1. In the Selling details section, check the Let buyers make offers box.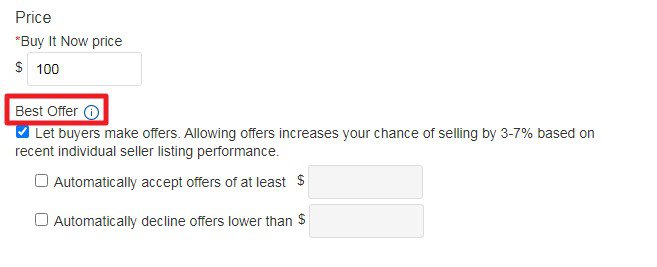 2. Check the box next to Automatically accept offers of at least and specify the price you are willing to accept automatically.
3. Check the box next to Automatically decline offers lower than and specify the correspondent amount.
4. Finish your listing.
Add Best Offer to your listing via the new listing tool:
1. In the Pricing section, click Edit all options

2. Switch the toggles to choose the format: either Auction or Buy It Now. If you enable both options, neither offer will be available.
3. Click Offers to go to the correspondent section.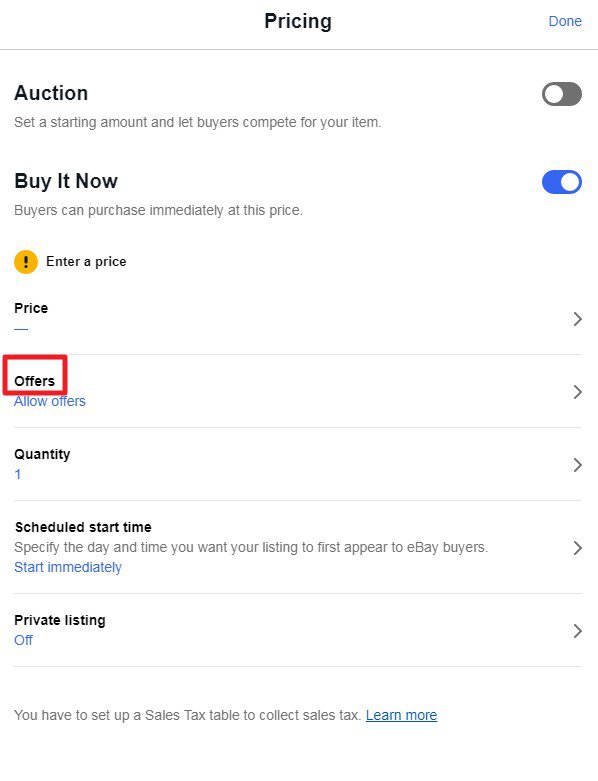 4. Click Allow Offers. If you want, you can specify the minimum offer amount and the auto-accept amount.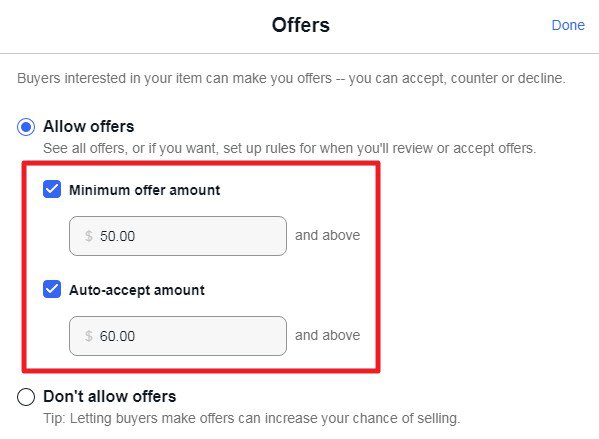 5. Click Done to save the settings.
Note: You can switch between the new listing tool and the business tool by selecting Switch to classic view or Try the new listing tool in the top right corner of the listing form.
The Best Offer option cannot be added to auction-style listings in the following categories: cell phones, motors, real estate, tablets, and tickets.
If you have added the Best Offer option to an auction-style listing, please remember:
If someone makes a bid, the Best Offer feature will be disabled: all current offers and counter-offers will be declined automatically, and buyers won't be able to make any more offers on this item.
Any Best Offer higher than the current bid will also be declined. It means that the buyer who has made such an offer will need to place a bid (if they still want to get the item).
If the bidder retracts their bid, the Best Offer feature will be re-enabled.
How to accept a Best Offer
When you receive a Best Offer, eBay will send you an email to notify you about it. All the offers are also displayed in My eBay (Activity > Bids/Offers) and in the Seller Hub (Listings > Active).
See the buyer (1) and seller (2) experience: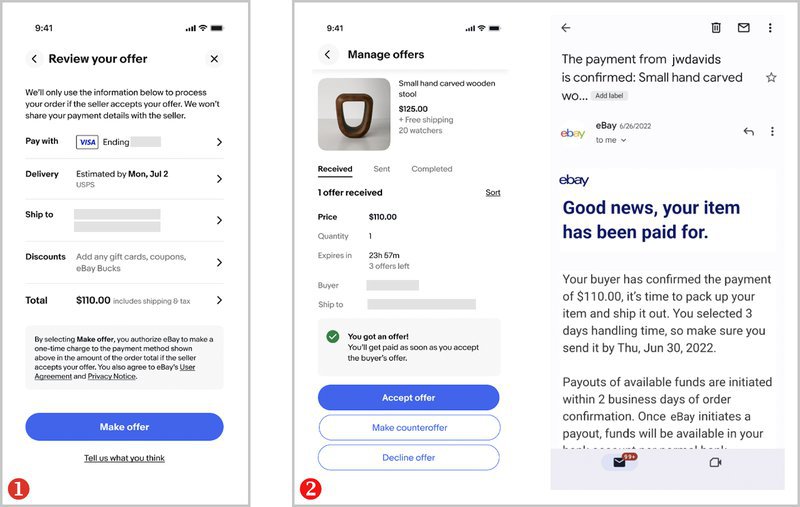 Once you have received an offer, you have 24 hours to consider your response. There are four options for you to choose:
Accept the Best Offer and end the listing
Reply with a counter-offer
Do nothing and let the offer expire (after 24 hours or when the listing ends, whichever comes first)
Decline the Best Offer
Since eBay is constantly improving and expanding the protection for sellers from unpaid items, most buyers who send a Best Offer on ebay.com are now required to provide a payment method up front before submitting.
Best Offers from Repeat buyers
Repeat buyers are more valuable than any other buyer. They return to engage and spend more on the seller's store. When a seller knows that the buyer is a repeat customer, it provides an opportunity for the seller to make informed decisions in responding to an offer or a message.
That is why eBay marks repeat buyers with a special indicator: if a Best Offer comes from a repeat buyer, you will see the indicator next to their name. This feature is launched on all international eBay sites.
A Repeat buyer is someone who has purchased more than one order from a seller. This will include all buyers within a period of 2 years from the current date.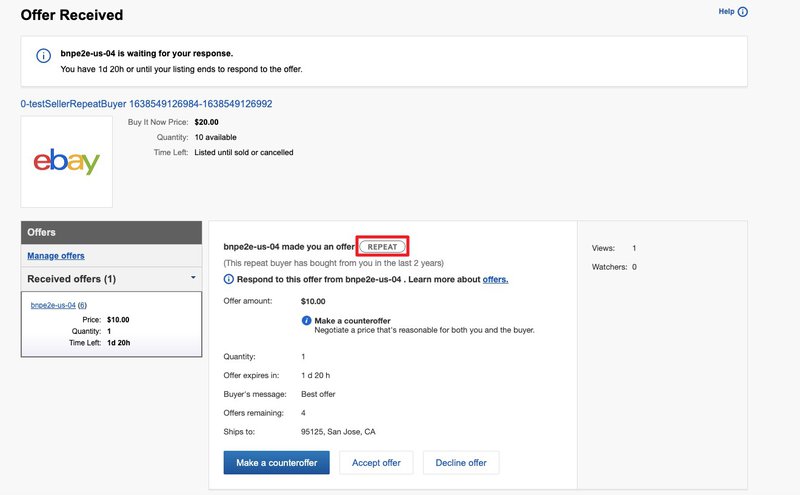 How to make and retract a counteroffer
If you want to respond to a Best Offer with a counter-offer, the amount in your response should be lower than the Buy It Now price but higher than the Best Offer you are responding to.
You can respond to the potential buyer directly from the email message eBay has sent to notify you about the Best Offer.
It is perfectly acceptable for you to receive multiple offers from buyers and make counter-offers to each of them. It is possible to send up to 5 counter-offers to one buyer. After 48 hours, each counter-offer expires. The first buyer who accepts your counter-offer will be the one who purchases the item.
With a multiple quantity listing, buyers can accept counter-offers until all items in the listing are sold or the counter-offers expire (whichever comes first).
Both sellers and buyers can retract their offers and counter-offers, if they have changed their mind or specified the wrong amount by mistake. To retract a counter-offer, go to the listing, click Manage offers, select the counter-offer and click the Retract button. Alternatively, you can do it via the Listings tab of the Seller Hub or the Selling section in My eBay.
Automatic responses to a Best Offer
If you receive multiple Best Offers, you can save time by setting up automatic responses. eBay will accept or decline offers for you based on the specified price limits. Buyers will not know your limits, but the upper limit must be lower than the Buy It Now price in your listing.
How automatic responses work:
If you get a Best Offer that is at your upper limit or above it, eBay automatically sends an email to you and the buyer saying that the Best Offer is accepted and the buyer should pay for the item.
If you get a Best Offer that is below your lower limit, eBay automatically sends an email to the buyer saying that the Best Offer is declined. After that, the buyer can make a higher offer, or you can send a counter-offer manually. In most categories, buyers can submit up to three offers per item.
If you get an offer that is between your price limits, eBay will send you a message, so that you could make the decision.
Automatic responses are unavailable in the following cases:
You have put an item on sale using the markdown manager feature of the Promotions Manager.
The buyer has sent an offer with additional terms that you need to check first.
You are creating your listing in a category that does not allow automatic responses. In this case, the option will not be available in the Sell Your Item form.
You can send your own offers to buyers who are interested in your items. Read this article to learn more about Offers to buyers and how they are different from Best Offers.
Reducing unpaid items for accepted offers
After an offer is accepted, it's usually a smooth process to complete the transaction with the buyer, but sometimes the buyer may not pay for the item they offered to buy. These are called unpaid items.
eBay is trying to tackle unpaid items wherever possible and prevent the challenges they bring. To reduce the number of such cases, it has piloted a new process for collecting payment from a buyer automatically following acceptance of their offer. eBay asks the buyer for payment and shipping details in the Best Offer flows.
You may expect fewer unpaid items from offers as eBay scales this program. However, they may continue to happen from time to time in some specific scenarios, such as offers with very high offer prices.
These changes will be applied automatically, so you don't need to update or make changes to your listings. Auctions won't be affected.
You can control whether eligible buyers are asked for payment information for Best Offer listings. If you are willing to accept offers from all buyers, you can turn this function off.
To do this:
Go to My eBay > Account tab > Selling > Selling preference > Blocked buyer list, and click Edit, or use the quick link.
Uncheck the box in the Buyer Payment Requirements section.
Then click Submit.
You can control whether eligible buyers are asked for payment and shipping information for Best Offer listings. To opt out of this feature, remove the checkbox in Buyer Payment Requirements and click Submit.

If you opt out, eligible buyers won't be asked for payment and shipping information upfront when they submit offers for your listings. The new settings will apply to future offers. eBay encourages you to remain opted in so that your items are paid for and orders are created quickly.
If the product is still not paid for, you should continue to cancel the order just as you do today.