eBay has minimum performance standards for areas within a seller's control: to meet buyers' expectations, sellers should resolve customer issues promptly, follow through on return policy and ship items on time.
As the business grows, and the number of orders increases, it becomes more difficult to maintain levels of service without some help.
Do you need an assistant? Checklist
☑ You get bogged down in routine.
Instead of expanding your assortment, looking for new profitable suppliers and drawing up a strategy for entering new markets, you spend all day answering customer messages, packing and shipping items, and dealing with paperwork. If you run out of time and energy to build your business strategy, it may be time to entrust someone with simple tasks.
☑ You work all the time.
You work weekends and nights and don't take vacations. Be careful: this rhythm is difficult in the long run. Sooner or later, this can negatively affect your quality of service and your business in general.
Your business becomes bigger? Subscribe to an eBay Store to save on eBay fees if you post more than 250 listings per month and get useful tools to grow your brand.
☑ You are lacking in some skills.
Some tasks, such as bookkeeping, require specific knowledge. Sometimes it makes sense to hire someone who already has it, instead of learning it from scratch yourself. This will help keep you from making mistakes, so you will be able to pay attention to more important things.
☑ Your customer service is getting worse.
You can't ship items and respond to messages on time, customers complain about poor packaging, and your rating starts to decline. Looks like you need help urgently!
☑ You can hire an employee.
It is not necessary to wait for a critical moment and make a decision to expand in a hurry. If you have enough resources, hire and train an assistant ahead of time. When it's time to scale your business, you won't have to rush it.
What is eBay Multi-User Account Access
Use eBay Multi-User Account Access to allow you to grant permissions to other users to access your account and perform workflows on your behalf.
This tool allows you to:
Improve your productivity by delegating specific workflows to others.
Gain additional support without exposing your password and critical business information to designated users.
Authorized users, depending on their permissions, may also contact customer support on your behalf to resolve potential issues.
With this tool, you can delegate the creation and editing of drafts, listings publication and editing, incoming orders review, access to Terapeak, and generation of order reports. There is no limit to the number of delegates who can act on your behalf.
How to set up Multi-User Account Access
To use the tool, your assistant needs to create their own eBay account. You must be logged in Seller Hub.
Go to My eBay > Account. Click Permissions in the My Account section. Enter your employee's name and email. Check the boxes for actions you are ready to entrust to him/her with. Click the Add User button.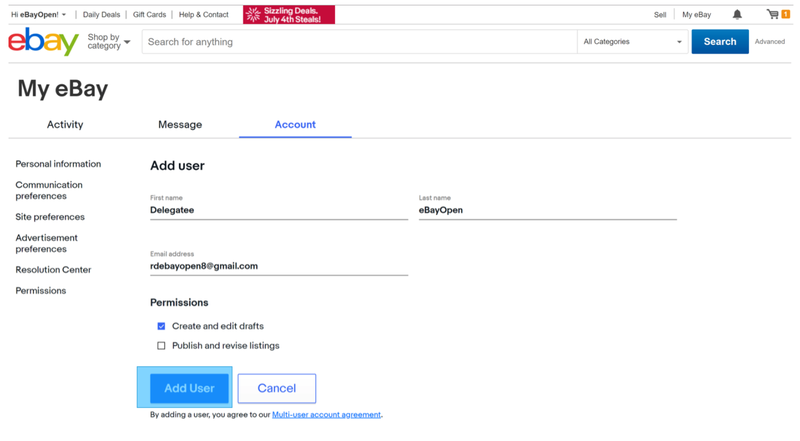 Your assistant will receive an email invitation. To accept it, the user needs to follow the link in the letter. It will be redirected to the login page. If the email address is not associated with an eBay account, the link will lead to the registration page.
After logging in, an authorized user will have access to the Listings tab in the Seller Hub and will be able to perform.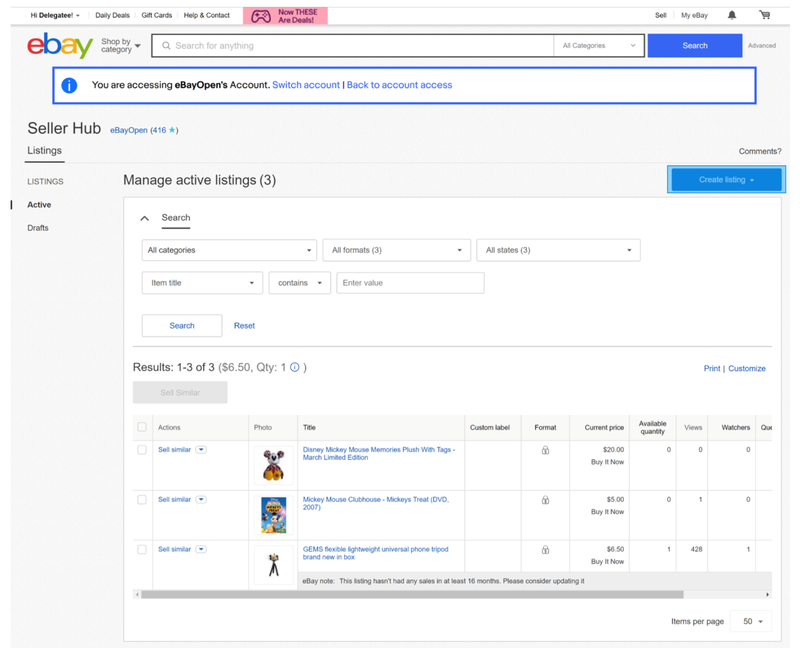 Grant Multi-User Account Access only to personal accounts of authorized users so you can track the actions of specific employees.
The invitation will automatically expire after 24 hours. Then the link in the email will stop working.
You can cancel the invitation or the user's access to your account at any time on the Authorized users page.
How to switch accounts when using Multi-User Account Access
In Seller Hub, there is a blue banner at the top of the page that shows which account you are using. If you want to switch to a different account, click the Switch account link on the banner.
If you are not on the page with the blue banner, follow these steps to change your account:
Click on Hi [your username]! in the upper left corner of the page.
Choose Account Settings > Permissions.
Switch to a different account on the Account Access page.
You can also switch accounts in My eBay:
Go to the Account Access page.
Click on the "I'd like to" drop down menu next to the name of the account owner.
Choose Go to Seller Hub.
In what situations you might need multiple eBay accounts
You can register multiple accounts on eBay. This can be useful if you need to differentiate between buyer and seller accounts to manage different types of assortment or assortment on different eBay international sites.
Registration of new accounts in order to circumvent sales limits, restrictions or account blocking on eBay is prohibited.
No matter how many accounts you have, it is important to comply with the eBay seller requirements.
Regular violations of marketplace policies will result in restrictions on or blocking of the violator's account. In addition, it can cause similar consequences for all other accounts.
If any account drops the Seller rating to Below Standard, everyone else will be affected. For example, it may be difficult to raise the limits until you get the job done on the "problem" account.
If you run into problems with any of your accounts, please resolve them in accordance with eBay's guidelines. This way you will maintain your status as a seller.
Why eBaymag Multi-Account is useful
eBaymag — it is eBay's official tool for easy posting on eBay international sites, a one-stop shop for order management and logistics optimization. It allows you to link separate eBay accounts to different international sites and manage them in a single dashboard.
You can:
quickly copy listings from the main account to several additional ones
buy an eBay Store subscription for each site you want to list your items on — and list more items within your sales limits
To link multiple accounts:
Go to eBaymag > Sites.
Select the site to which you want to connect the new account, and in the far right column, click the Add account button.
Click the Add account button in the new window. You will be redirected to eBay to enter the details of the account you want to link.
After successful authorization, you will be returned to eBaymag. If eBaymag does not ask you to confirm account information (such as your phone number), click Done.
On the Sites page, you will see a new account opposite the corresponding site. All products will be posted on this site with a new connected account.