If your item doesn't sell, eBay can automatically relist it for you and get it back in front of buyers. It's also possible to relist your item manually if you need to — for example, if you ended your listing early for some reason but now you want to put it back up on eBay.
When an item is relisted, either automatically or manually, please don't expect it to appear instantly on the site. It can take up to a few hours.
Automatic relists and renewals
Auction-style listings
If you select the auto-relist option (if available) when you create your listing:
Auctions with a duration of 5 days or more will be automatically relisted up to 8 times
Auctions with a duration of 1 or 3 days will be automatically relisted up to 8 times as a 7-day listing
Auto-relists are free, except for listings in vehicles categories
Automatic relisting is available for most categories, but there are some exclusions (see below). If your item doesn't sell after 8 relists, it will appear in your unsold items.
Please keep in mind that the automatic relist option is only available for listings created by new and occasional sellers. The option will not show for other sellers.
eBay vehicles categories
You can choose to automatically relist items in eBay vehicles categories up to 2 times. The fees for the original listing will apply for each relist.
Categories excluded from automatic relisting
Items in some categories can't be relisted automatically, including:
Business > Businesses for Sale
Home & Garden > Real Estate
Tickets, Travel > Flights
Tickets, Travel > Tickets
Tickets, Travel > Travel
Tickets, Travel > Vouchers, Gift Certificates
Monthly renewals of fixed price listings
Fixed price listings are set to Good 'Til Cancelled duration by default. This means your listing will renew automatically every month until it sells or you end it.
When you refund a buyer for a return or a canceled order, eBay will automatically relist your item for you. If you don't want your item to be relisted, simply uncheck the Relist item or Relist item after cancellation box when issuing the refund.
Here's how to manually relist an item:
⠀
1. In Seller Hub, open the Listings tab and go to the Unsold section.

2. Find the listing you need to put back on eBay and click Relist. You will be redirected to the List Your Item form.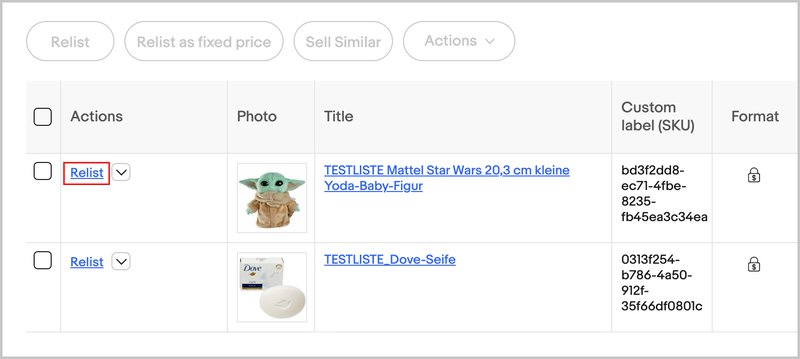 3. If you want to relist several listings at once, check the boxes beside all the items you need and click the Relist or Relist as fixed price button. You will be redirected to the Bulk editing tool.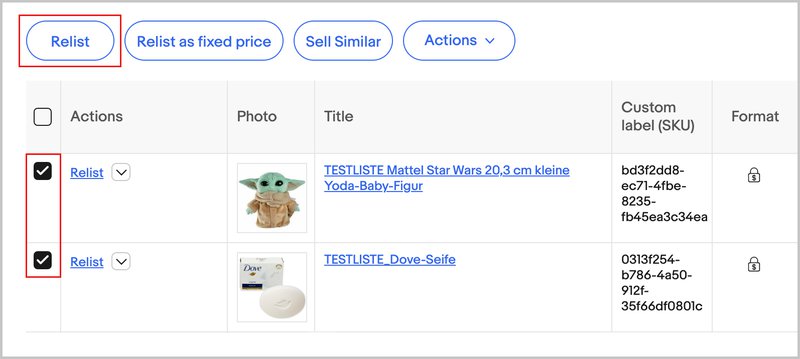 4. Check the listing information, make any changes you need, and submit your item(s).
Fees for any listing upgrades you've chosen will apply when an item is relisted manually.
Frequently asked questions
Can I relist an item removed by eBay?
eBay sometimes has to remove listings if they violate the law or eBay policies, or if the rights owner requests it. In some cases, listings get removed if they are active for a year or more without any sales.
If your listing was removed, you shouldn't relist it without first contacting eBay to find out exactly why your listing was removed (even if you think it was removed incorrectly). Relisting in this case can result in suspension from eBay and, in some cases, legal action.
If eBay agrees that your listing was removed in error, you'll be able to relist it, but you'll need to create the listing again from scratch.
If your listing was removed at the request of a rights owner, you should contact them before relisting. You can contact the rights owner using the email address provided in the email you received when your listing was removed.
If your listing was removed because it hadn't had any sales in a year or more, it's recommended to improve it before placing the item back up for sale. Read more about pricing your items, optimizing your listings and promotion tools.
If buyers are watching my item, what happens if I relist it?
If the item was being watched when the listing ended, it will continue to be watched when the item is relisted.
Can I relist an item and change its reserve price?
When you relist an item that has a reserve price, the value of the reserve price must be equal to or less than that of the original listing. If you want to increase it, you need to create a new, auction-style listing.