eBay guarantees a high quality service provided by sellers with the help of two seller evaluation systems. Let's have a look at the ABCs of the role of buyer's feedback in each of them.
How is your Seller Performance evaluated?
The first system, Seller Performance evaluation, consists of metrics such as transaction defect rate, cases closed without seller resolution, and late shipments rate. The better you perform according to these criteria, the higher your Seller Level is: you can be rated Below Standard, Above Standard and Top Rated/Top Rated Plus. As the metrics are collected automatically based on your sales history, customer feedback has no direct impact here.
The second system is fully based on your Buyers' Feedback being presented in the form of both scores and comments.
Where can buyers check Seller feedback?
On the View Item Page, in addition to an Item Description, there is a Seller Information section, where buyers can see your feedback score, as well as your feedback Star Rating which is a particular colour (in brackets next to your seller's name) and your percentage of positive feedback.
Example: the feedback star is Red, the feedback score for Star Rating is 2 260 and positive feedback percentage is 99.6%.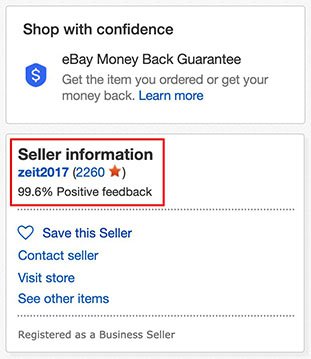 Your seller name, logo, and feedback rating will appear under your listing's title on the eBay app. With more than 60% of eBay transactions having a mobile touchpoint,* and with the eBay app one of the most popular shopping apps in the US,** these updates will help give your brand and business as much visibility as possible.
*eBay Fast Facts, February 2021
**Leading shopping apps in the United States in 2021 (Statista)
Besides, there is the Feedback tab in your eBay Store. This tab will showcase your customer service and the quality of your products by displaying your seller rating and your most recent feedback comments. From here, buyers will also be able to click into all of your feedback.
What do your feedback metrics mean?
Feedback Score
A feedback score is calculated as follows:
+1 for each positive feedback,
no change for a neutral feedback,
-1 for each negative feedback.
A more detailed idea of feedback rating is available by clicking on your account name.

A buyer can leave feedback on any transaction that they've had with you over the previous 60 days. A feedback includes a comment section and a rating section, which is divided into overall and detailed ratings. So, your Feedback Score is based on the overall feedback rating for the whole period you've been operating on eBay.
In the eBay app, after an item's estimated delivery, buyers will see a notification to leave feedback. This will be rolled out for refurbished inventory first and gradually expanded to more categories.
Star Rating
The colour of the feedback Star corresponds to a particular score code.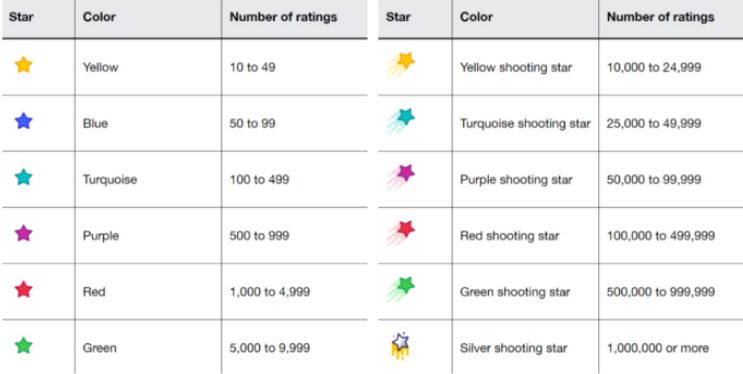 Example: if your Feedback Score is 2260, your Star Rating is Red.
Why would the Feedback Score be lower than the feedback total?
If your Feedback Score is significantly lower than the total amount of your feedback, it's because of the methodology of calculation. This happens if you get multiple feedback from the same buyer for purchases done within one week, because they add up to one. This is a very common case, so the majority of sellers' feedback scores are lower than their total positive feedback minus their total negative feedback. You can consult the details on your feedback profile page, clicking on your feedback score.
In the following example, the feedback score is 54 878, whereas the total for received feedback is 54 691 .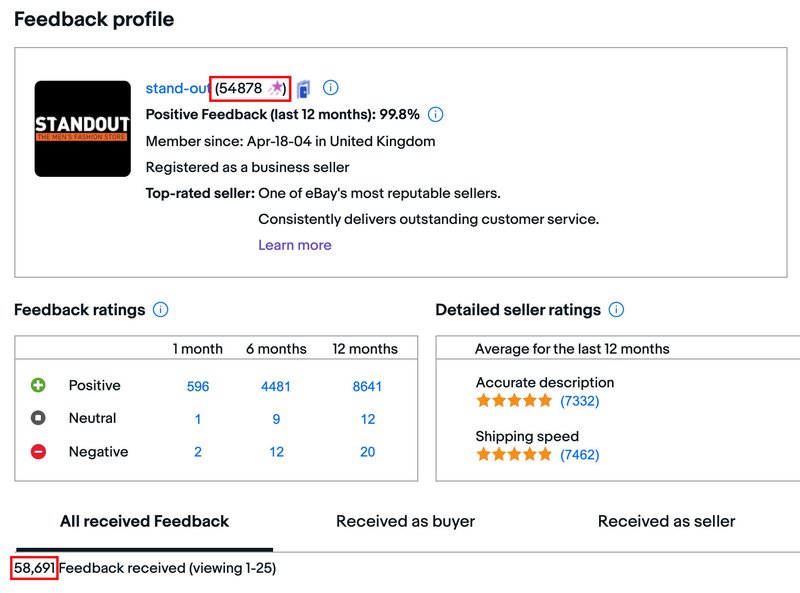 Positive Feedback Percentage
A positive feedback percentage is calculated based on the total number of positive and negative feedback for transactions that ended in the last 12 months, excluding repeat feedback from the same buyer for purchases done within the same calendar week.
So, a positive feedback percentage is calculated as follows:
Positive feedback percentage = Positive in 12 months / (Positive + Negative in 12 months)
Example: 8 007 / (8 007 + 19) = 99.8%.
There is also a table with a detailed feedback ratings group cut.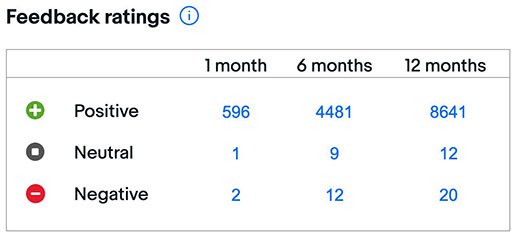 As the positive feedback percentage calculation doesn't take feedback from the same customer done within the same week into account, the group figures in the table above could be slightly different from the figures used for percentage calculation.
What are Detailed Seller Ratings?
Detailed seller ratings are a breakdown of how you've been rated by your buyers in the following areas: Accurate Item Description, Shipping Cost, Shipping Speed, and Communication. On the feedback profile page, these four areas are evaluated on a 5-star scale, with 1 star being the lowest rating and 5 stars being the highest. In the brackets, you can see how many times you've been assessed on each rating scale.
Example: the seller has got an average rating of 5 out of 5 for Accurate Item Description based on 7 343 ratings.

How can you handle negative feedback from a buyer?
It could happen that you've done a transaction and then got negative or neutral feedback for it. Keep in mind that a buyer has an option to revise it, at your request. Here what you can do to get a buyer's feedback revised.
If you think that feedback is fair
Reply to your buyer through the feedback forum. Your comment will appear directly below the buyer's feedback comment. Be polite, friendly and ready to suggest adjustments.
Try to resolve a buyer's issue quickly and effectively.
Once a problem is solved, request a feedback revision from a buyer. You can make 5 feedback revision requests per calendar year. Besides, for every 1 000 feedback ratings you get during the year, you can make 5 additional feedback revision requests.
It is worth mentioning that you can also send a revision request if a buyer left the negative feedback by mistake.
The time limit for feedback revision is 30 days after the transaction.
Where to go to submit a feedback revision request?
Go to the Request Feedback Revision page, which is accessible via the Feedback Forum or your Feedback Profile.
Select the feedback that you want to be revised. You can check the number of feedback revision requests available to you until the end of the current year in the top right corner of the page.
Indicate the reason for your request in the relevant section and add a comment for the buyer in the text box (up to 500 characters), explaining what you've done to resolve their issues.
Submit your request by clicking Send.
If you think that feedback is unfair
If you consider a buyer's negative or neutral feedback as unfair and/or they do not reply to your revision request, you can ask eBay to step in.
That refers to the cases when, for example, a buyer damages an item and then returns it, saying it doesn't match the listing description, or when your items were late because of circumstances beyond your control, but the shipping was in time which can be proved by your tracking.
Here is what happens, once you send a revision request to a buyer
eBay sends them an email with all the details.
The buyer has 10 days to consider the request. After this time, it will expire;
The buyer receives a reminder from eBay if he doesn't reply within 7 days after the request is submitted.
If the buyer accepts the request, they'll be instructed by eBay how to change their ratings and comment. When they revise feedback, their original comments will no longer be visible on eBay.
If the buyer declines the request, it's up to them to decide whether they prefer to tell you the reason.
Providing you are dedicated to eBay policies and strive to propose the high-quality experience to your customers, eBay will support you in any difficult situations where our intervention is needed. It's best to contact eBay directly to request a manual review. The time limit for a feedback report is within 90 days of the transaction.
Get ahead of negative feedback
This function is available for eBay app. If a buyer starts to leave negative feedback before they've contacted you on the eBay platform, the app will automatically encourage them to reach out to you and give you a chance to resolve the issue first. eBay is making sure that buyers see a streamlined and friction-free way to contact you before they leave negative feedback on the eBay app, to make it easy for them to reach out to you first. As eBay rolls this out, it's a great opportunity to win buyers over and turn a negative experience into a potentially positive review.
eBay research shows that buyers want more information about your business to help them make purchasing decisions. As a result, over the coming months, eBay will test displaying new information such as sales volume on Stores and View Item pages.
This research into what drives buyers' decisions helps refine how eBay displays feedback and other important information — and hone in on what helps you sell more.
You might also be interested in:
How seller can cancel an order
Learn how to cancel a transaction; when it may be needed, and how it may affect your Seller Level.
Service Metrics Policy
Do you give customers accurate item information and send it on time? This has a positive impact on your eBay performance. Find out how we evaluate your seller performance and what impact Seller metrics have on your business.
Item not received issues
What to do, for example, when you've done everything properly, but the buyer didn't receive the item and has opened a request. Learn how to handle situations like this, how to resolve them correctly and how to avoid such situations in future.
Shipping Performance Policy — Item Not Received Rate
Starting from July 24, 2023, eBay will launch the Shipping Performance Policy — Item Not Received Rate. Sellers with a higher than market average "Item not received" rate may be subject to a range of actions, such as eBay ending or removing your listings, enforcing buying or selling restrictions, adjusting your selling limits and/or suspending all relevant accounts.