1
Get notified
eBay will let you know when a return is requested.
3
Complete return
Issue a refund, replacement, or exchange.
Automated returns
eBay automates the returns and refunds processes to save sellers' time and enable them to process returns faster. Automated returns also streamline returns experience for buyers. In most cases, eBay will automatically accept return requests.
Once received, sellers will have two business days to review the returned item and issue a refund, or ask eBay to intervene. If no action is taken, eBay will automatically issue the refund two business days after the tracking number shows a confirmed delivery status. At that time, eBay will close the return with no impact to seller performance.
This will shorten the processing time of the return, help sellers manage returns more efficiently, and reduce the likelihood of defects should the buyer ask eBay to step in to help with a case.
For the following return reasons, sellers have the opportunity to review and approve the return, enabling them to handle the issue directly with the buyer:
Remorse returns outside the seller's specified return window
Return reasons: Arrived damaged or Missing parts or pieces
For all other return reasons, the auto-accept & auto-refund process is as follows:
Buyer requests a return and ships the item back to the seller.
The seller has two days to inspect the returned item and issue a refund to the buyer.
eBay will track the delivery of the returned item. If tracking shows the returned item has been delivered to the seller, but the seller has not yet issued a refund to the buyer, eBay will automatically issue the refund to the buyer on the seller's behalf after two business days.
Top Rated Sellers and sellers who offer free returns can now offer partial refunds, up to 50%, if the item is returned in a condition different than when you shipped it.
Sellers can continue to control the efficiency of the returns process by creating rules in Return Preferences to automatically approve returns or send immediate refunds without requiring the buyer to send the item back.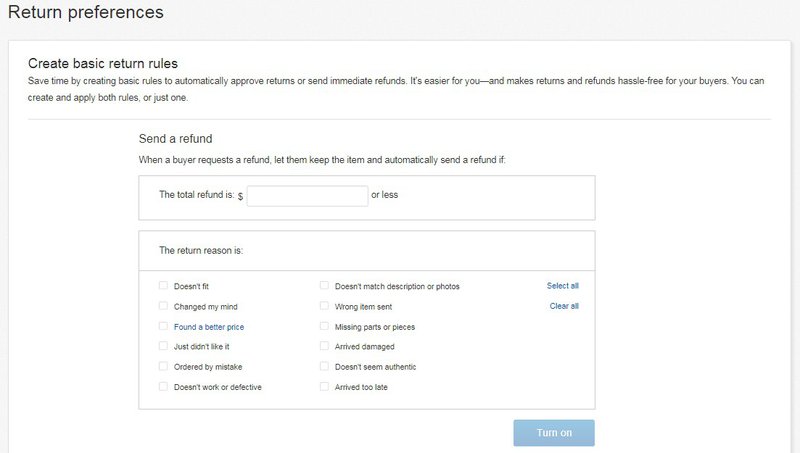 Prorated final value fee credits for partial refunds
Starting May 2022, when you issue a partial refund to a buyer, eBay will automatically credit a prorated portion of your final value fee based on the adjusted total amount of the sale. Along with this, eBay will automatically credit prorated portions of other applicable fees including Promoted Listings Standard and international fees. Fees such as the $0.30 per-order fee, Promoted Listings Express fee, and Promoted Listings Advanced fee will not be refunded.
Returns Policy
eBay strives to meet the buyers' expectations while meeting the sellers' capacity. These return policy options help streamline the returns experience for buyers. You may choose to offer:
No returns accepted
30-day buyer-paid returns
30-day free returns
60-day buyer-paid returns
60-day free returns
Attract buyers with free returns
It is recommended to offer free returns to buyers. See how a flexible and customer-friendly return policy can help you increase your sales. You can increase conversion lift from your listings up to 5%-25%*.
| If you currently offer: | And you go over to: | Your sales will increase by*: |
| --- | --- | --- |
| No returns | 30-day free returns | 15% |
| No returns | 60-day free returns | 25% |
| 14-day returns (buyer pays return shipping) | 30-day free returns | 10% |
| 14-day returns (buyer pays return shipping) | 60-day free returns | 20% |
| 30-day returns (buyer pays return shipping) | 30-day free returns | 5% |
| 30-day returns (buyer pays return shipping) | 60-day free returns | 13% |
* Conversion lift seen based on Q3 2017 data. Individual results may vary. eBay does not guarantee that each seller will experience the same lift or any lift at all. The term Free returns refers to when the seller pays return shipping no matter the reason for return, with no restocking fee.
Return Policy options
eBay automates some returns steps. This can simplify the entire process for both you and buyers. 
Learn more about customizing and optimizing returns:
Choose when to give immediate refunds
For instance, maybe you want to always offer immediate refunds for clothes that don't fit. Create return rules to enable that to happen and any buyer wishing to return items under these circumstances will receive automatic return approval.
Partial refund option
You can offer a partial refund if a returned item is damaged, has missing parts, or is otherwise not in the same condition as when you shipped it.
Enjoy automatic acceptance
Automatic acceptance of returns simplifies the returns process. No return requests due to buyer's remorse will be accepted automatically if your policy doesn't permit it.
When you're OK with buyers paying to ship back items they no longer want, requests for returns are accepted automatically.
Offer replacements and exchanges
Offering replacements — items identical to the original — and exchanges — items that are different — can help buyers feel better about their purchase. Just be sure to have plenty of stock when offering either of these options.
You can even allow the buyer to keep the original item in cases when you don't want it back.
Keep returns to a minimum
There are many reasons for return: the size did not fit, the item was damaged in shipping or the buyer just changed their mind about buying it. Most sellers on eBay offer returns, but would prefer to keep them to a minimum.
Keep in mind that eBay Service Metrics is largely geared towards returns number due to being "Item not as Described".
Ensure your products accurately match the Item Description and the photos are clear. 
Make sure you aren't sending the wrong items.
Use checklists for items with many parts, or for multiple items in a combined shipment to avoid missing pieces. 
Package items securely to prevent damage in shipment.
Check returned items carefully before issuing a refund.
Issue refunds quickly — preferably within 2 days of receiving a return.
Ask eBay to help you resolve an issue.
Keep a valid return address on file, and manage multiple addresses through your preferences.
Please note: starting from July 24, 2023, eBay will launch the Shipping Performance Policy — Item Not Received Rate.
Sellers with a higher than market average "Item not received" rate may be subject to a range of actions, such as eBay ending or removing your listings, enforcing buying or selling restrictions, adjusting your selling limits and/or suspending all relevant accounts. For more information, please read the article: Shipping Performance Policy — Item Not Received Rate.
FAQs
Is offering returns optional for sellers?
Yes, offering a return policy is an option for all sellers. You can offer returns on individual or all items and distinguish between domestic and international return policies.
Listings from Top Rated Sellers must offer a 30-day free return policy to qualify for the Top Rated Plus discount and seal. Please note that there is one more requirement for this discount: the Handling Time should be reduced to 1 day.
Can buyers request a return even if I don't offer returns?
Buyers are able to request a return for any reason.
Can I use Return Merchandise Authorization (RMA) numbers?
How do I add RMA numbers?
Select the "RMA number" option in Return Preferences.

Can buyers initiate a single return for more than one item?
No. Unless they were purchased as part of a multi-quantity item, buyers must initiate a return for each item individually.
How are multi-quantity items handled?
Buyers are able to return multiple quantities of the same item with a single return, but can only initiate one return for each multi-quantity item purchase. For example, if the buyer initiates a return for 3 of 10 shirts purchased as a multi-quantity item, they will not be able to initiate a return for the remaining 7 shirts at a later date.
When do return requests qualify for automatic acceptance?
To qualify for automatic acceptance, return requests must meet all of these criteria:
Requests meet your listing returns policy
The return is not an exchange or replacement request
When will eBay automatically issue a refund on my behalf?
We recommend that you refund the buyer as soon as you receive the return. However, if the item's tracking information shows confirmed delivery, 2 business days have elapsed, and the refund has not yet been issued to the buyer, eBay may automatically issue a refund on your behalf. eBay will also consider buyer and seller risk and performance data in determining whether to automate a refund.
How can I issue an immediate refund for a return request instead of having the item sent back to me?
You can set up automation rules in your Return Preferences to immediately refund your buyer and let them keep the item.
Can I still offer a replacement or exchange to my buyer?
Yes. As long as you indicate in your return policy that you want to offer buyers the option to request a replacement or exchange, this option will still be available. Additionally, replacement and exchange requests will not be automated.
I have a return address that is different from the address from which the item was originally sent. How can I make sure that an item is sent back to the correct location?
In cases where you may want the buyer to return an item to a different location than the one from which you sent it, you will have the flexibility to specify the location when you set rules in your Return Preferences.
You might also be interested in
Service Metrics Policy
Do you give customers accurate item information and send it on time? This has a positive impact on your eBay performance. Find out how eBay evaluates your seller performance and what impact Seller metrics have on your business.
eBay Seller Levels
eBay calculates a seller's performance and assigns you a seller level based on your performance. Find out what benefits you can get with it on eBay.