Terapeak in Seller Hub
Terapeak is an eBay service, a suite of exclusive insights tools for market analysis. Terapeak uses recent eBay supply, demand, and pricing data to help you determine what to sell, when to sell it, and at what price. Research market trends based on real data from millions of eBay transactions to effectively strategize your sales.
Since 2020 all of Terapeak's research features are integrated with new tools in the Seller Hub. From April 2021, Terapeak Product Research available for free to all sellers. Terapeak Sourcing Insights is free for eBay Store subscribers from Basic and upper.
54%
eBay sellers say their business grew in 2020
32%
successful sellers use Terapeak often
Source: eBay internal statistics.
How Terapeak works in Seller Hub
Terapeak gives you access to years of real-world sales data for millions of items, including:
The number of listings and items sold for particular items,
Average sales prices,
The conditions of items sold,
Sell-through rates,
Average shipping costs and the number of listings offering free shipping,
Seller and buyer locations,
Sales trends over time,
Unsold inventory,
Which listing formats sellers are using.
Additional Terapeak benefits for data handling:
Up-to-date data. Seller Hub data is in real time, so sellers can see all sales up to the present time.
All in one place. Sellers don't need to use a different tool and can carry out all their market research tasks: insights, analysis and visualisations,all in one tool.
Wide selection of data. Analytics includes not only listings that have already completed transactions, but also all active listings.
Terapeak Research features
Category selector: Narrow your search by category and view only transactions that occur in a specific eBay category.
Type-ahead component: Recommended keyword and category suggestions, based on the most frequent seller searches corresponding to the keywords you enter.
Data visualization for items sold and at what prices: Spot and analyze trends for items sold and at what prices over time, including sell-through rate.
Analyze relevant active listings: Review best practices by compare your listings with top-performing competitors.
Data visualization for market share: Easily identify your top competitors' market share and calculate average item prices.
Multi-User Account Access: Provide your employees with separate access to Terapeak to streamline your operations.
eBay plans to regularly update Terapeak research features and functions. Keep an eye on updates.
Good examples of Terapeak usage
Maintaining your customer base and identifying new opportunities is key to managing and growing your eBay business. Get ahead of the competition by finding out what they're doing and how they're doing it. Take a look at a few real cases where Terapeak can help you.
Market research
You can use Terapeak to analyse trends in prices, sales volumes and product availability over time. By analysing this data, you can plan your inventory and pricing structure, better understand changes in supply and demand, and identify the sales volumes you can expect. The tool also allows you to filter by item condition or sales format.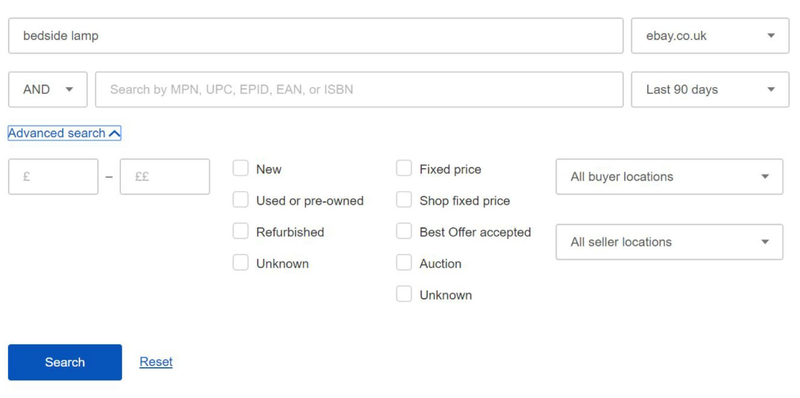 And also to identify product sales trends from the previous year.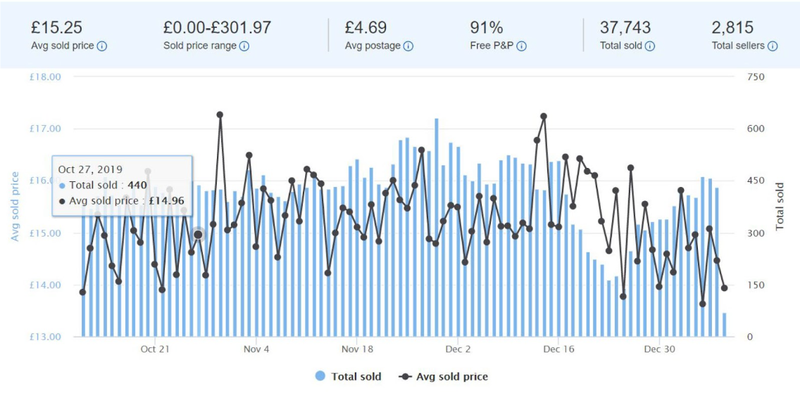 Sourcing single stock items
You can even use the above approach for used and low stock items by taking advantage of the relevant filters. This allows you to check trends, average prices, shipping costs and more. Take full advantage of additional filters to narrow your searches.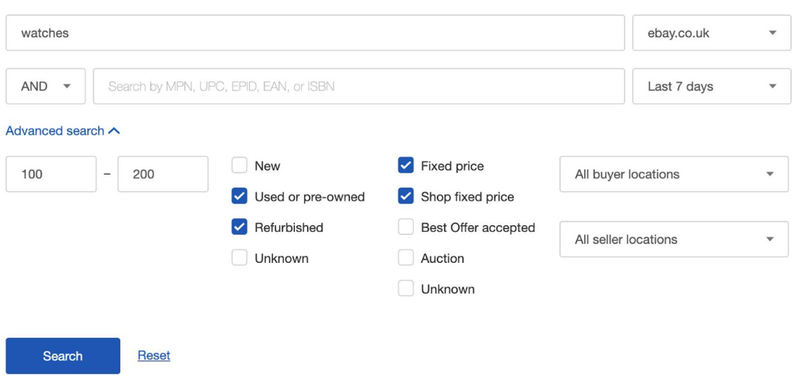 Identify and analyse single stock listings that have sold.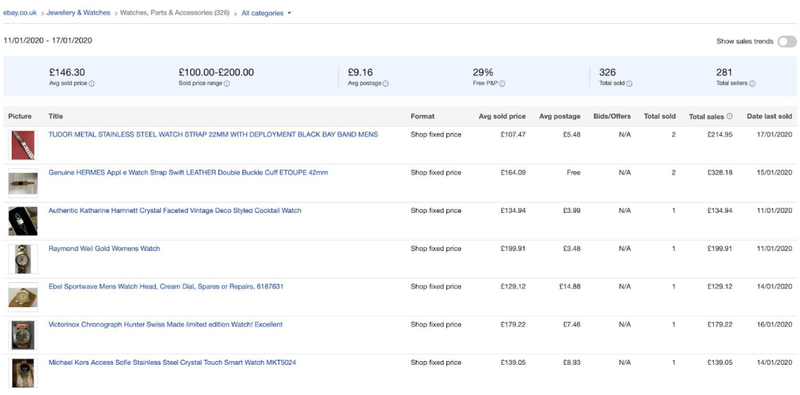 Listing optimisation
It's easy to research the top performing listings and get hints on how to better optimise your own listings, by looking at listing details such as photos, price, item specifics and retail standards. You can also identify data-driven keywords that could attract customers to your listings.
Even slight changes in listings can make a big difference in promoting sales. In this way you can improve the most promising listings and reactivate underperforming ones.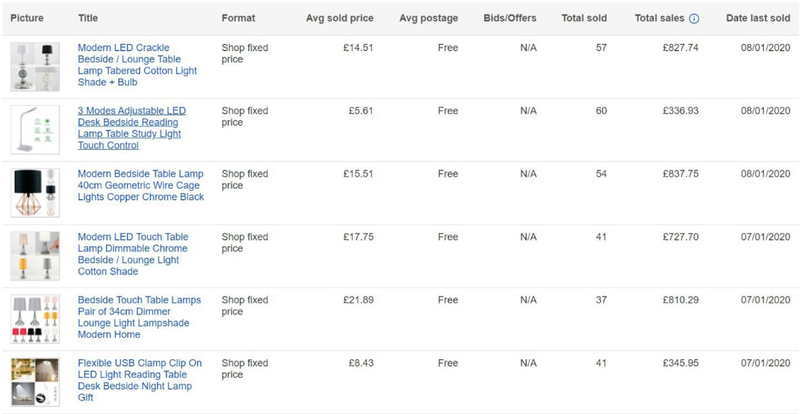 Retail standard optimisation
Analyzing the most effective listings also gives you the opportunity to improve your your retail standards and help you match the competition. You can immediately see high level metrics, such as the percentage of listings with free shipping and average postage costs. Take a detailed look at your competitors' best listings in terms of returns and shipping options.
Trade on international eBay sites
Terapeak helps you to research in other eBay domains and locations and enables you to make more informed decisions about which marketplaces you should promote your items on.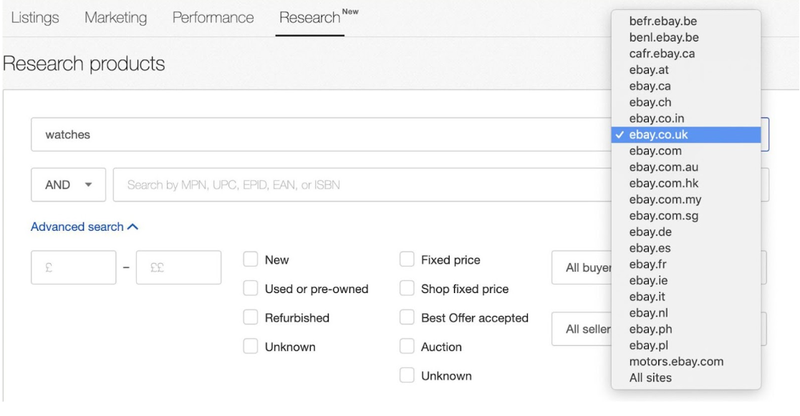 Terapeak Sourcing Insights
Terapeak Sourcing Insights gives you powerful features to source new inventory and expand your selling on eBay. This tool uses real-time eBay marketplace data to help you identify top-performing categories, see what's selling well in those categories, and make informed decisions about what and how to sell next.
With Terapeak Sourcing Insights, you can:
Identify categories with high demand and low supply
See trends over time, and stay ahead of seasonal demand
Use sales data (f.e top item specifics) to refresh your inventory based on what buyers are looking for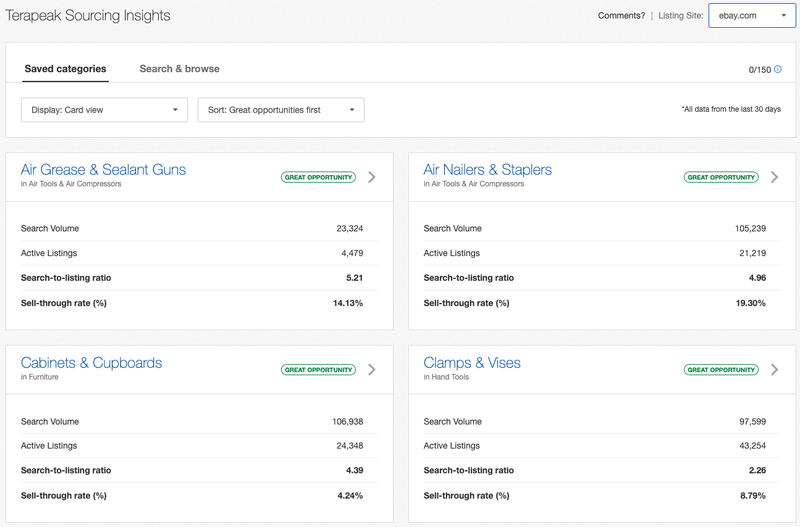 Access Terapeak
Terapeak is available under the Research tab in Seller Hub.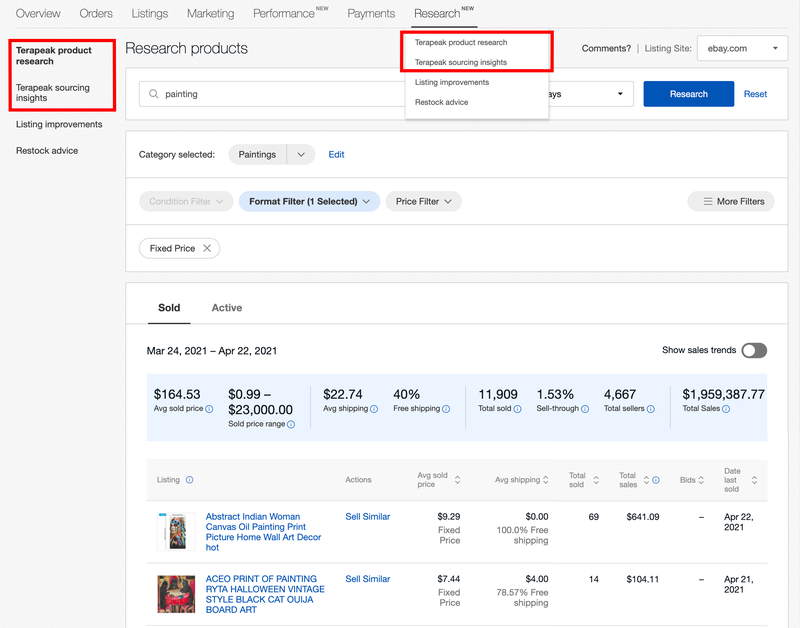 Terapeak Product Research is free to all sellers. Terapeak Sourcing Insights is free with a Basic, Premium, Anchor, or Enterprise Store subscription.
You might also be interested in
How to optimize your listings
What do you need to do to make sure that your listing attracts the buyer's attention? Learn how to optimize your listing and make it competitive, how to increase your listing visibility in search results and, even more importantly, take the perfect photo and give detailed item information.
Promoted Listings Standard
Stand your items out among billions of listings on eBay and make them seen by millions of active buyers when they're browsing and searching for what you are selling, helping to increase the likelihood of a sale.
Promotions Manager
This quick and easy tool enables you to market your merchandise like a pro.
Create special offers that encourage buyers to shop more of your items and spend more on each order. Best of all, it's free for Stores subscribers.