eBay False or missing information policy requires that all users must provide up-to-date and accurate contact information, including address. What should sellers do if they move to another country and want to continue their business on eBay? Below you will find out how to address this situation depending on how you receive payouts.
eBay needs an accurate address to correctly process your payouts (see Payments Terms of Use, the Seller Onboarding section).
In different countries, eBay sends payouts in different ways: via Payoneer or directly to sellers' bank accounts.
To get accurate information about changing your registration address, please choose a relevant option in the list below.
Your actions depending on your relocation scenario
Managed Payments sellers can't change their registration country at the moment, that is why they have to create a new eBay account and go through the registration process of the local region.
Non-payment sellers
If you haven't registered for Managed Payments yet, then you can update your address and change the country in My eBay.
How to change your registration country if you are a non-payment seller
1. Go to My eBay and open the Account tab.
2. Under Personal Info, click Personal information or Business information (if you used to be a Business seller).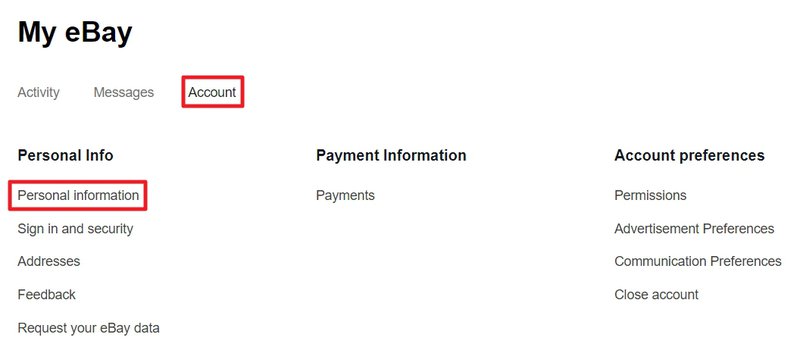 3. Find the Personal info or Business info section and select Edit to update your address.
Frequently Asked Questions