Benefits of using selling templates
If you're a frequent eBay seller, you can simplify how you create high-quality listings with reusable templates. With listing templates you no longer have to start from scratch every time you list an item.
1
Give your buyers consistent info from listing to listing
2
Revise, rename or delete templates whenever you want
3
Create up to 50 different templates
How to create selling templates
You can create reusable listing templates from Seller Hub:
1. In the Seller Hub Listings tab click on Listing Templates in the sidebar menu (1), or use the quick link, and select Create new template (2).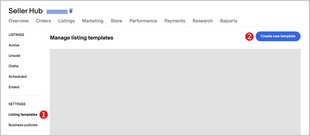 2. Name your template (1) so you'll remember the type of item it covers.
3. Add in the rest of your listing details (2). Check out the detailed guide on how to use the new streamlined listing tool.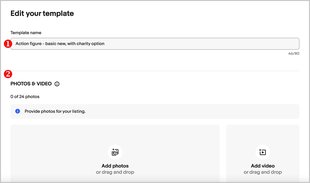 4. Preview (1) and Save the template (2).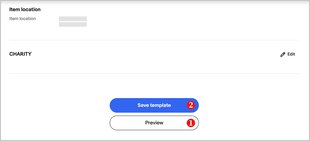 You can create up to 50 different templates.
How to use your template
To create a listing from your template:
1. Go to Listing templates in Seller Hub.
2. Select Create listing (1) from the Actions dropdown menu.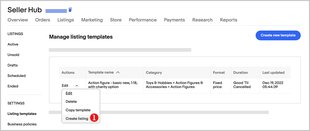 3. Complete your listing.
From the Actions dropdown you can also edit (1), delete (2), and copy (3) your template.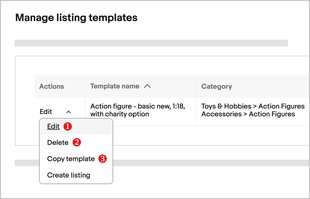 Editing a template won't change any listings already made with that template.
Frequently asked questions
How do I sell a similar item?
On the Seller Hub Active listings tab, select the dropdown beside Edit and then select Sell similar.
In My eBay Active, click the Sell similar button next to the desired listing.
You can also select Sell a similar item on the item page.
How do I end a listing?
You can end a listing in My eBay or Seller Hub. Find the active listings page, and select End listing from the dropdown menu. Learn more about how and when you can end a listing.
Should I use the stock photo? How do I add it to my listing?
For many products, you can use details and images from eBay catalog. When adding your title simply choose from the suggested products. If your item is used, be sure to use your own photos to show any flaws or unique features of your item.
What item condition should I add?
Your options for describing your item's condition vary by category. On the listing form, you can choose from one of several preset item condition options.
It's vital you're honest and accurate about the condition of what you're selling so your buyer knows exactly what they're getting. Learn more in the detailed guide.
How do I add variations?
For most categories, you can create a fixed-price listing (in Buy It Now format) for similar items that have different variations such as colors and sizes. Add quantity, price and images for each variation.
Please note that if you're selling in Parts & Accessories, your compatibility information must apply to all your variations. Learn more.