eBay attracts buyers for its wide selection and value, and for the global connection provided by the comprehensive marketplace. That connection between the buyer and seller can be hugely beneficial for engagement, but buyers would prefer to not be bombarded with unorganized, unwanted communication.
Sellers want an easy way to engage with their buyers, which can help them grow their sales. As part of that engagement, sellers often wish to reach out to past buyers and followers in order to drive more repeat purchases. To do that, and to help drive new customers to their inventory, sellers need tools that can help.
What are Buyer groups?
The unique-to-eBay Buyer groups tool helps sellers grow and scale their business. With it, you can reach new buyers and encourage previous customers to come back.
This tool is available in the special section of Seller Hub for all Store subscribers. Buyer groups let you send coded coupons and other promotional offers in bulk to specific groups of buyers:
Your previous customers
To increase your base of repeat customers with targeted coupons and other offers.
Your followers
To encourage followers to shop for the first time and get previous customers to come back.
Once selected, you can further define the group by filtering past customers by their most recent purchases (up to 1 year ago) and the item categories that they have purchased, or by filtering followers according to the length of time they have been following you and their buying status.
Examples of a buyer group:
Buyers that bought from a your Store in the past month
Buyers that bought in a specific category from your Store (e.g., "golf equipment")
Buyers that are following but have not yet bought from your Store
Benefits of using Buyer groups
Buyer groups give you more control over who receives your coded coupons and other promotional offers. You can use them to:
Build loyalty and encourage repeat purchases by sharing offers with buyers who've previously purchased from you
Offer specific buyer groups a private discount without lowering your items' price
Promote your seasonal inventory to category-specific buyer group
Send your coded coupons both as an email and a mobile app notification
Control your budget and protect your margins with options like minimum spend, expiration date and budget
How to create and manage Buyer groups
To get to the Buyer groups tool, go to Seller Hub > Marketing > Buyer groups.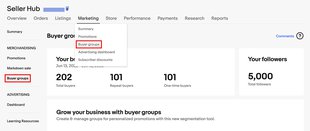 First of all, in the Buyers group section you can always find your buyer insights — the up-to-date statistics for the year:
Total buyers. Total number of buyers who purchased an item from you
One-time buyers. Number of new buyers who purchased one item (of any quantity) from you
Repeat buyers. Number of customers who have made no fewer than two purchases/orders in a one-year period
Total followers. Total number of users who saved you as a seller (even if they have not bought any of your items yet)

To create a buyer group, you can click Get started in one of the two sections — Your previous customers (1) or Your followers (2), or use the dropdown menu under the Create buyer group button (3).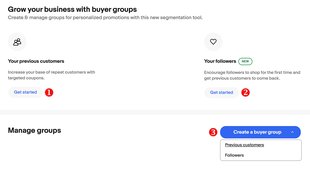 Group your buyers by the period of last purchase
Sort your buyers based on their purchase history in eBay categories
Then enter the group name, check the summary and click Save buyer group. Your new buyer group was successfully created!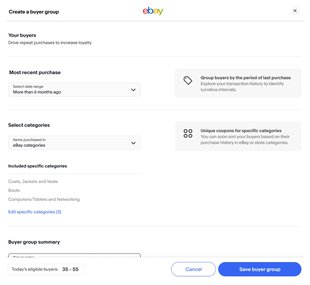 In the Manage group section, you can interact with buyer groups: easily track, edit or delete them, and send coupons to selected customers.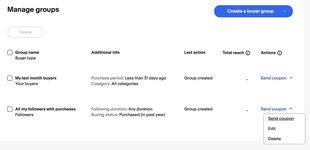 How to send promotional offers to specific buyer groups
To send Store newsletter with promotional offer to the specific buyer group:
1. In Seller Hub, go to the Store tab > Store newsletter (1) and click the Create campaign button (2).

2. Choose your Campaign template: you can apply buyer groups for Coupons, Sale event + markdown, Order discount, or Volume pricing.
And then click Next. Click the Next button after each step in the email setup.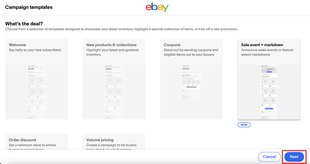 3. Select the newsletter recipients. Is it at this step, you can select a preset recipient group — Quick picks (1), or a buyer group created by you (2).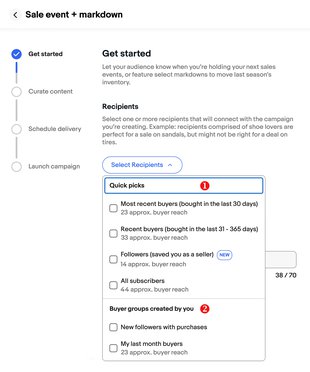 Then fill out the subject line of your email, or you can use the one provided.
4. For coupon, order discount, or markdown templates, select the promotion:
You can choose any active promotion to be sent out once (1)
Or you can turn on automation (2) so that the latest promotions are sent out on your behalf (that is, you will be able to set up the newsletter even before you have created a promotion). The system will check new promotions daily. The listing shown in the newsletter will be based on Best Match
Then add a message (3) that explains the value, and eligible listings (4).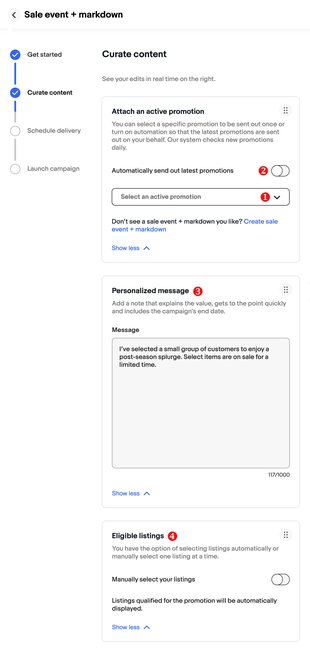 5. Schedule your newsletter. You can plan a one time email to go out on a specific date, or on a recurring schedule.
6. Launch your campaign. Select Review email to preview your newsletter before sending. Check and confirm that all information is correct by clicking the Activate button.
Email marketing is one of the most powerful ways of reaching out to customers and building a community of repeat buyers. Please read this article to learn more on how to create and send newsletters to buyers, as well as how to effectively use email marketing on eBay.
Also you can send coupon codes to the specific buyer group directly using Buyer groups tab functionality:
1. In the Manage group section, define a custom group of buyers to whom you want to send your coupons.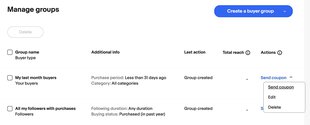 2. Choose an existing coded coupon campaign or set up a new one.
3. Add an optional custom message to send along with your coupon code.
4. Send your coupons — eligible buyers in your groups will receive your coupon codes.
Each buyer can only receive one coupon from you in any 14-day period, so make sure you select the most relevant buyer group to receive your codes.
Top tips: how to reach your buyers at the right time and in the right way
Drive maximum engagement by reaching out to buyers especially during the prime selling seasons
Consider a limited-period promotion to create a sense of urgency and protect your profit margin
Don't create huge time gaps. Avoid letting buyers wait for long periods to receive your promotions, if they've already demonstrated interest through browsing/buying your listings
Discounts are delightful. Send coupons and other promotional offers to buyers who've previously purchased from you, encouraging them to buy again, in higher quantities, and more frequently from your Store — and finally to build loyalty in the long term
Make your promotions profitable. Sharing your coupons privately with your Buyer groups will not require you to adjust the price of your listings, which are displayed publicly on eBay. It's a win-win — your buyers enjoy great deals, and you can still close profitable sales
Frequently asked questions
How can I define Buyer groups?
You can define Buyer groups using following parameters:
Previous customers:

Timeframe: Target buyers who have bought from you over the last year, or during a period within the last year (last week, last month etc.)
Category: Target buyers who bought items from one of your categories (also only during the last year)

Followers:

Timeframe: Group your followers by length of time following
Buying status: Sort your followers based on whether they bought or didn't buy last year
Which channels can I use to send coupons to my Buyer groups?
eBay helps you connect with your focused Buyer Groups by sending your coupons through email, eBay messages, and via push notifications.
How can I send coupons to a specific group of buyers via Seller Hub?
Go to the Seller Hub Marketing tab to access the Buyer groups page.
Create a group of buyers to whom you want to send the coupon code.
Select the coupons campaign you want to send.
Eligible buyers in your group will then receive your discount codes.
You can also use the Store newsletter functionality to create and send a promotional newsletter with coded coupon to chosen buyer group.
You might also be interested in
How to create and send newsletters to buyers
If you're an eBay Store seller, you can easily create and send email campaigns to subscribers, followers, and past customers who've signed up to receive newsletters from your Store.
How to find and understand your target audience: practical tips
Knowing your target audience often makes a difference. If you know who is interested in your listings most of all, you can choose the right words for your item descriptions and promo offers.
Promotions Manager
A quick and easy marketing tool that does not require special skills, but enables you to sell like a real pro. With its help, you can set up and manage different promotions: Coded coupons, Order size and Shipping discounts, Volume pricing and Sale event + Markdown.