An effective listing helps you get your items in front of the right buyers. To understand how it should be, put yourself in the buyer's shoes. Which listing will attract you and help you choose an item? Follow our tips step by step — and turn ordinary listings into fast-selling ones!
What is an effective listing?
It's not enough to create an informative listing to find your buyer and get the sale. The buyer will pay attention to it if it has a high ranking in the search results. But how does eBay's search algorithm work?
eBay search engine
The eBay search engine works on the principle of Best Match. This means that in the search results, the buyer sees the results that best match the keywords he or she uses in a request.
For example: If the buyer is looking for a red mobile phone case, only mobile phone cases that are defined as red under Item Specifics will appear in their search results.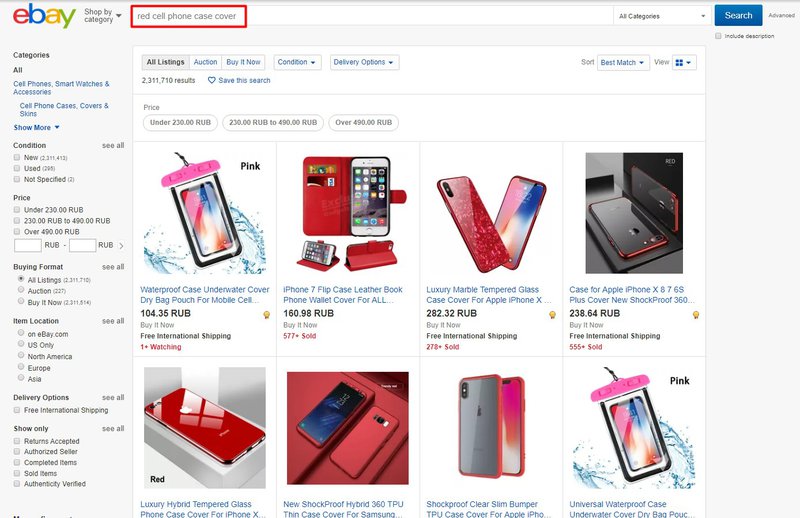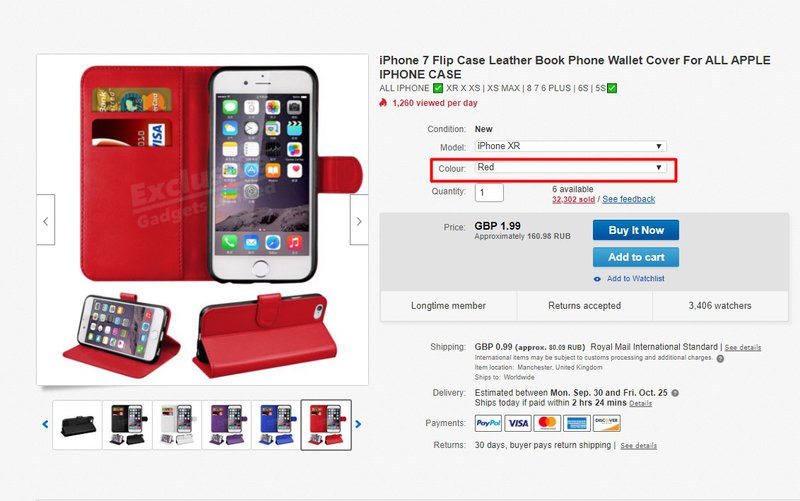 Our Best Match algorithm considers a number of different factors. These include:
How closely the listing matches the buyer's search terms
How popular the item is
The price of the item
The quality of your listing — description, photos, and so on
How complete the listing is
The listing terms of service, such as your return policy and handling time
Your track record as a seller
You can see how effective your listing is by looking at the page views information.
Listings Views
Page views information helps you understand how your listings are performing. It tracks how many times eBay users have looked at your listings.
To see how many views your listing has received: 
Go to My eBay
Then go to Activity tab > Selling > Active
Find the relevant listing
You'll find page views to the right of the item title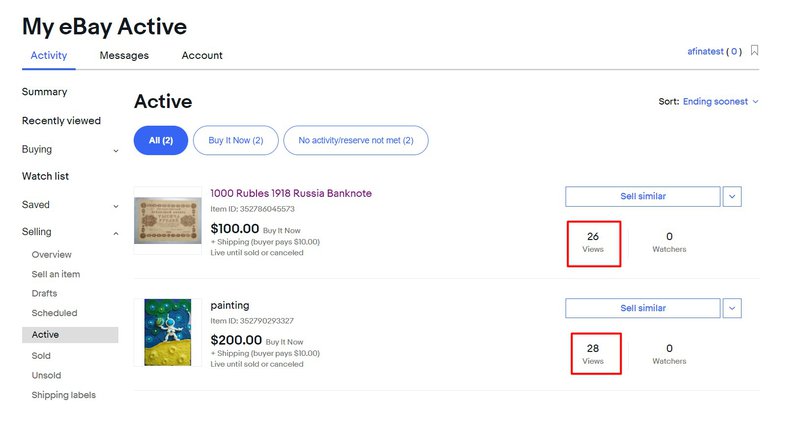 Note that by adding page view counters to the listing, you are violating eBay's rules on Active content. Listings with Active content will be blocked.
We recommend: For detailed information on your listings performance, go to the Performance section in Seller Hub.
How to optimize a listing
To increase the listing ranking in search results and improve the listings performance, follow eBay's best listing and selling practices.
Choose the right listing format
When creating a listing you can choose the listing format that is right for you. Create an Auction-style or Fixed Price format listing. Choosing the right format will help you sell your item at the best price.
When you list an item for sale in an eBay auction, buyers place bids and the item will go to the highest bidder. When the auction ends, you sell to the highest bidder.
You can choose whether your auction should run for 1, 3, 5, 7 or 10 days. 
We recommend: Choose 7 or 10 days so that more buyers can see your listing.  
Set a starting price. A low starting price can help attract bidders.
To motivate a buyer to buy an item without bidding, add the Buy it now option. The Buy It Now price has to be at least 30% higher than the auction starting price. The Buy It Now price is available only until someone bids on the item or until the reserve price is met.
More perks of auction listings:
Auctions and betting are an exciting processes that attract buyers.
The bidding can offer you a better price than you expected.
You may be charged an insertion fee to list your item. You will receive one insertion fee credit for each auction-style listing if that listed item sells. (Exclusions apply.)
You can place the first 250 auction listings every month for free.
eBay Store subscribers can create up to 2500 free auction listings per month. 
Choose auction listings when:
You're unsure of the value of your item and want the eBay Marketplace to determine it.
Your item is unique or hard-to-find, meaning it may attract demand and spur a bidding war.
Your item's market value may fluctuate due to seasonality or popularity.
From January 31, 2022 your item purchase history page displays prices including VAT
Earlier, the item purchase history displayed VAT exclusive prices, while the current item prices on View Item pages included VAT and therefore were higher. It often caused a disconnected buyer experience: a buyer thought that the price had increased and refused to purchase the item. Besides, it was not in compliance with the EU tax legislation.
Now VAT is included in the price of the item purchase history page as well. This is how sellers and buyers see prices:
A seller: all prices are visible
A logged-in buyer that bought the item before: Buy It Now price + their purchase price via Best Offer
A logged-in buyer in the anonymous mode or a buyer that hasn't logged in: only Buy It Now price is visible (if the listing is not private)
Informative Item Title
Did you know? Listings that have titles with more than 60 characters have a 1.5 greater chance of selling.
An effective Item Title should be clear but concise and informative. According to eBay rules, you can use only 80 characters, so the title should be carefully considered.
We recommend: Find items similar to yours and try to understand which titles your competitors are using.

Include keywords in the title that customers are likely to use in their search queries. If you are listing the item with variations (e.g., when a dress is presented in different colors), you do not need to give details of all variations in the title. They are indexed automatically and will come up according to the search terms used by the buyer.
We recommend: Describe the item in the title in a clear and concise manner, even if this information is the same as the product's category name.
We propose the following title format:
"NEW" [brand] [product name] [model No] [Variants — size, color] [additional keyword]
Write the title correctly — avoid writing entire words in capital letters or with asterisks and other markers between words. These practices can lower your listing ranking in search results.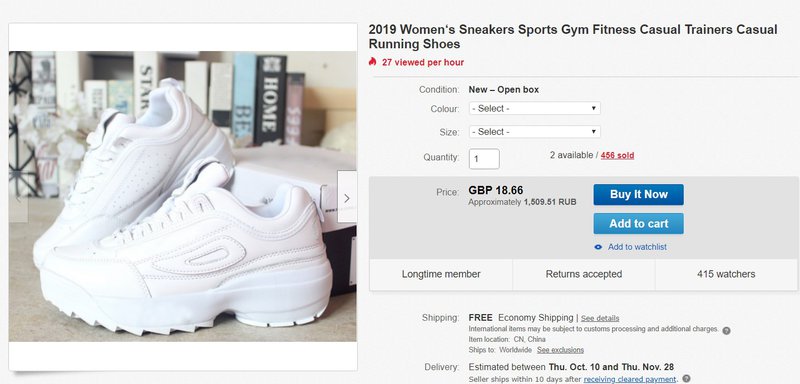 Item Category, Item Description, Item Specifics and Item Identifiers
eBay's search engine uses so-called structured data. These include Item Category, Item Description, Item Specifics and Item Identifiers. That's why detailed and accurate item information helps buyers find the item and increases the ranking of your listing in search results.
Item Category
To help buyers find what they're looking for, eBay organizes items into different categories. Therefore, it is important that you use the eBay catalog to list the item in the most relevant category. Listing your item in unrelated categories violates eBay policy.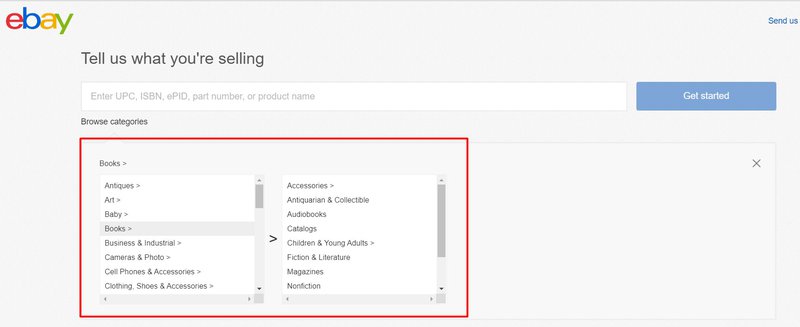 Check your listings and make sure your items are listed in the relevant categories. You can use several tools to do this:
Listings tab in Seller Hub
The multiple listings in a bulk editing function in My eBay
eBay verified third-party tools (third-party tools, APIs, channels and others)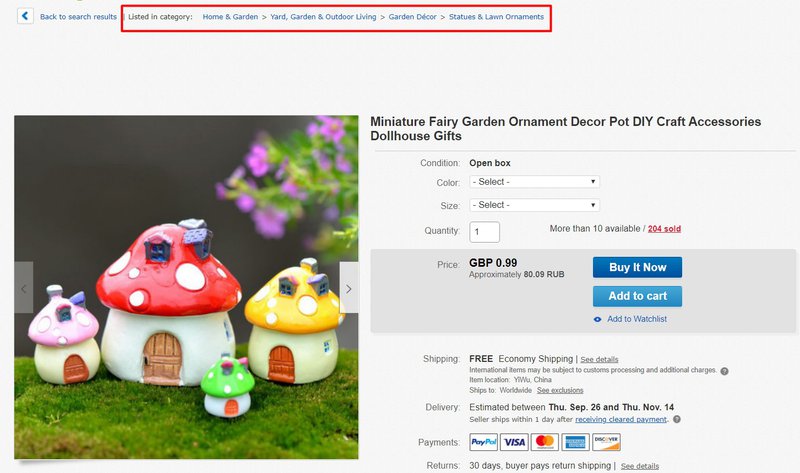 Listing in two and more categories increases the chances that your item will get in front of an interested buyer. You'll pay an insertion fee for including a second category — this fee still applies even when using a free listing.
eBay Store subscribers can create their own unique store categories for the best buyer experience. You can list items in two of these categories, Main Store Category and Secondary Store Category, for free.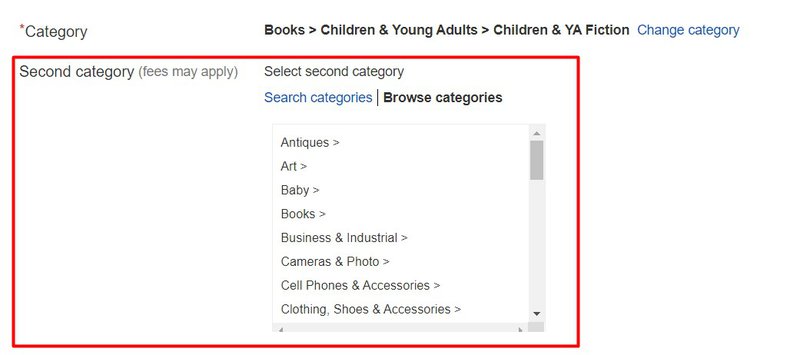 We recommend: If you list an item in two or more categories, please note that in such cases, the Final value fee is calculated based on the maximum value for the selected categories.
Changes are constantly coming to the eBay catalog structure and categories to improve user search. You can read about recent changes in the regular eBay Seller Updates.
If you are using third-party listing tools, make sure they use the updated category list.
Item Description
Item Description helps buyers quickly decide whether to buy an item. However, it needs to be filled in correctly, otherwise your listing may not be published.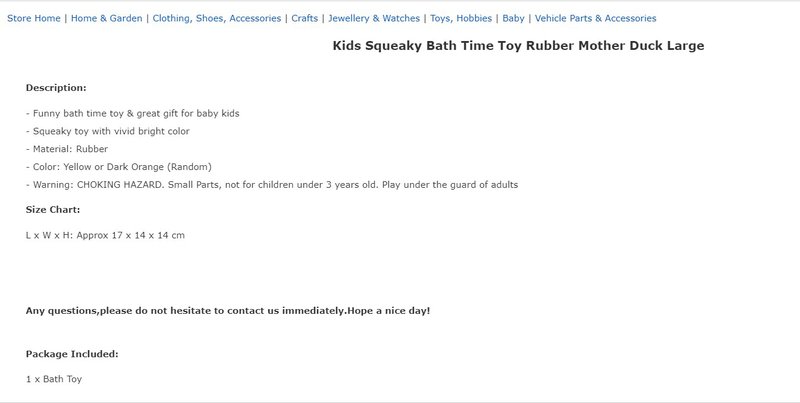 Make sure that your listings do not contain the following in the Item Description field:
Conflicting product information in a listing or product, such as saying you have  an 8 GB flash card in your title, but a 4 GB flash card in description
Political views, public service announcements, or other content that does not relate to the sale of an item
Any information about your background, your hobbies, and your products
Top Rated Seller, or Top Rated Plus icons or similar logos and expressions
Comments that persuade buyers to give you a score to increase your rating and Seller Performance
Any type of Active Content (video, animation, counters, widgets and others)
We recommend: Provide a complete and accurate Item Description, including its condition, and specify any defects or damages.
Product Identifiers
Product Identifiers are a name for universal codes that are stamped on every product.
Product Identifiers make it easier for shoppers to find and buy your items, both on eBay and through external search engines.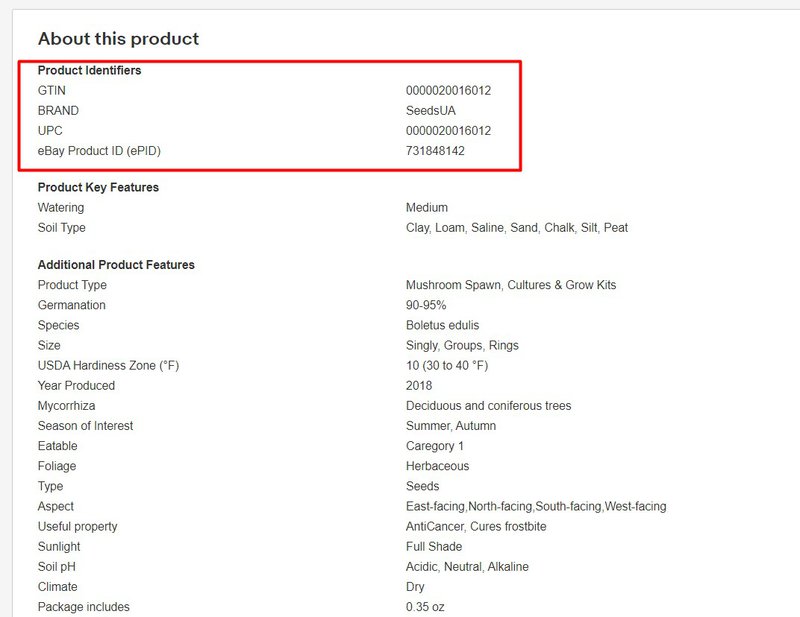 That includes, among others:
GTIN — Global Trade Item Number
UPC / EAN — Universal Product Code or European Article Number 
ISBN — International Standard Book Number
MPN — Manufacturer's Part Number
eBay also uses its own product identifiers. These are:
Item ID is the item identification number on eBay
ePID  (eBay's Product ID) identifies a product within eBay catalog
Item Specifics
Item specifics are descriptive keywords that tell a buyer about your item. They may include brand, size, length, width, height, type, color or style and many more. 
You can add Item Specifics using the listing form. Please note that Item Specifics vary in the listing form depending on what you're selling. Thus, Item Specifics in the Fashion category differ from Item Specifics in the Books category.
We recommend: Pay attention to the hints to Item Specifics in the Create Your Listing form. They show the number of search queries that buyers make when they look for an item.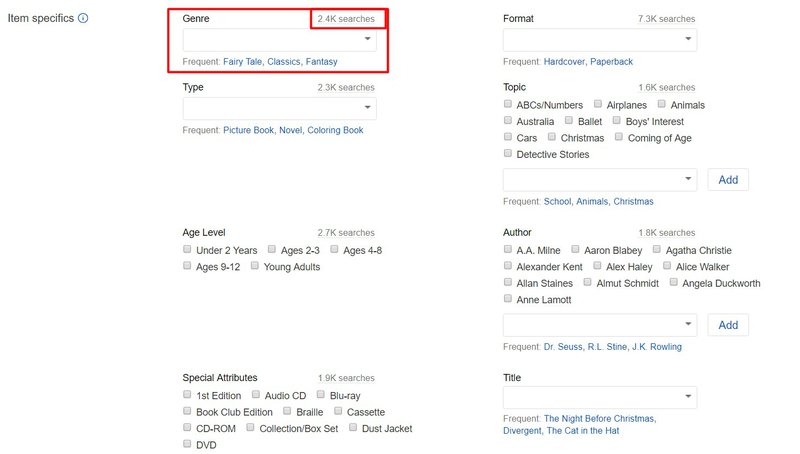 Complete and accurate Item Specifics can increase the visibility of your listing in eBay search results. Eventually, it will be essential on eBay to include the recommended Item Specifics in your listing, this is important for finding the item.
Pictures
According to an eBay study, listings with better photo quality are up to 5% more likely to sell*. 
Here are some rules to follow when using photos:
You can upload up to 12 photos of your item for free — use this feature and upload as many photos as you can
Photograph your item at different angles, take close-up shots of the details
Don't add borders or text to your photos
Be aware of the importance of copyright
* Likelihood to sell based on an eBay study that reviewed 6.8 million listings that resulted in an increase in 4.5% more sales over this period; "better photo quality" defined as photos that measure 500 or greater pixels on the longest side, do not have added text or graphics, and are uploaded to eBay picture service. Individual results may vary and results assume that sellers do not increase the item price while making these changes.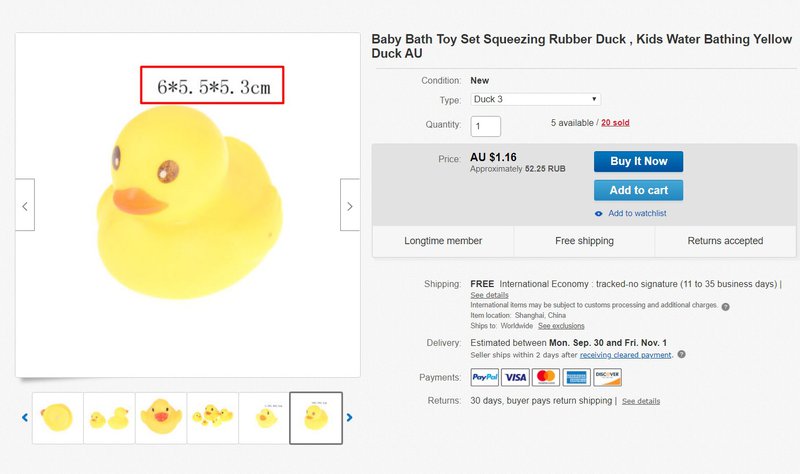 Learn more with our comprehensive guide, which helps you take the best pictures of your items.
Video
Sometimes photos are just not enough. But you can upload a video to showcase your item or demonstrate it in action. The video will be shown in the second position in the photo gallery — and desktop browser users will see it, too.
Most effective videos:
Product instructions and how-to videos
Installations guides (such as for Parts & Accessories)
DIY videos (for example, a recipe using a kitchen appliance)
Unboxing videos
Videos that clarify the item condition (if there are any scuffs, nicks, or tears)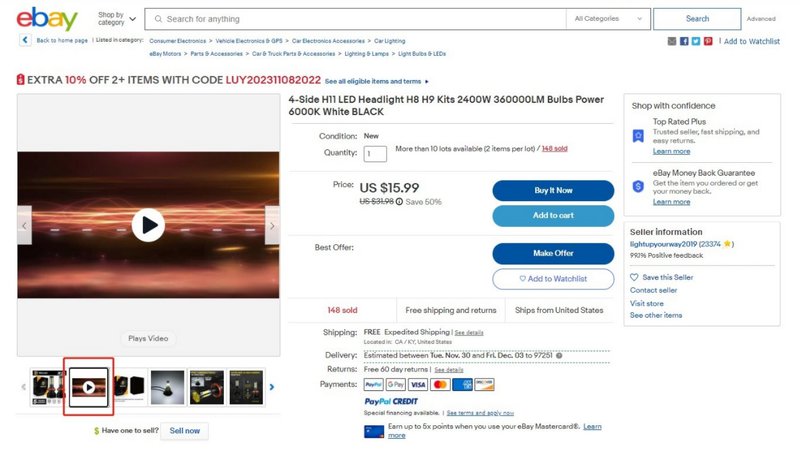 Photo and video content has become more engaging
Thanks to eBay interface improvements, listings have become more engaging and attractive to buyers. Apart from the support for video playback, mobile users now enjoy a much larger image panel. Pagination dots under the photo carousel show that there are additional images, and the grid view allows the buyer to see all pictures in one click.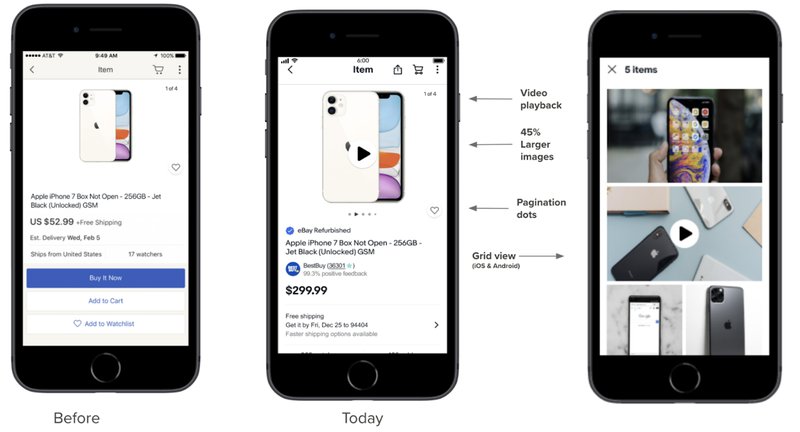 On desktops, listings also look different now. The image layout can be either horizontal or vertical. Buyers will see nudges on the image: Click to enlarge & Hover to zoom.

Payment Policy, Shipping Policy and Return Policy
Make sure that the terms of sale of your items are transparent. Your buyer should have a clear understanding of the Payment Policy, Shipping Options and Return Policy. Be sure to specify a Handling Time.
Payment Policy
Buyers have different payment options (credit and debit cards, Apple Pay, Google Pay and PayPal, as well as other locally accepted forms of payment, depending on the listing site).
Handling Time
Buyers like getting their items fast, so the sooner you ship, the happier they'll be. It also increases the chance of your listings getting higher ranking in search results.
Pay attention:
The fewer Handling Days that you offer, the fewer Estimated Delivery Days the buyer will see
Your listings will get preference over competitors in the search results
A greater chance of appearing in the search, even when customers filter by Shipping Time
We recommend: Don't reduce Handling Days if you cannot meet them.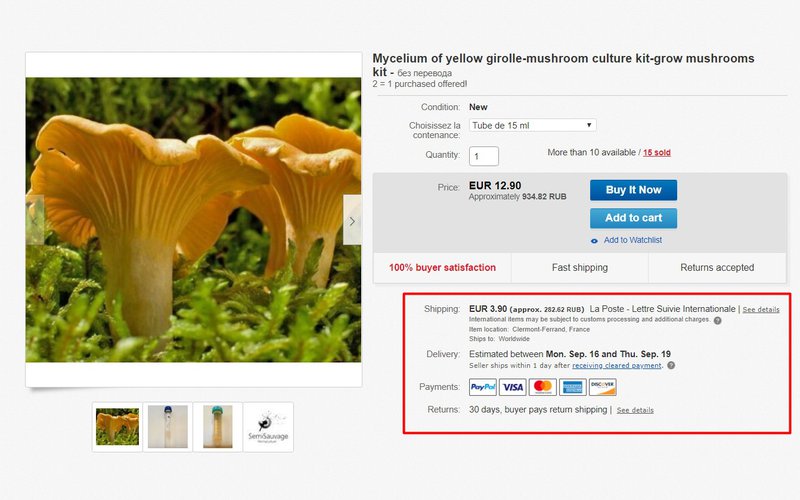 Shipping Policy
Shipping Policy defines what the offered handling times and shipping options are, including costs.
Offer an option of free shipping — more than 80% of customers look for products with free shipping
Offer at least one option for Expedited Shipping, at extra cost
Offer shipping discounts and additional relevant promotions clearly — in order to win your customers' hearts
Our step-by-step guides help you setting up your Shipping Options:
How to set up your shipping options: step-by-step guide
Tips for shipping internationally
Returns Policy
We recommend you offer as generous a returns policy as possible.
Please, specify: 
The return time-frame: 30 or 60 days
The type of return:  Exchange for a different product or a refund
Who is responsible for the returns shipping cost (seller or buyer)
Learn more how to set up returns in our guide:
Listing Upgrades
Listing Upgrades help your listing to stand out from the crowd in the search results.
You have options available:
Bold type font in your Item Title
Subtitle
Gallery Plus benefits — a buyer can click or hover over the icon with their mouse, and a larger version of the picture will appear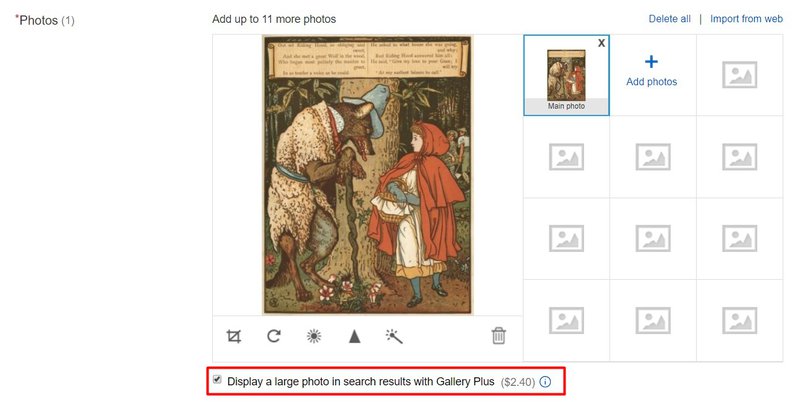 We recommend: Add keywords, important Item Characteristics, and Item Condition as well as anything else that might be of interest to the buyer to the Subtitle.
For Example 
Item Title: Apple iPad Air 2 16/32/64/128GB Wi-Fi + Cellular 4G Unlocked 9.7" - Black/White
Item Subtitle: 12 MONTHS WARRANTY - FAST SHIPPING - AMAZING PRICE!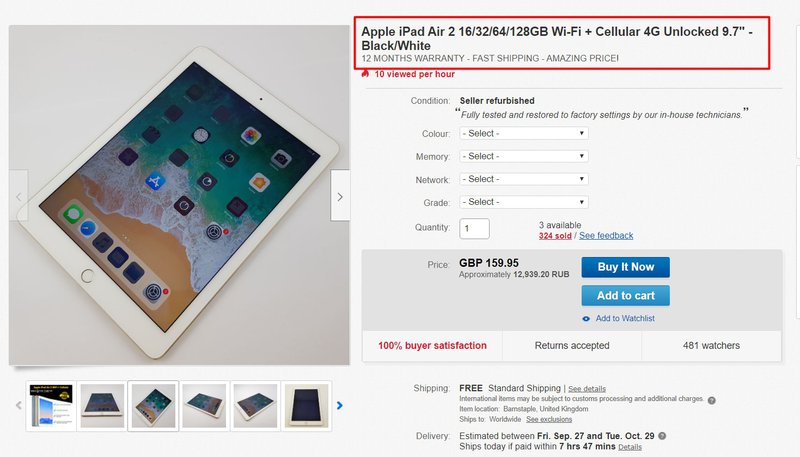 You can add Listing Upgrades when you create a listing in the Sell Your Item form. Most of the Listing Upgrades come with additional insertion fees.
We recommend: Compare the item price with the fees for optional listing upgrades. 
Active Content
Active Content is a broad term which covers any type of non-standard text that is included in the listings to provide additional features, but may not be displayed correctly on different gadgets. These include, for example, animations, videos, viewer counters, additional tabs, currency conversion widgets, feedback forms, and more.
Active content such as JavaScript, Flash, 3D models, music, tabs or counters are not allowed on eBay as of June 2017. Please note that listings containing active content are blocked.
If you are an eBay Store subscriber, you can use the eBay Store benefits in creating your listings. For example, you can suggest your buyers sign up to your Store newsletter or use Promotions Manager  to cross-sell related items.