Reducing unpaid items for Best Offer and Buy It Now items
Overview
What you need to know
Changes to Buy It Now purchases
Best Offer updates
FAQ
What you need to know
We know the long-standing challenges unpaid items have caused many of you and we've been continuously working to make improvements for a better selling experience. We've already taken steps to reduce unpaid items for Buy It Now sales, and we're now working on extending these updates to Best Offer listings as well. In initial testing, we've already seen significant improvements in successful payments for Best Offer items and continue to track these trends as we roll out these features. 
Changes to Buy It Now purchases
When purchasing a Buy It Now item, buyers will be taken directly to check out, where they're required to provide a payment method in order to secure the item.
Best Offer updates
We're testing a new feature that requires buyers to add a payment method on file before making offers on Best Offer listings. After you accept the offer, eBay will collect payment from the buyer's payment method automatically and buyers won't have to return to eBay to complete the purchase. We will continue to roll out this feature to most Best Offer listings over the coming weeks.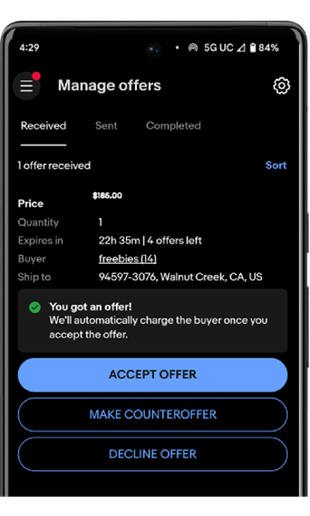 Once launched, these changes will apply to most buyer offers, so you won't need to update or make changes to your Best Offer listings. We're also working on adapting this feature for seller-initiated offers and counteroffers.
FAQ
What is an unpaid item?
After an offer is accepted, it's usually a smooth process to complete the transaction with the buyer, but sometimes the buyer may not pay for the item they offered to buy. These are called unpaid items.
Does this program mean I won't have any more unpaid items for offers?
We're trying to tackle unpaid items wherever possible and prevent the challenges they bring. You should expect fewer unpaid items from offers as we scale this program; however, they may continue to happen from time to time in some specific scenarios, such as offers with a very high offer price. Please note these changes will not apply to auction listings at this time.
When can I expect these changes to go into place?
These changes are already live for Buy It Now listings. Our goal is to complete the changes for Best Offer Listings in the coming months.
Do I still need to cancel unpaid items if they happen?
If an item is unpaid, you should continue to cancel the order and share the reason as an 'unpaid item'. You can also specify your preference on whether you want unpaid items to be canceled automatically after four days.
Can I control if my buyers get asked for payment and shipping information for my Best Offer listings?
Yes. You can opt out of this feature in Buyer Payment Requirements. If you opt out, eligible buyers will not be asked for payment and shipping information upfront when they submit offers for your listings. We encourage you to remain opted in so your items are paid for and orders are created quickly.
Can I still help my buyers who request combined shipping?
We know some of our buyers like to request combined shipping when they make offers on multiple items from the same seller. We are working on developing the right solution that addresses combined shipping without resulting in unpaid items.
Do these changes apply to international sales?
Currently, these changes apply only to US buyers. We're working on launching these changes globally in the coming months.