Provide cheaper or free shipping on orders that match your conditions
Launching a Shipping Discounts offer is a great opportunity to create interest among potential buyers and loyalty in your existing buyers by providing shipping services or shipping method upgrades for free or at a flat-rate. At the same time, you choose and set the threshold and properties of the promotion at your discretion.
Shipping Discounts will help you to:
Generate positive response from buyers when taking final decisions
Increase order size and its average value
Shipping Discounts will help your buyers to:
Save on shipping costs
Find your items and promotions easier
See all details of the offer and get hints on how to have the discount realized at all stages of the purchase
Examples of effective Shipping Discounts promotions:
Free Economy Shipping on orders over $49
Free Expedited Shipping
Upgrade to 2-day Shipping for $10
Upgrade to Overnight Shipping for $25
Tips
Set thresholds slightly above your average order size or average order volume to encourage buyers to spend more to get upgraded shipping.
Additional upgrades to higher classes of service can be a great way to increase order size and order value; these can be offered for free or at a discounted flat rate.
Where can buyers see your special offer?
Item page. Your promotion is displayed prominently at the top of the page. Also a few eligible items are featured in the module below to funnel buyers to your promotion page.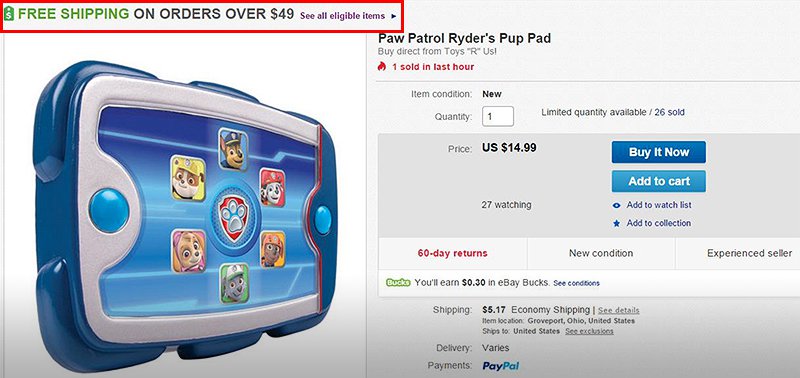 When viewing the cart and making a purchase, your buyers get alerts of available offers and the actions they need to take to get the discount. When buyers have met the conditions of the offer, messaging confirms that the offer will be applied and details the total discount realized through the promotion.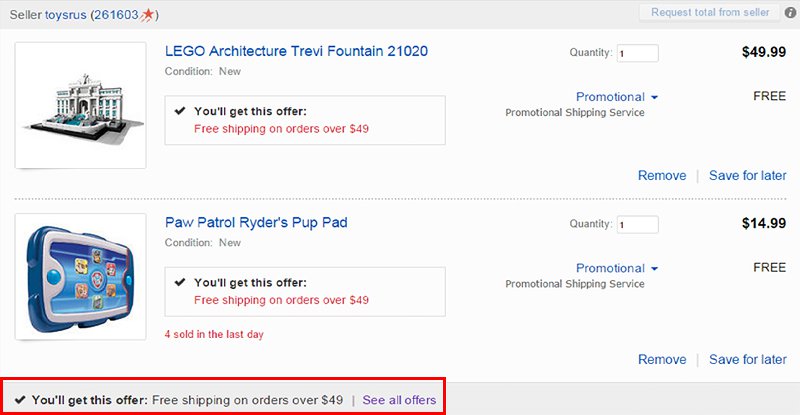 Special offer page. This page shows all active promotions with additional links to your eBay store and popular items.
All offers page. Your promotion page showcases all of your eligible inventory. Buyers can narrow down based on their interest using keywords, categories and item attributes.

How to set up Shipping Discounts
Click on the Marketing tab within Seller Hub and choose Promotions in the left navigation.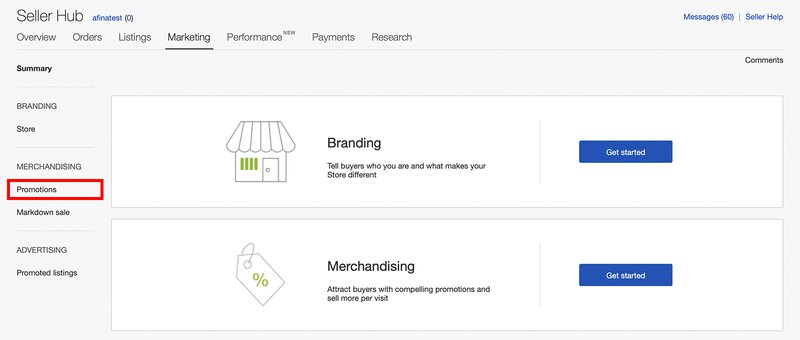 2. Click Shipping Discounts from the left hand menu and then set up the order value or size to create special offer (Minimum Order, Minimum Quantity or No Minimum).



3. Choose Specified (recommended) or Unspecified Delivery Day Range to select the promotional shipping service and/or set up the ship price (free or flat-rate).
Specified Delivery Day Range:
You may only select 1 service from a tier and you may select a service class.
You may select services from up to 3 tiers.
Set the specified promotional ship price for each.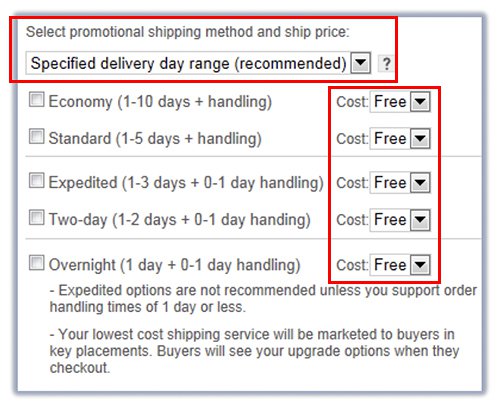 Unspecified Delivery Day Range:
Set the promotional shipping price to be free or a flat rate of your choosing.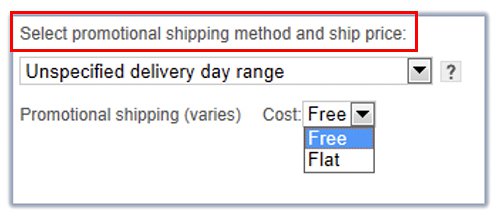 4. Now choose items to include into the promotion.
Here you can:
4a. Select option Restrict inventory by rules and create Inclusion / Exclusion rule to choose items by categories and apply desired filters.
To create Inclusion Rule:
Select to include items by:

Whole store (All inventory)
eBay category
My store category

Apply desired filters (options).
Click Add inclusion rule.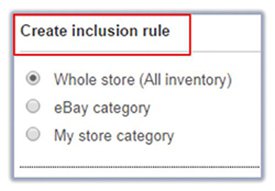 To create Exclusion Rule:
Select to exclude items by:

eBay category
My store category
Enter SKUs
Enter Item IDs

Click Add exclusion rule.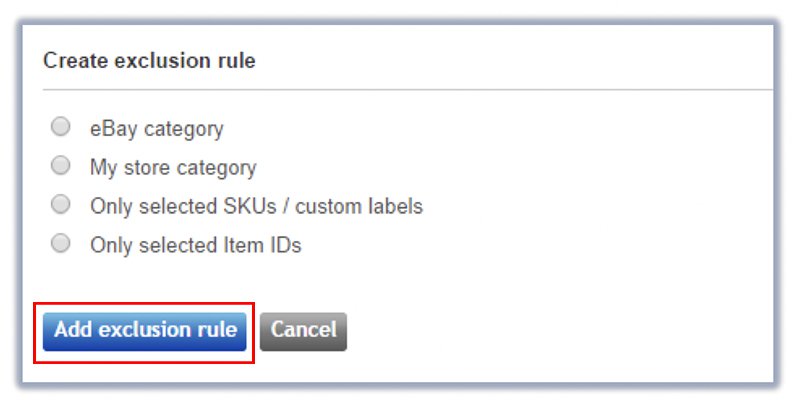 4b. Use options Restrict inventory by SKUs or Item IDs to enter up to 500 desired SKUs or Item IDs manually or choose within any category.



5. Finalize your promotion and describe the items that will be included in the offer.


Let the offer start immediately or schedule a future offer start date/time.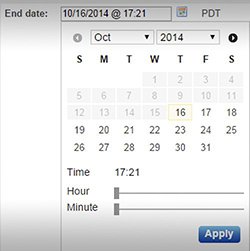 Now just select an offer image – upload a new picture or use any available.


You can choose the priority (option) of the offer within your promotions and submit it immediately or save as draft to remain inactive so far.