Payoneer will verify your details at the time you register to sell on eBay, and when you change any relevant information on your account. So be sure to double-check that your information is accurate before submitting it, to avoid delays to your payout later on.
If you've already registered as a seller but some of your details still need to be verified, a hold may be placed on your payouts until Payoneer is able to verify your information.
To receive payouts for items sold on eBay, you'll need to link a Payoneer account to your eBay account during registration. At registration eBay will ask if you have an existing Payoneer account or if you'd like to create a new one. You'll be prompted to either sign in to an existing account, or create a new account through Payoneer.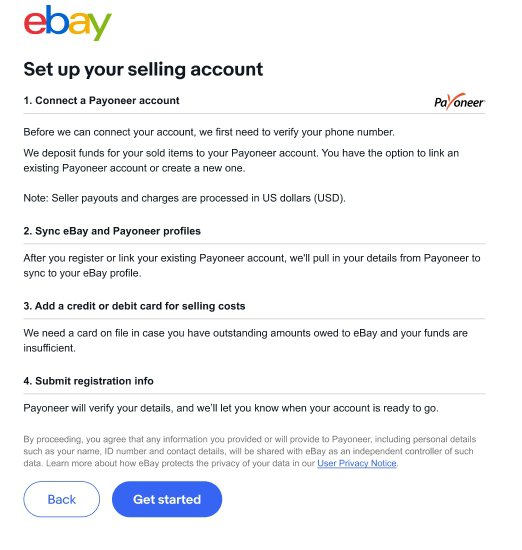 You need to verify your phone number with a security code.




Select payout currency. eBay uses your selected currency for your payouts, selling costs, and fees. Make sure you select a currency that is supported by your financial institution. You cannot change your currency after you submit your registration information.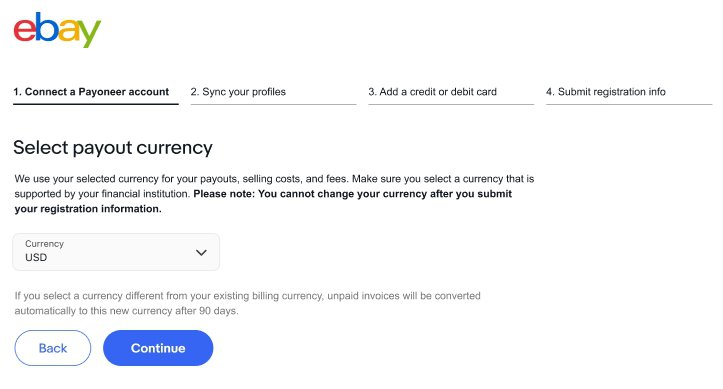 Then you can change your account type if you need it.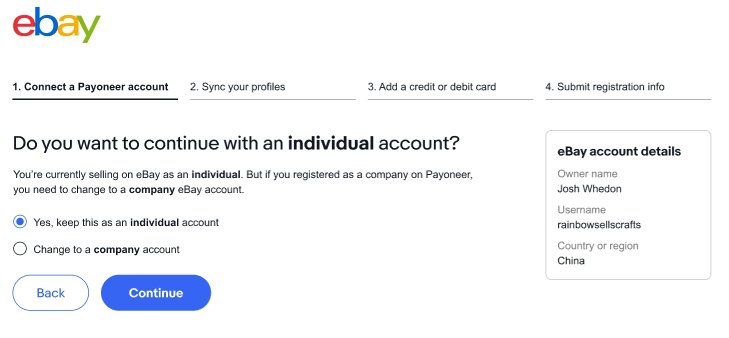 And then you can sign in to an existing Payoneer account or create a new one. If you are going to work with an existing Payoneer account, it may be necessary to update it.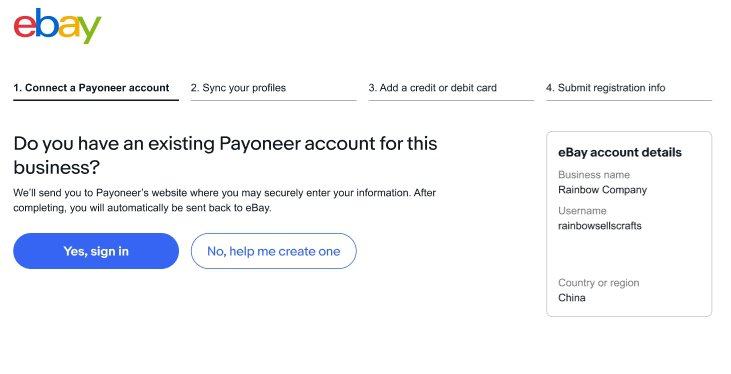 It's important that the account type and country of registration match on both accounts.
For example, if you have an eBay business account, you'll need a Payoneer business account to register and to receive payouts. If the information does not match, your Payoneer account won't be successfully linked and you'll see an error message.
Once you've linked your eBay and Payoneer accounts, eBay will automatically transfer your existing profile information from Payoneer for you to review.
Syncing a personal account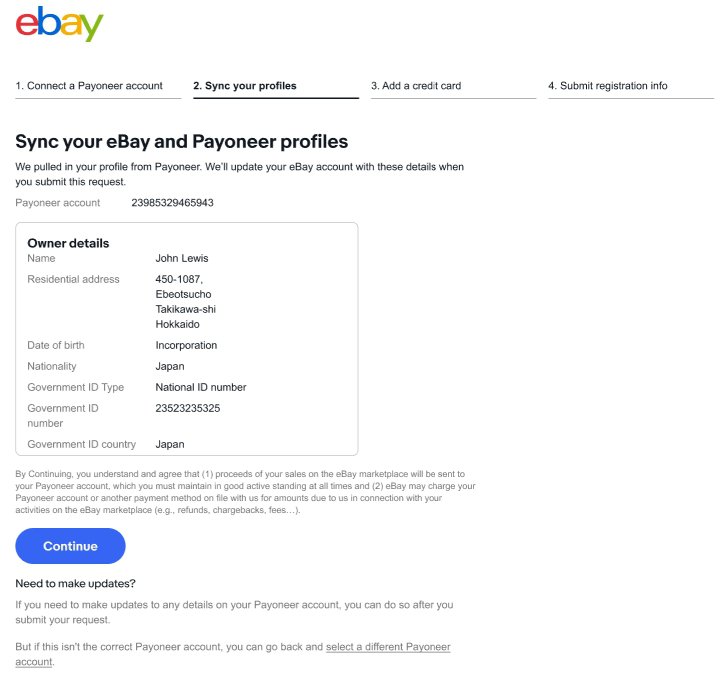 Syncing a business account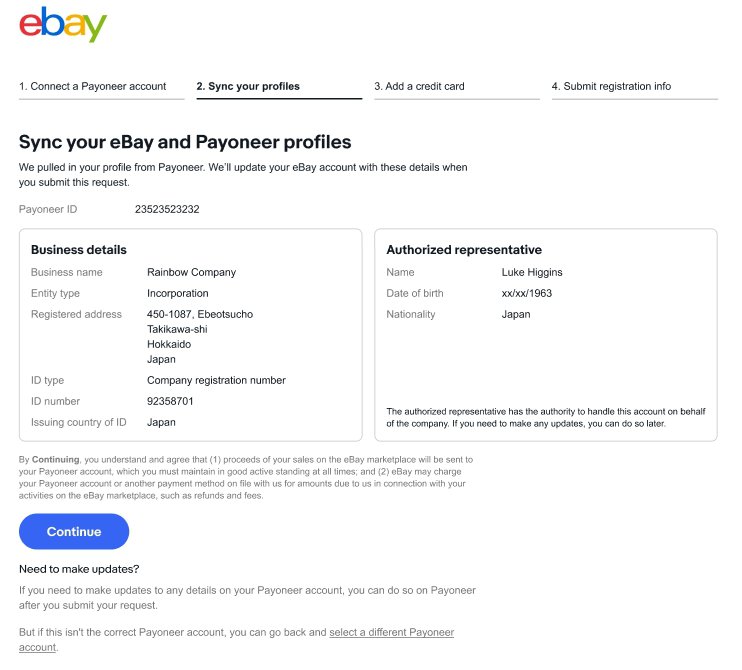 You'll have the option to Continue and sync the two accounts, or, if needed, you can start again and select or create an alternative Payoneer account to register and sync.
Once you sync the accounts, your Payoneer profile information will be applied to your eBay account, and you'll be asked to add a credit or debit card to your eBay account. This payment method may be used to cover your selling costs when the proceeds from your sales are insufficient.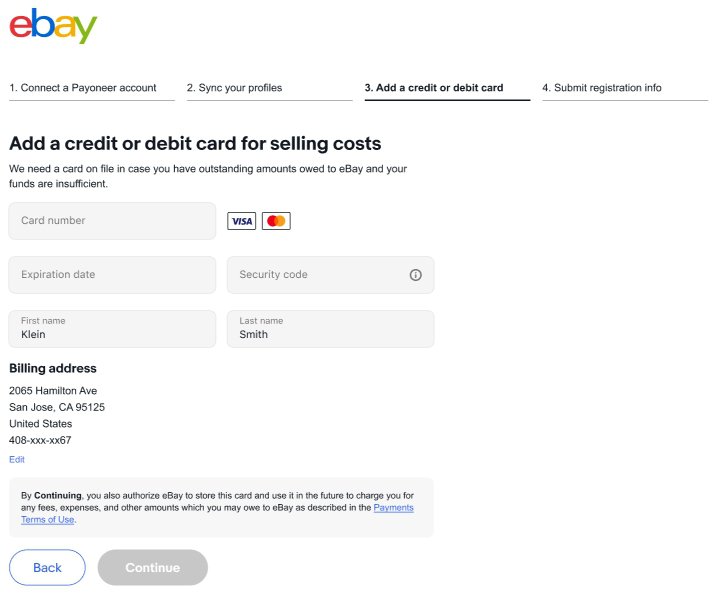 Once you've added a credit or debit card, you can submit your information.



Before your account is activated for selling on eBay, Payoneer will verify your personal or business information, ensuring your account details match. Once your details have been verified, you'll receive an email and you'll be ready to start receiving payouts to your Payoneer account for items you sell on eBay.
If Payoneer needs additional information to complete the verification process, they'll contact you to request it. eBay will also place a notification in your eBay account to let you know Payoneer needs additional information before you can start receiving payouts.
If you have any questions regarding Payoneer's request for additional information, please contact Payoneer for support.
Regardless of how the buyer pays, payouts are initiated within 2 business days (Monday through Friday, excluding bank holidays) of order confirmation.