When you register as an eBay seller or if you update any relevant information on your account, eBay will confirm your identity, checking account details for payouts, and business details if applicable.
eBay will notify you in My eBay messages and put an alert on your eBay account to let you know that the marketplace is having difficulty verifying your information. In these notifications, eBay will provide details of any additional information needed from you and instructions on how to send it.
Individual sellers will need to provide:
Full name
Address
Date of birth
Social Security Number (SSN)

Registered business (Sole proprietor/Single member LLC, Corporation/Multi member LLC, Partnership) will need to provide:
Individual identification information for beneficial owners, officers, directors, or account managers
Legal business name
"Doing Business As" (DBA) name (if you have one)
Employer Identification Number (EIN)
Business address
Phone number
Select the proper business type:
If you are going to sell on eBay as a legal entity, select the first option. Then select the type of your legal entity.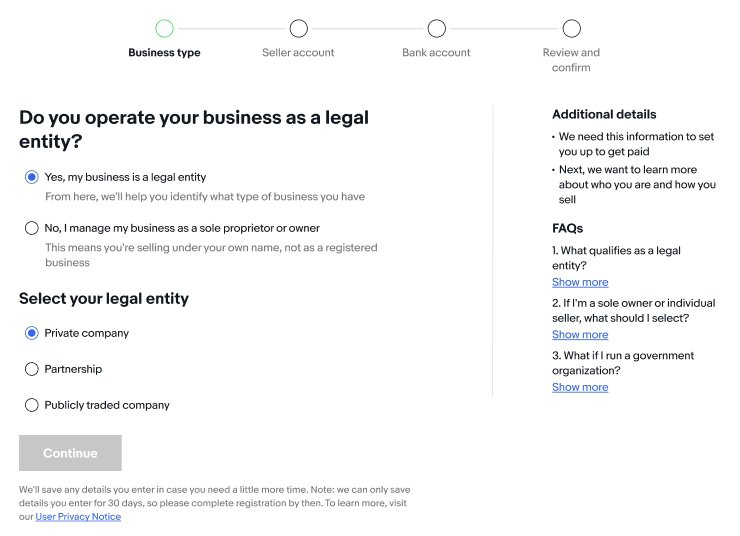 Add your business information. If your company is public, you'll need to add stock information (stock exchange, country of stock exchange, stock symbol). You'll need to verify your address and phone number.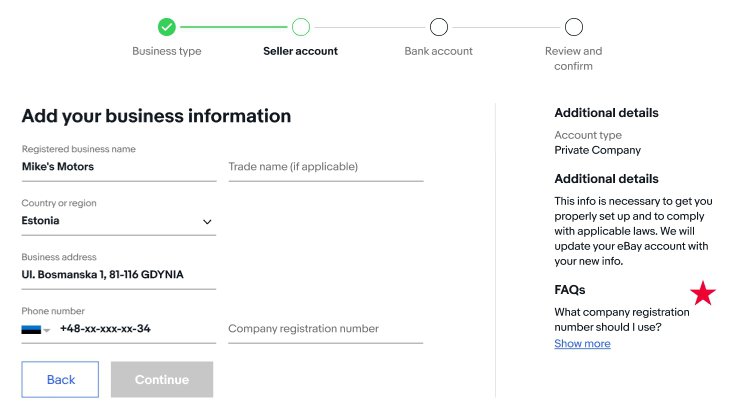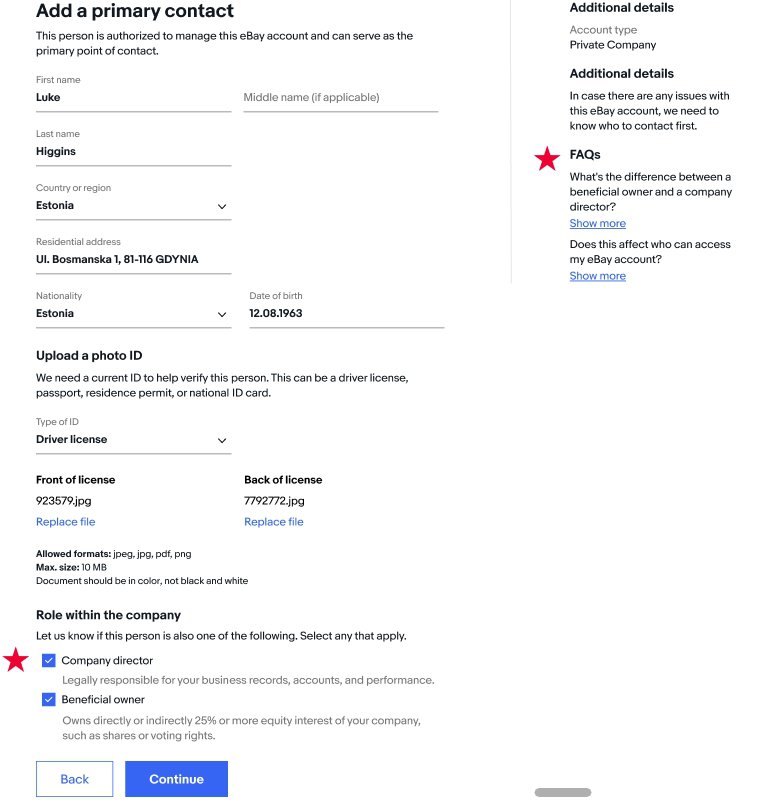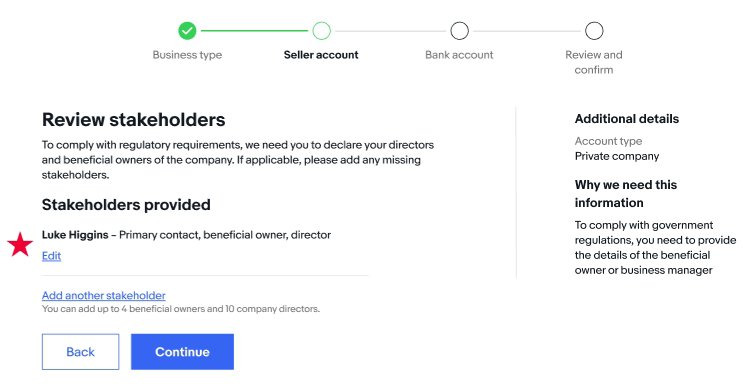 Providing proof of identification
If the system can't verify your identity using the information above, eBay may need you to send a photo of a valid form of identification. eBay will send you an email, as well as place a notification in your account, as a reminder to let you know what is needed, including instructions on how to upload the image.
eBay accepts the following forms of valid identification:
Before you upload the photo of your identification, make sure it's clearly visible, as the system may not be able to verify your details if the image is blurry or if information is cut off. Your image can be in JPEG, JPG, PDF, or PNG format. The maximum file size is 10 MB.
To receive payouts, you'll need to link your checking account to your eBay account. Make sure that the names on both accounts match.
If you have a personal account, you can change it to a business account from account settings.
If you are creating a Personal account
Your first name and last name should be the same on your checking account and your eBay account.

If you are creating a Business account
The business name associated with your checking account should be the same as the business name you use to register on eBay.
For example, if the business name on your checking account is "Joe's Hobby Shop", that's the name you should use to register for your eBay business account.
It's also important to make sure that your account type on eBay matches your checking account type. For example, you'll need a business checking account to register a seller business eBay account.
To verify your bank account, eBay will need:
Name on the checking account
Bank name
Routing number
Account number
Bank statement
Please make sure that the bank statement:
is for the account you're going to register
is for an account that belongs to you and shows your first and last name or legal business name
shows your address and account number
is less than 3 months old
contains the bank's logo and name
contains recent transactions without values
is a bank statement, not a letter from the bank
You need to upload a color picture in JPEG, JPG, PDF, or PNG format. The maximum file size is 10 MB.
If your bank statement doesn't show your address and recent transactions on the same page because the information is divided into several pages, you can combine these pages and upload them as one document in PDF format. But it is very important that page numbers are clearly visible.
Link your bank account, review and confirm information.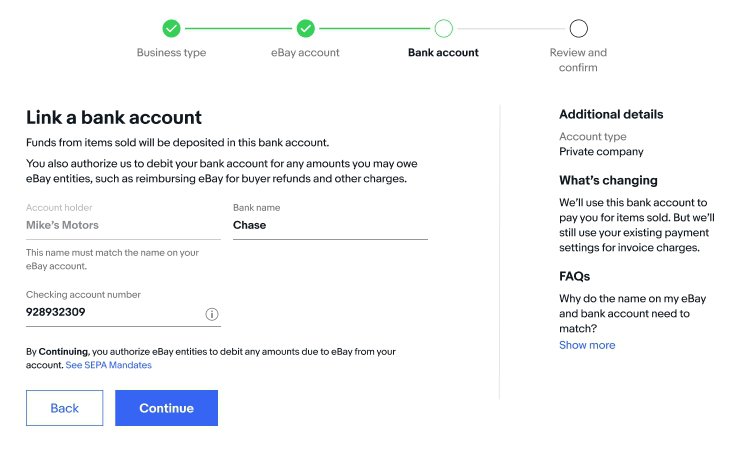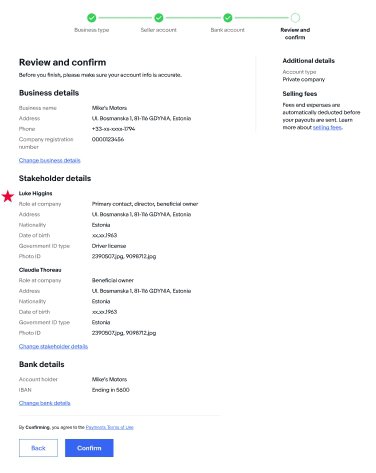 List of additional ways to verify the bank account
1. Logging into your bank
When verifying your account, if your bank is available in the Add a bank account list, you can select it and log in directly with your bank credentials. This is the fastest way to verify your checking account.
2. Using micro-deposits
Alternatively, you can choose to verify your account using micro-deposits. If you choose this option, eBay will send two micro-deposits (small payments) to your linked checking account. It can take a few days for the micro-deposits to reach your checking account, depending on your financial institution. Once they've reached your account, sign into My eBay or Seller Hub and follow the instructions on the banner to enter and confirm the micro-deposit amounts to verify your account.
Once verification is complete, the micro-deposits will be withdrawn from your checking account.
Once eBay verifies your information, you will receive an email letting you know you're set up.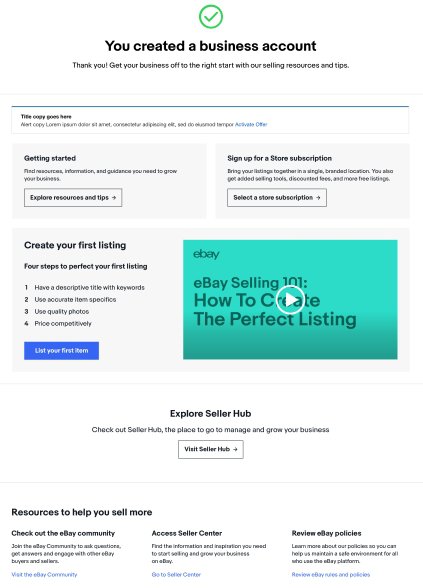 Once your buyer's order is confirmed, eBay initiates your payout within 2 business days. It then typically takes 1-3 business days for your funds to clear into your checking account.