Vehicle parts and accessories are one of the most popular categories on eBay Motors. This segment is booming right now, and we have every reason to believe that it will continue to grow quickly in the future. The study by Reportlinker.com says that the global automotive e-tailing market will reach 84.5 billion USD by 2027.
According to eBay statistics, there are about 110 million live parts listings, 3 parts or accessories are sold every second, and a wheel or tire part is sold every 6 seconds. As for international eBay sites, the situation is also quite promising. You can join the mainstream and increase your revenue.
Parts сompatibility: how to make it right
In the automotive market, there are myriads of models and variants, and sometimes it's quite tricky to find the parts that will fit perfectly. To help buyers and sellers of auto parts find each other, eBay offers the Parts Compatibility tool.
How can sellers benefit from using it? First, you save a lot of time, because there is no need to manually enter compatibility information — it will be automatically taken from the eBay catalog. And you won't need to answer numerous questions about compatibility. Second, you save money on listing fees, since you can include all the compatible vehicles in one listing instead of writing them in 80-character titles and having to create several listings because of that. Third, you get a boost in search results: more shoppers will see your listings thanks to standardized vehicle information, and your sales will increase, too. Fourth, your buyers won't return the purchased parts because of incompatibility, so you can get a higher Seller level with all its benefits.
How you can benefit from the Parts Compatibility tool:
Save time and money
Get a boost in search results
Provide excellent service to your customers.
The Parts Compatibility tool is a great time-saver for buyers as well. A lot of vehicle parts are model year specific, so the search process is greatly facilitated on eBay. A user just opens the My Garage page and enters the vehicle registration number or provides information about the make, model, year, and so on. After that, the search results will only include the parts that are compatible with that particular vehicle.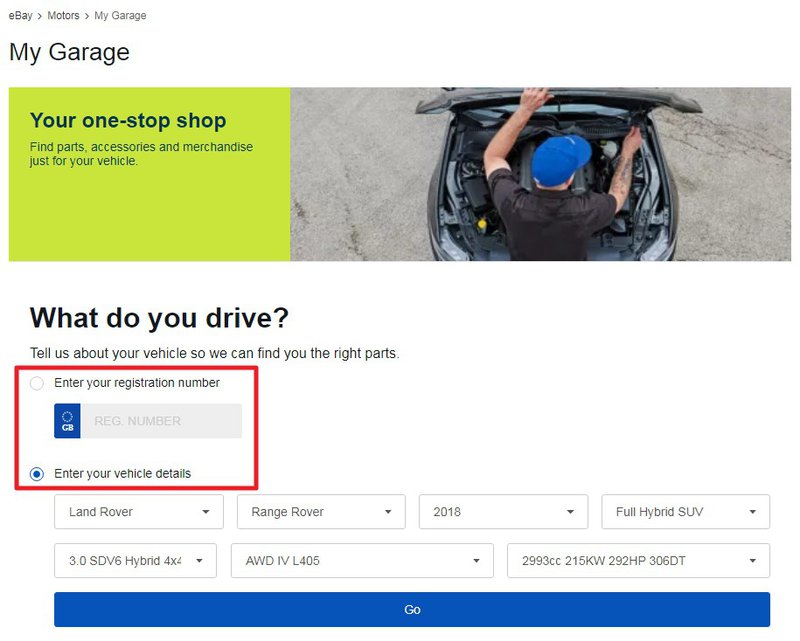 In the near future, the new Grasshopper Taxonomy tool will be introduced, to make selling vehicle parts even more convenient.
How to create a vehicle parts listings
To create a vehicle parts listing:
1. Select Sell in the top right corner of most eBay pages.
2. Enter the part name, number, and product code, then select one of the suggested categories.
3. Check the list of Similar products in our catalog. If your item is here, click Select.
4. View the details and click Use this product to automatically create a listing draft with pre-filled info: the title, some photos, compatibility.
5. If your item is not in the catalog, which is a rare occasion, click Continue without selecting a product and enter all the data manually. For compatibility information, click Use VIN or Use list (here you will need to select the makes, models, and years of the compatible vehicles).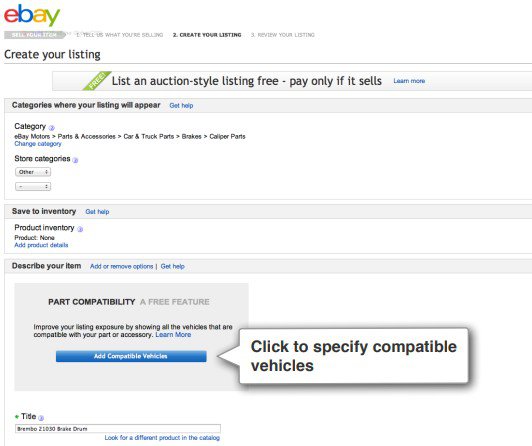 6. Finish the draft and click List item. Your listing will show all compatible vehicles in the Description section.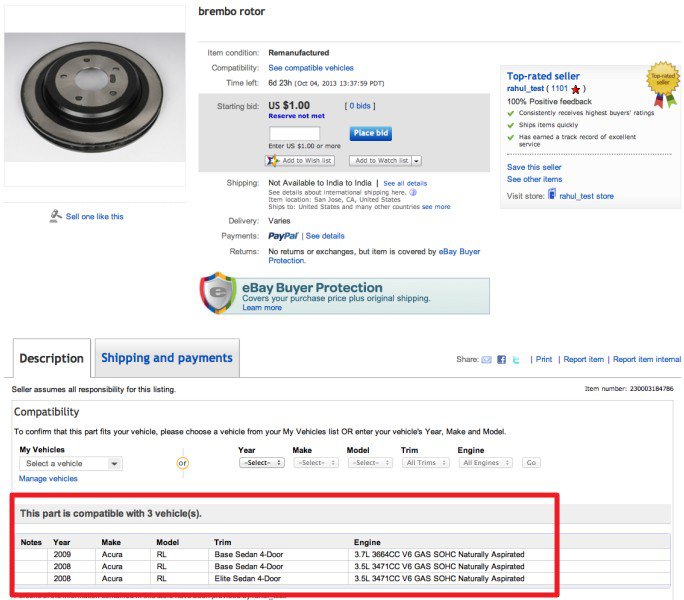 Why use product identifiers in your listings
Product identifiers increase your chances of being seen. A lot of people browse eBay and make purchases on smartphones, and they just don't have the patience to scroll through numerous listings in search of the right item. If you add product identifiers, your eBay listings will be easier to find — not only on eBay, but also on Google, Bing, and other search engines. Besides, eBay may show product reviews under your listing.
Not specifying a product identifier is possible when you list vehicle parts on eBay, but in the long run, it will limit your sales and your commercial success. Providing the correct MPN in addition to the manufacturer brand name results in 27% higher conversion as compared to listings without such information.
So, it is highly recommended to use a product identifier if there is any.
Product identifiers are unique codes that identify a specific product (much like barcodes). When it comes to selling vehicle parts, the following ones are relevant:
UPC (Universal Product Code) is mostly used in the US and Canada. It consists of 12 digits and a barcode. It is a GTIN (Global Trade Item Number) assigned by the Uniform Code Council.
EAN (European Article Number) is used by retailers outside of North America. It consists of 13 digits and a barcode. It is a GTIN (Global Trade Item Number) assigned by the Uniform Code Council.
MPN (Manufacturer Part Number) is assigned by the manufacturer to a certain part design and usually consists of numbers and letters. MPNs help to match your products with compatible vehicles.

Benefit from using advanced solutions and tools
To work even faster, vehicle part sellers can use bulk listing tools that allow them to create and manage multiple listings. For example, there is the Multiple Listing Tool that is available to all users for free. If you are an eBay Store subscriber, you can try Selling Manager and Selling Manager Pro.
eBay also has several enterprise partners and certified providers that offer useful solutions for vehicle party sellers:
DCi
Epicor
Hollander
Mecka
myFitment
OEC
Powersports
RevolutionParts
SimplePart
SureDone
WHI
You can also use listing tools and bulk update tools:
Auctiva
channeladvisor
inkFrog
Frooition
Kyozou
Vendio
Mobius
Sell vehicle parts internationally
There are two ways to sell vehicle parts internationally:
List your items directly on international eBay sites (ebay.co.uk, ebay.fr, ebay.de, ebay.it, and others). You'll need to meet the selling requirements and pay the fees according to the rules of each site.
Offer postage to other countries, and your items will be shown to buyers on correspondent eBay sites. You can also buy the International Site Visibility upgrade or use promotions that give you access to international markets.
Whichever way you prefer, you need to meet eBay International Selling Requirements and comply with the local rules and regulations. For example, to sell tires to EU countries, you need to display their energy efficiency class. This data is included in the parts catalog, so all you need to do is provide the EANs of your tires and complete wheels. If you fail to add this information, buyers from the EU won't see your listings at all.
Each eBay site has its own Master Vehicle List (MVL) and Master Motorcycle List (MML). You can download them and filter their contents by make, model, variant, year, engine, etc. The compatibility information can be copied to CSV files that you use to upload inventory data.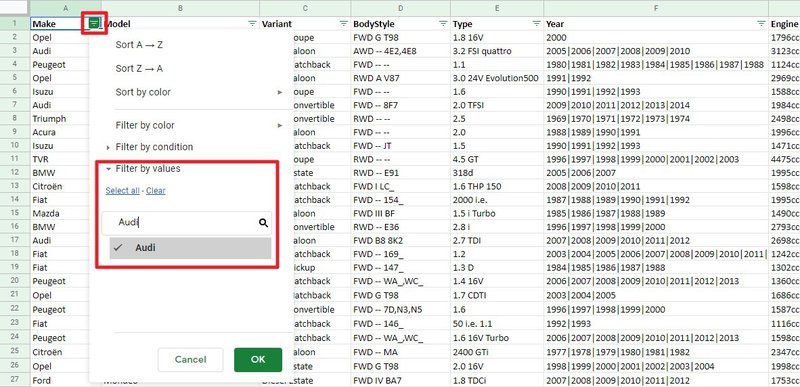 The main eBay catalogs are available here. You will find the local MVLs and MMLs on the following pages of eBay websites:
eBay offers vehicle parts sellers everything they need for successful trade: an easy-to-use compatibility tool and advanced solutions to streamline routine work and boost sales. You can take advantage of those benefits and start your own lucrative online business here.