Enable 2 Step Verification
To add an extra layer of security to your eBay account, eBay strongly recommends you enable 2 Step Verification. It takes seconds to set up and means only you can access your account, even if someone else has obtained your password.
Once you've switched on 2 Step Verification, each time you sign in to your account, you'll be able to confirm your identity by entering a code eBay sends you by SMS.
To set up 2 Step Verification by SMS:
Sign in to your eBay account.
Go to your name in the upper left-hand corner and choose Account settings from the dropdown menu.
Select Personal Information.

4. Scroll to the Security Information section and select Edit.

5. Select Get a text message.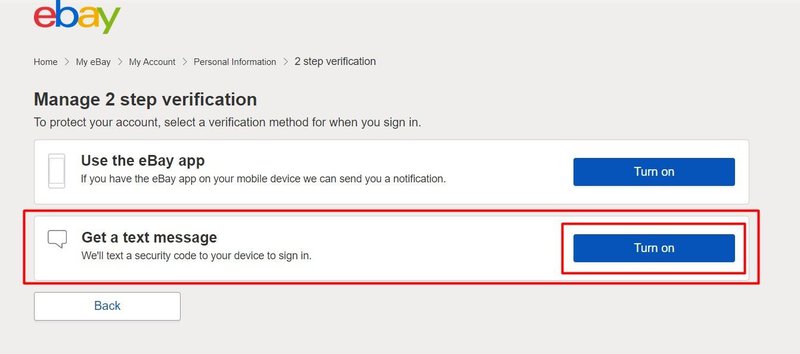 6. Follow the on-screen prompts to add your mobile number.
If you change your mind and would like to switch 2 Step Verification off, simply follow the steps above to turn off the function. eBay will also send you an email to let you know when you've switched 2 Step Verification on or off.