Send more Offers to Buyers with greater ease, and see updates to drive higher conversion
New "Offer to buyers" enhancements
The Offer to Buyers feature in Seller Hub enables you to initiate a negotiation process with buyers who show interest in your items but haven't yet completed their transactions. A counteroffer option lets you and a buyer negotiate an offer by exchanging up to five offers and counteroffers for each negotiation.
Around 30% more watchers turn into buyers when they receive an offer from a seller. Last Autumn, eBay announced that you could reach up to 10 buyers with an offer. Now you can reach up to 40 buyers.*
*Data surveyed June through December 2019.
Lower minimum discounts
Currently, the lowest discount you can offer your potential buyers is 5%. eBay's reducing the minimum discount for items over $200 to a variable amount. You can see the discounts on your high-priced items in your Send Offer window. The discount will change according to the item price so you'll still be able to offer significant discounts for your high-value items.
Offer reminders
We'll also be introducing offer reminders to your potential buyers 24 hours after they're sent. This might help to notify potential buyers who might have missed the offer the first time it was sent. Please note, we'll be monitoring notifications to ensure that buyers don't receive too many.
Allow counter offers on your mobile device
Starting in March 2020, you'll be able to allow counter offers from buyers on your mobile device. Previously, the feature was only available through the Seller Hub Active Listings page on your desktop. The mobile capability will give potential buyers the opportunity to counter your offers and finalize the sale. Please note: you'll be able to disable counter offers on your mobile device if you don't want to receive counter offers.
You'll also be able to quickly filter for listings that are eligible for Offers to Buyers on your mobile device, an option previously only available on desktop.
In addition, eBay's working to improve conversion rates for Offer to Buyers, including extending offers to browsers who have shown interest in your items. 
Learn more about Offer to Buyers
How you can see your eligible listings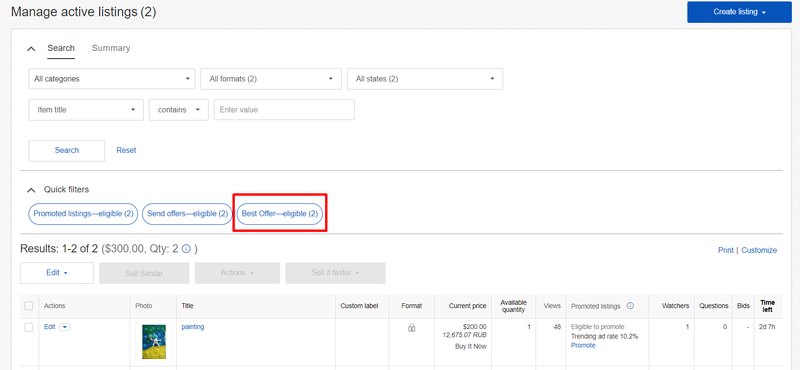 Highlight listings in Seller Hub