Help buyers find your items with required and recommended items specifics, automatically clean up your images, and allow read-only access to orders with Multi-User Account Access.
What you need to know
Category classification changes to help buyers find your items
Item Specifics updates for better search results
New Item Specifics features on the Active listings page in Seller Hub
New Multi-User Account Access permission — read-only order access
Volume Pricing for non-eBay Store sellers
Remove backgrounds from your item photos instantly
New Terapeak features in Seller Hub and terapeak.com deactivation
Category changes
New category changes to help buyers find your items
eBay continues to make category changes to create more intuitive buying, selling, and search experiences, and bring eBay into closer alignment with industry-standard classifications. The changes also help international buyers find your items.
Starting in May 2020, changes in the following categories, including additions, removals, and renames, will go into effect:
Business & Industrial
Watches
Home & Garden
Sporting Goods
If you listed an item in one of the affected categories and your listing is impacted by the changes, eBay will automatically move your listing to the most relevant category. View impacted categories for more information.
As a result of the changes to the category structure, if your listing is moved to a different category, you may experience a change in the fees (either an increase or decrease).
List your items in "best fit" categories
We encourage you to review your listings to make sure they are located in "best fit" categories. Use eBay tools to revise your items. If you use a third-party listing tool, be sure to use the new category tree to select the best category for your item so that revisions or relists made with the tool result in your item moving to your desired location.
Category Changes FAQs
Why is eBay making these changes?
Updates to categories will create more intuitive buying, selling, and search experiences, and bring eBay into closer alignment with industry-standard classifications.
Item Specifics update
Item specifics required to publish listings
eBay's continuing to make it easier for buyers to find your listings on and off eBay by providing you with targeted guidance about Item Specifics that matter most to them. Item Specifics describe the item you are selling, such as brand, make, model, size, color, and style. The more data you give us about what you're selling, the better eBay can match your item to what a buyer is looking for.
For the past year, eBay has rolled required Item Specifics in a number of categories. You will need to add required Item Specifics to new and revised listings or you will not be able to successfully publish them.
Item Specifics FAQs
How do I edit my listing when the Item Specifics in my category change?
To edit a single listing in My eBay:
Select the listing you want to revise.
Click the "Edit" button.
From the "Actions" menu, select "Edit listings".
To edit multiple listings in Seller Hub:
Go to your Seller Hub Active listings page.
Select the listings you want to edit.
Click the Edit button above the table.
From the "Edit" drop-down menu at the top of the page, select "Item specifics".
From the drop-down menu at the top of the next screen, select "Edit listings in bulk".
Make the changes you want in the grid, then click the "Save and Close" button.
How will I know which of my listings need to be updated?
eBay is rolling out item specific requirements by categories. Look for the prompts in Seller Hub and in your listing flows when you revise your listings. To view the most current list of item specific requirements by category visit eBay Seller Center page.
New Item Specifics features
Find and update missing Item Specifics in your listings with new features in Seller Hub
If your listings are missing required Item Specifics, you can now quickly find and update them with two new features in Seller Hub — a new tasks feature and a quick filter. The new tasks feature and quick filter will be updated as eBay introduces new Item Specifics requirements.
View missing Item Specifics in the Tasks module
On your Overview page in Seller Hub, a new task in the Tasks module will let you know when you have listings that are missing required Item Specifics. Simply click on the task and you'll be taken to those listings.
Use the new quick filter to view and add missing Item Specifics
On your Active Listings page in Seller Hub, you'll see a quick filter that also shows you how many of your active listings are missing required Item Specifics. Click on the filter to view those listings. In the Actions column, you'll see an "Add Item Specifics" link next to each listing in the Actions column. Click a link and a pop-up window will let you add required Item Specifics without having to leave the page. Scroll down in the pop-up window to add recommended Item Specifics.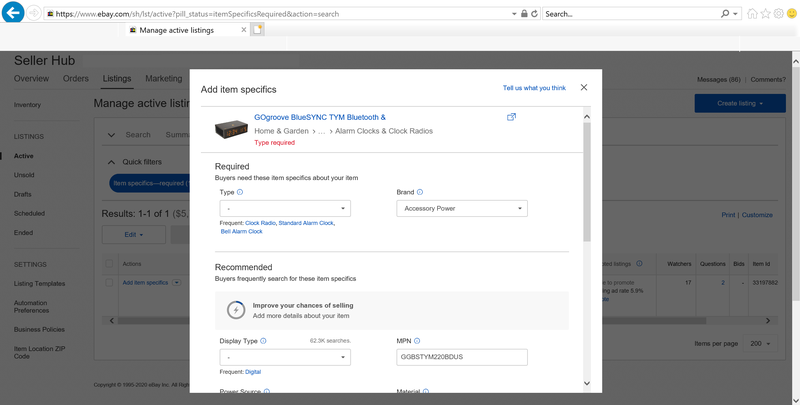 Quick filter shows you how many listings have a required Item Specifics.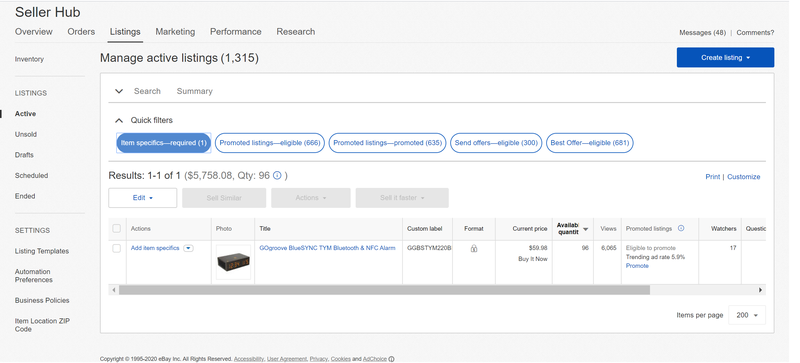 You are shown which field is required.
Item specifics FAQs
Can all sellers use the new Item Specifics features in Seller Hub?
Yes. All sellers using Seller Hub can use the new features.
How will the required and recommended Item Specifics help my items sell?
eBay evaluated Item Specifics that buyers frequently use to find and purchase items (i.e., the Item Specifics buyers are using as search terms or as filters to narrow their search results down to the products they're looking for). Based on the evaluation, eBay now requires and recommends Item Specifics that matter most to buyers.
What if I don't use the new and recommended Item Specifics in my listings?
If you do not provide required or recommended Item Specifics, your new or revised listing will not be published and it may not show up in buyers' filtered search results. For example, if your listing has the word "blue" in the title or description and a buyer searches for listings using the keyword "blue," your listing can appear in the search results. However, if the buyer uses the left-hand navigation filters and selects "blue", your listing may not appear in their search results. eBay prioritizes Item Specifics that are most often used by buyers and present the most-filtered values to help you sell your items.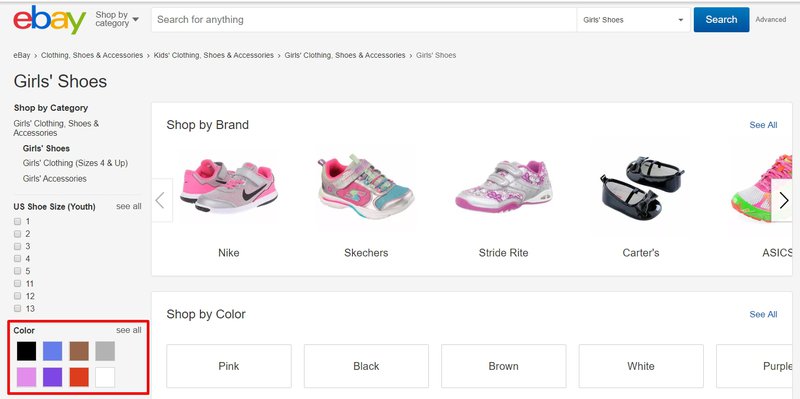 Terapeak update
New Terapeak Research features in Seller Hub and terapeak.com deactivation
eBay continues to integrate terapeak.com features and research into the Terapeak Research insights tool in Seller Hub, and eBay will deactivate terapeak.com on March 31, 2020. Terapeak uses recent eBay supply, demand, and pricing data to help you determine what to sell, when to sell it, and at what price. Terapeak is available under the "Research" tab in Seller Hub and is free to Basic, Premium, Anchor, and Enterprise eBay Store subscribers. You can also use Terapeak to see how specific products and categories are performing across all eBay marketplaces.

Since eBay introduced Terapeak in Seller Hub, it has added more features. They include:
Category selector. Narrow your search by category and view only transactions that occur in a specific eBay category.
Type-ahead component. Recommended keyword and category suggestions, based on the most frequent seller searches corresponding to the keywords you enter.
Data visualization for items sold, and at what prices. Spot and analyze trends for items sold and at what prices over time.
Data visualization for market share. Easily identify your top competitors' market share and calculate average item prices.
Starting in March 2020, eBay will add more features to Terapeak to provide you with additional insights into your business data and that of your competitors.
New Terapeak features coming in early Spring
Unsold listing indexing and sell-through rate
Aggregate metrics for active listings
Listing report for active listings
New Terapeak features coming in late Spring
Multi-User Account Access for Terapeak Research
Data visualizations for active listings (Price & Category distribution)
Using Terapeak going forward
As a result of these new features, sellers will have access to an even more powerful data analysis and insights tool:
Up-to-date data – Seller Hub data is in real time, so sellers can see all sales up to the present time (compared to a 2 to 3 hour delay on the Terapeak website).
All in one place – sellers don't need to use a different tool and can carry out all their market research tasks: insights, analysis and visualisations in one tool.
Active listings – eBay will also be adding listings that are active and have yet to sell (compared to the Terapeak website which doesn't capture such listings).
FAQs
If I have pre-paid my terapeak.com subscription, will I receive a refund for the unused portion of my subscription following deactivation?
Paid subscription plans do not change. If you previously had access to terapeak.com, you will continue to have access to Terapeak Research in Seller Hub. Basic Store subscriptions and above include complimentary access to Terapeak. As a reminder, you have access to Seller Hub at no cost but you need to opt into Seller Hub and be logged into eBay to access the data.
New Multi-User Account Access permission
New Multi-User Account Access permission — read-only access to orders
Multi-User Account Access enables you to grant permissions to other eBay users to access your account and perform specific functions on your behalf, without exposing your password and other personal details. Starting in April 2020, eBay will extend permissions capabilities to the Orders tab in Seller Hub, which will enable you to provide authorized users, such as warehouse employees, with read-only access to orders that need to be shipped. 
Learn more about Multi-User Account Access

Increase your sales with Volume Pricing
All eBay sellers, including eBay Store subscribers and non-eBay Store subscribers, can now use the Advanced listing tool to incentivize buyers to purchase two or more identical items at once. With Volume Pricing, buyers can easily add more items to their carts and you can increase your sales by setting meaningful discounts for multi-quantity purchases (e.g., 5% off when you buy 2 or more, 10% off when you buy 3 or more, etc.). 
Learn more about Volume Pricing

Remove backgrounds from your item photos instantly
Add white background to product images
eBay wants to make sure your products stand out from the crowd, both within the marketplace and on external search engines. eBay's new background editing feature on the eBay mobile app uses computer technology to make it quick and easy for you to get rid of noisy backgrounds on your product images — no need to pre-edit photos before adding to your listings.
eBay's new photo-editing feature allows you to change any photo background to white. When you upload or select photos for your listings, you can now tap on the background removal feature to automatically add a white background or apply your own touch-ups. eBay's recommended best practice is to use a white background on your main photo because it will improve your listing's visibility in Google and eBay. 
Access the feature in the eBay mobile app on your iOS or Android mobile device. You can add and edit photos in the mobile app and finish your listings on the desktop. 
Next steps
eBay will be gradually introducing this feature on mobile devices throughout February and March. This feature only works on eBay apps. Please ensure you have the latest version of the eBay app installed (5.39 or newer for iOS and 5.40 or newer for Android). So keep an eye on your eBay app for when you can start editing photos on your new and revised listings.
FAQs
The tool didn't remove what I wanted it to. What can I do?
If too much of your image was removed, tap on the paintbrush icon and drag your finger over the missing area to add back what was removed. If not enough of your background was removed, tap on the eraser icon and drag your finger over the area of the image and the unwanted parts will disappear.
Will photos uploaded from my desktop work if I revise the listing on the app?
Yes. If it's a photo you've uploaded to the listing, you'll be able to retrieve it on the app and go through the same process to remove the background.