Ship packages not leaving home
Find out from your postal service provider how it works during COVID-19 and what contactless delivery services it offers.
E.g. you can also pack your shipment and pay for it online to send it without queuing at the post office. Call a courier via the postal service website or the application.
You can also send packages by courier services available in your region. E.g. DHL, UPS, DPD, FedEx and other companies.
Expand handling time
In the Shipping Details section of The Sell Your Item form select the required number of business days (1 to 30) in the Handling time drop-down menu.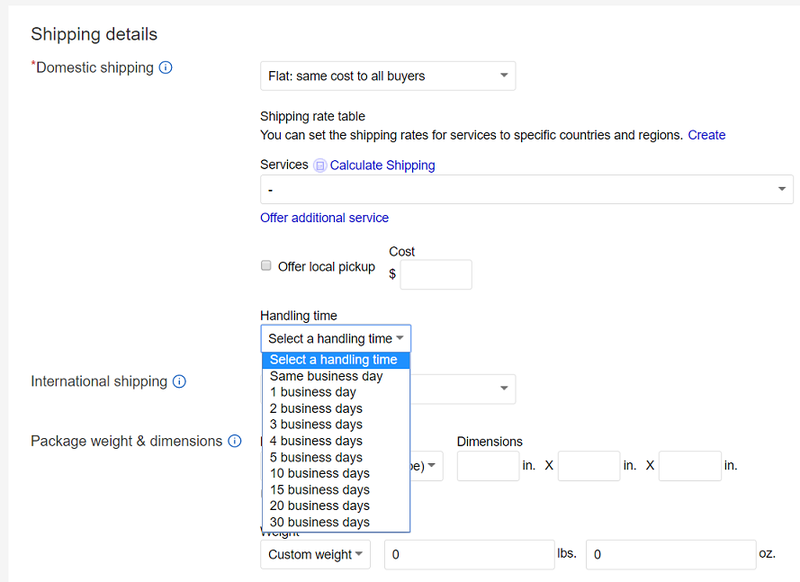 Be sure to add a mention of the extended Handling Time in the item descriptions in your listings.
Find out which categories are growing fast and list your items there
According to eBay statistics, sales are now growing in the following categories:
Health Care Products;
Computers/Tablets & Networking;
Home & Garden;
Sporting Goods;
Video Games;
Toys & Hobbies.
Please note that we are taking significant measures to protect eBay buyers at the same time. We block or quickly remove items that make false health claims or offer products at inflated prices in violation of applicable laws. As of March 26th, we have removed or blocked more than 500,000 listings.
Specific items being blocked include:
Health care masks including N95/N100 and surgical masks
Hand Sanitizer/Gel
Disinfecting Wipes
We have also started to restrict listing of the following items:
Toilet Paper
Diapers
Baby Formula
Baby Wipes
Tampons
Put your eBay Store on Vacation
If you are temporarily unable to handle buyer orders, put your eBay Store on Vacation so no one will be waiting for items you can't ship on time. Store Vacation is only available to eBay Store subscribers.
Look for all eBay updates at export.ebay.com
Add to your bookmarks the page COVID-19: Sellers Protection, and you can stay up to date with important news on eBay's seller support measures.