Seller Hub Performance tab updates to help you optimize your eBay business
When: September 2020
Where: ebay.com, ebay.co.uk, ebay.de, ebay.fr, ebay.it, ebay.com, ebay.ca, ebay.com.au
To help you optimize your business on eBay, it's providing you with more ways to access and analyze your listing and sales data in ​Seller Hub​. The following new features and reports are now available in the Seller Hub Performance tab.
Download your sales and eBay fees data​ with a new listings sales report.
Generate sales reports based on predefined time frames​ such as today, this month, last month, and this quarter, and select a month-to-month or year-to-year comparison.
Break down your sales​ by item price and shipping cost.
Filter your sales chart ​in order to view sales with or without free shipping costs.
If you use Promoted Listings​, you can check the percentage of sales coming from your campaigns.
New Terapeak Research features in Seller Hub
When: September 2020
Where: ebay.com, ebay.ca, ebay.co.uk, ebay.es, ebay.fr, ebay.it
Since ​Spring Seller Update​, eBay has introduced new Terapeak Research features including active listings search, item specifics in search results, a thumbnail view of items, and ​Multi-User Account Access​. Through October 2020, eBay is introducing new Terapeak insights in the listing flows.
Over the past several months, eBay has added useful new features to Terapeak to enhance your ability to gain essential business and market insights.
Active Listings search. ​Search millions of active listings by keyword or product identifier.
Item specifics in search results. ​Item search results include item specifics. You can also add different filters for item specifics to narrow your search.
Thumbnail view of items. ​When viewing items in your search results, you can hover over the listing image for a thumbnail view of the item.
Multi-User Account Access. ​Sellers with access to Terapeak can authorize other eBay member accounts to conduct research on their behalf with ​Multi-User Account Access​.
In addition, eBay will display Terapeak insights when you create or edit your listings via Seller Hub. eBay is rolling out Terapeak insights in the Electronics, Fashion, and Collectibles selling categories through October. eBay will be expanding to additional categories over the coming months.
Additional Terapeak insights at the time of listings — summary view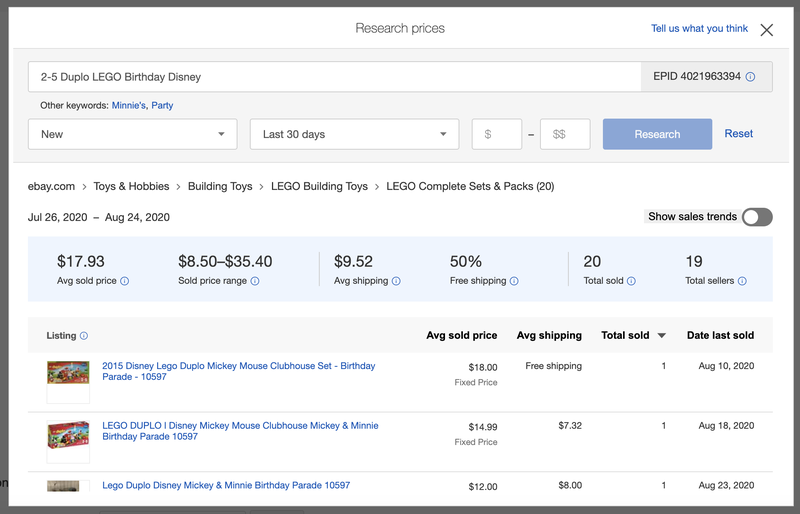 Automatically set up and send Offers to Buyers
When: Since the end of September 2020
Where: ebay.com, ebay.ca
Later this month, you will be able to send more offers to buyers who have shown interest in your items and close more sales with our new Offers to Buyers automation feature. The new feature will also help you save time and steps by enabling you to continuously send offers to new and existing buyers. You will be able to set this option in the Send Offer flow with a simple toggle. If you decide to stop your Offers to Buyers campaign, you will be able to ​do so on your Manage Offers page.​
Promoted Listings campaign enhancements
When: September, 2020
Where: ebay.com, ebay.com.au, ebay.ca, ebay.co.uk, ebay.de, ebay.es, ebay.fr, ebay.it
New Suggested Ad Rates​ ​when you create your Promoted Listings campaigns
eBay is now providing you with Suggested Ad Rates when you create Promoted Listings campaigns. The Suggested Ad Rate replaces the trending rate and is a personalized recommendation based on historical and predictive data. While the Trending Rate was designed to give you a sense of how other sellers were setting their ad rates for similar items, the Suggested Ad Rate can help you find your optimal ad rate for each item and achieve a balance between performance and cost. ​
Enhancements to how you manage Promoted Listings campaigns
eBay has made several enhancements to how you manage your Promoted Listings campaigns, including improved item recommendations and streamlined campaign creation functionality, whether you manage your listings individually or in bulk.
Item recommendations.​ In July, eBay updated how it finds your recommended items, making sure that it's showing you which of your listings eBay thinks will perform best in a Promoted Listings campaign. ​Promoting the right items can mean the difference between a successful or unsuccessful sale. That's why eBay generates a list of recommended items to promote each time you upload a new batch. eBay personalizes the recommendations for you based on trends in the marketplace and historical performance data.
Simplified ad rate strategy selection.​ In August, eBay updated how you choose your ad rate strategy for your campaign when selecting listings individually. Now you can apply your ad rate strategy in a simpler way — to all your listings or to individual listings. eBay has also added more options to your ad rate strategy selection when you select your listings in bulk. Now you can add an ad rate cap to your selection and adjust above or below the suggested ad rate.
New Promoted Listings dashboard.​ eBay has also launched a new Promoted Listings dashboard to make it easier for you to check marketing performance. Whether you want to dive deep or see results at a glance, now it's easier to make the best decisions for you and your business.
New Promoted Listings improvements
Overview metrics.​ Quickly understand your performance using new calculated metrics to see the overall health of your ad campaigns.
Visualize your data. ​Toggle between Campaigns, Metrics, and Time Period filters to visualize your performance trends over time and analyze the effectiveness of campaign changes.
Control your campaigns.​ Create, edit, pause, or end campaigns.