Registering for eBay to manage your payments: What you need to know
eBay will be managing payments for all sellers in 2021. 
Managing payments provides an enhanced buying and selling experience on eBay, providing sellers one place to sell and get paid, and buyers more ways to pay. During Q1 2021, eBay processed payments for 52 percent of global on-platform volume, with over 4 million active sellers enrolled in the program worldwide.
To register for eBay to manage your payments you should:
Click to the Register now link in eBay notification, that you've received by e-mail or via eBay Messages
Go to eBay Seller Hub > Payments tab > Register now link
If you've received a notification to register for eBay to manage your payments, you can register in a few simple steps. During the registration process, you can choose to add any checking account — whether existing or new. Please ensure that the name, address, and business information (if applicable) on your checking account match the name and information on your eBay account.
Select your business type 
Before you begin the registration process, choose your business type. Do you sell on eBay as a company or as a private seller (sole proprietor / owner)?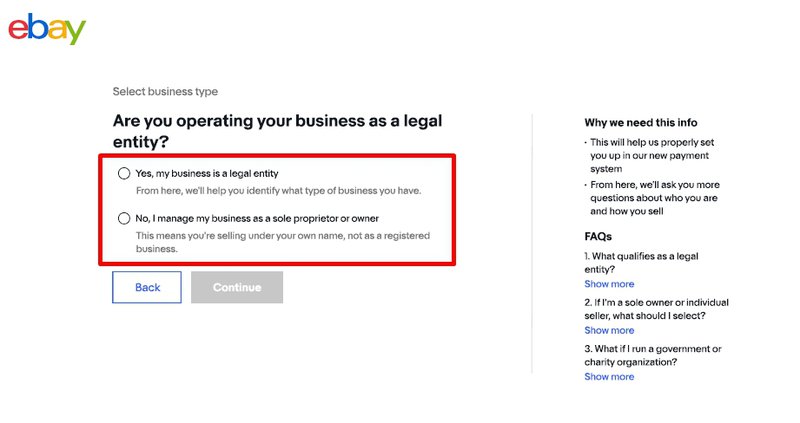 I manage my business as a sole proprietor or owner*
My business is a legal entity
* This means you're selling under your own name, not as a registered business.