Before the registration
If you've received a notification to register for eBay to manage your payments, you can register in a few simple steps. But before the registration we recommended you to gather the following documentation, which you'll need when it comes time to open your account.
Documents you will need for registration
ID copy (one of the following)
National ID
Passport
Driving license
Proof of Residence
A scanned copy of a utility bill (gas, water, electricity, landline phone, internet or cable bills are acceptable), no older than three months. The bill needs to include your name and the exact address you used in your application.
A scanned bank statement, no older than three months, containing your name and the exact address you used in your application.
A scanned copy of a complete rental agreement containing your name and the exact address you used in your application, together with a utility bill no older than three months in your landlord's name.
Step 1. Connect a Payoneer account
Moving forward, you'II get paid to your bank account via a Payoneer account. You have to create a new Payoneer account for every eBay account even if you already have a Payoneer account.
Note: Seller payouts and charges are processed in US dollars (USD).
Step 2. Sync eBay and Payoneer profiles
Now you need to synchronize your eBay and Payoneer profiles. 
After you register a Payoneer account, wel pull in your details from Payoneer to sync your eBay profile.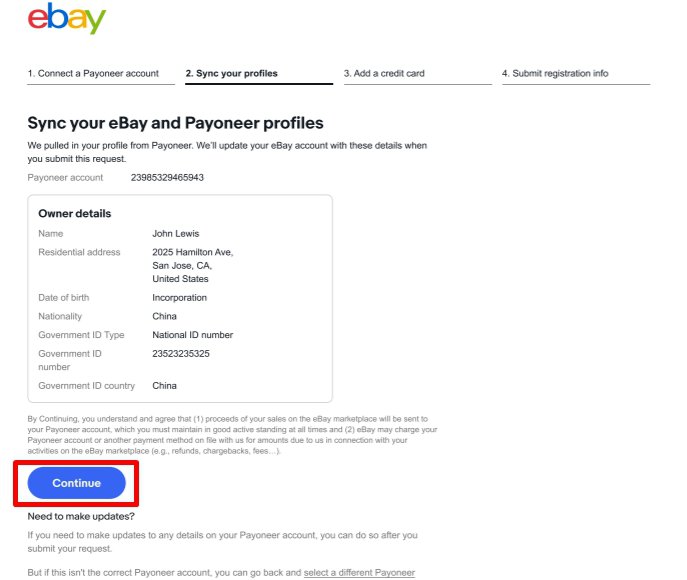 Step 3. Add a credit card or debit card for selling costs
Enter your credit or debit card information to cover fees and expenses, such as those arising from refunds, claims, or disputes. We need it in case you have outstanding amounts owed to eBay and your funds are insufficient.
To add card information, fill in the form and click Continue.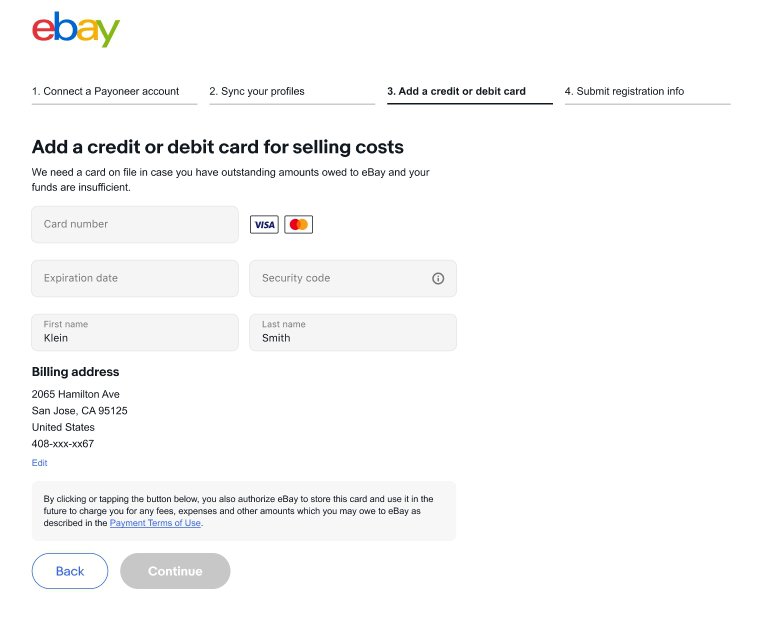 If you've already added card information just choose the proper one from the list and click Continue. Here you can also add a new card if you need.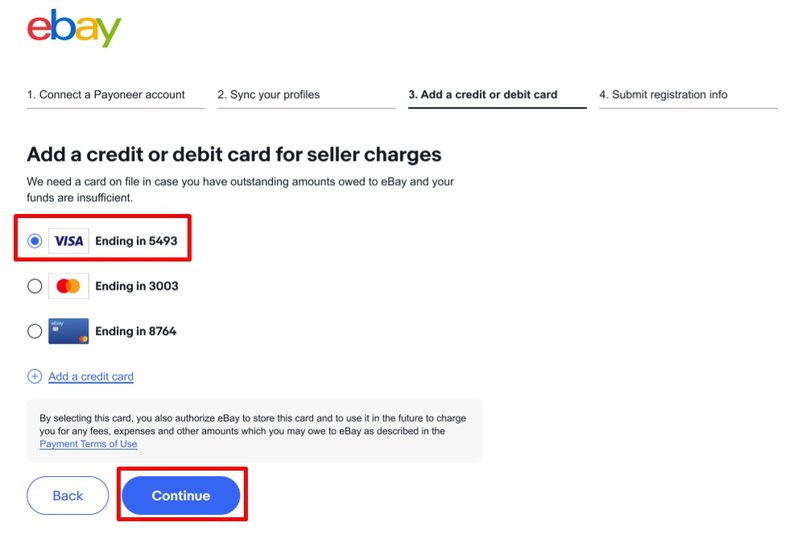 Step 4. Submit your registration information and keep selling as usual
This will send your registration request to be verified by Payoneer. By submitting your registration information, you agree to the Payments Terms of Use.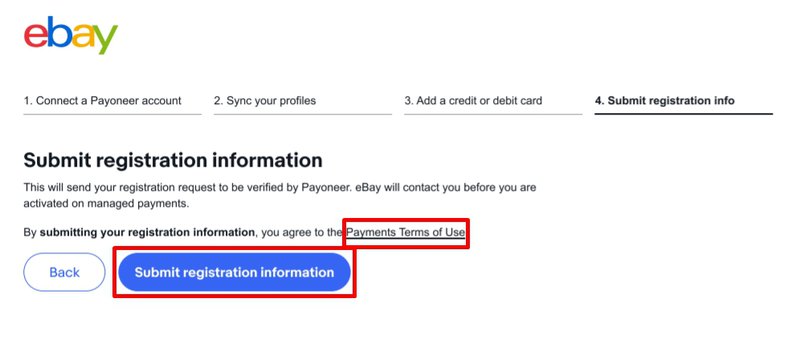 After submitting you'll be redirected to the Seller Hub. 
You'll soon get to experience a new way to sell and get paid on eBay. Payoneer is working on getting your account approved. They may reach out to you if they need help verifying your details.
Once Payoneer lets us know everything is verified, we'll review your registration information that we have pulled from Payoneer and contact you before we activate your eBay account on managed payments. 
Nothing will change in how you sell on eBay until then. When your account is activated, we'll automatically update your listings to reflect the different ways buyers can pay.
Keep selling as usual and enjoy all the benefits of managed payments.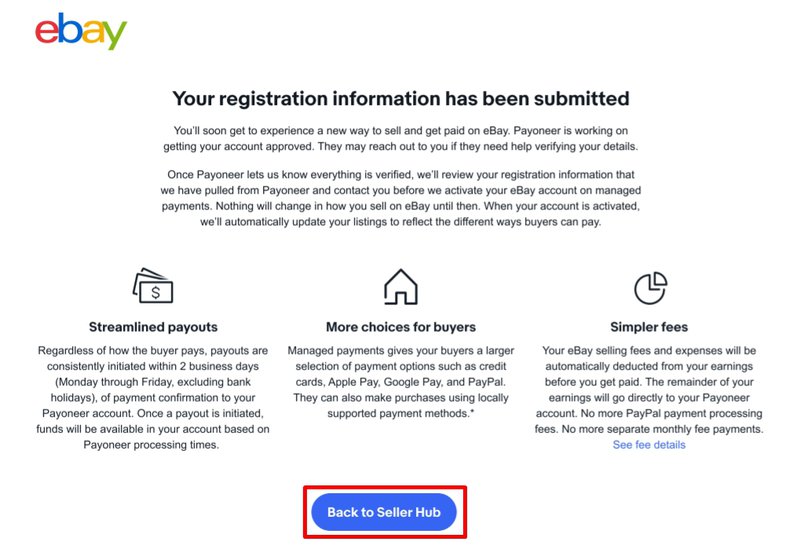 Learn how selling fees will change when eBay manages your payments
When eBay manages your payments, your selling fees and other costs will be deducted automatically from your funds awaiting payout. If these are insufficient, eBay'll charge the amount you owe the marketplace from your on-file payment method within 14 days. eBay may add up the amounts you owe into a single charge.
Most of the fees that eBay charges for listing and selling on the marketplace are determined by the eBay site you use to create your listing. Additional fees apply to your international transactions, for example, when you sell to buyers in other countries, and when eBay converts your currency to collect fees or initiate your payout. These fees are based on your country of residence.
You'll find the links to fees pages for international eBay sites below: